Introduction

Early last May Logitech offered a preview of their new speaker models within the SoundMan product line.  The three lower end models, the SR-30, S-20, and S-4 have been available for quite a while, though the flagship of the line, the Xtrusio DSR-100 is just now hitting the market.  It is by far the highest powered system in their line, offering a total output of 100 watts RMS.
Though Logitech may be more known for their pointing devices and other interface devices, computer audio systems are an extension of their efforts to integrate the analog world we live in to the digital world of computers.  Their efforts have resulted in some excellent devices and they have made a strong effort to carry these same intentions over to their multimedia line.
The DSR-100 system is a 4.1 speaker system, consisting of independent left and right front and rear surround speakers coupled with a subwoofer designed to extend the low end frequency response of the entire package.  While Logitech employed the traditional plastic enclosures for the satellite speakers, they have used an extruded aluminum enclosure for the subwoofer, which also houses the amplifier and power supply.  This definitely adds mass to the subwoofer enclosure and allows for the driver to get down to work moving air instead of flexing a plastic enclosure.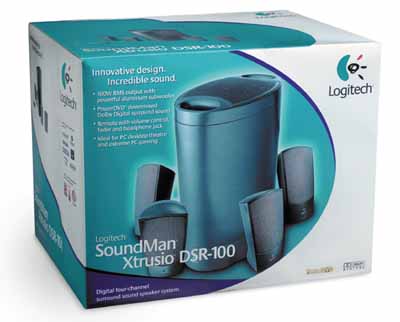 In addition to the four satellites and the subwoofer enclosure, the system includes a wired remote control that has functions for the power switch, volume and front to rear fader controls, in addition to housing an 1/8" headphone jack.  The system also includes a copy of CyberLink's PowerDVD software for DVD playback.  Here's what Logitech says about their system:
Specifications (Courtesy of Logitech)

RMS Power:

Total 100W @ 10%THD
Satellite 12W each
Subwoofer 52W

Frequency response:

28Hz - 20kHz

Crossover frequency

160 Hz

S/N Ratio:

80dB

Input sensitivity:

130 mV max.

Input impedance

10 kW

Signal input (audio source)

Two 3.5 mm (1/8") analog stereo jacks

One 3.5 mm (1/8") digital 4-channel jack

Signal output (headphones)

3.5 mm (1/8") stereo mini-connector

Power Supply:

AC 90V-240V (built-in auto-switching transformer)

Satellite Driver (per satellite)

57 mm diameter neodymium magnet driver, shielded

Subwoofer driver

150 mm diameter driver, magnetically shielded

Satellite dimensions (HxWxD)

6x3x3 in (152x76x76 mm) each

Subwoofer dimensions (HxWxD)

12.2x7.5x11 in (310x190x280 mm)

System weight

14.75 lb (6.7 kg)