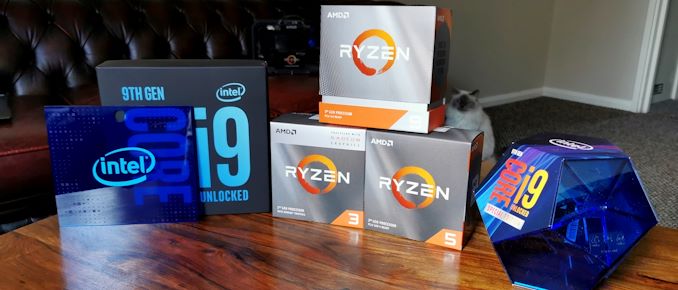 In our series of Best CPU guides, here's the latest update to our recommended Gaming CPUs list. All numbers in the text are updated to reflect pricing at the time of writing. Numbers in graphs reflect MSRP.
Market Overview
This month in our guide sees the initial arrival of Intel's Rocket Lake processors, with pre-orders already being taken, as well as a bountiful stock situation for Intel as well. AMD's stock situation is improving for the Ryzen 5000 series, although it still fluctuates day to day. This means that users are going to have to be opportunistic if they want an AMD processor for now.
Since our last guide, we're also seeing CPU prices be a lot more reasonable, at least from the mid-range and high-end. The top processors that were rare to find last month are now in sufficient supply that they are floating around MSRP, which is a good thing. For example, the Ryzen 9 5950X is 42% cheaper than our last guide, and a number of Intel processors such as the i7-10700KF and the i9-10900 are 10% cheaper or more.
In contrast, the cheaper processors, such as the Core i3/Pentium or the Ryzen 3 are either still expensive, or even more so. The Core i3-10100F for example, usually considered a good $100 quad core processor, is around the $120 mark. During high demand periods for desktop processors, the priority is usually given to the high-end big margin products, and so stock of the low-end does reduce, raising the price. Though as the high-end fills out, we might see the low end come back to reasonable in the next few months.
We should discuss the GPU market, because we normally give our CPU suggestions based on a full system price. Because the GPU market is in the middle of crazy town without a paddle right now, there's no way our recommendations for full-system price make any sense. Some users will just upgrade their CPU for now, and wait until the GPU market gets better, although lots of people are pointing to late 2021/2022 there and being very hopeful. Our recommendations this time around therefore are purely on CPU price.
Movers and Shakers: Intel
On the Intel side of the fence, the 11th Gen Rocket Lake offerings are starting to come to market for pre-order, anywhere from $10-$25 above the OEM pricing, and will launch on March 30th. This Core i7-11700K has a tray price of $399, and so will retail for $419 – and already sits as Amazon's #13 best seller, which is crazy for a processor not yet formally released. The Core i5-11500 is $218, again a small bump over the tray price. The only CPU that isn't in the same zip code is the Core i9-11900K, which has a tray price of $539, but Newegg had it listed for $614.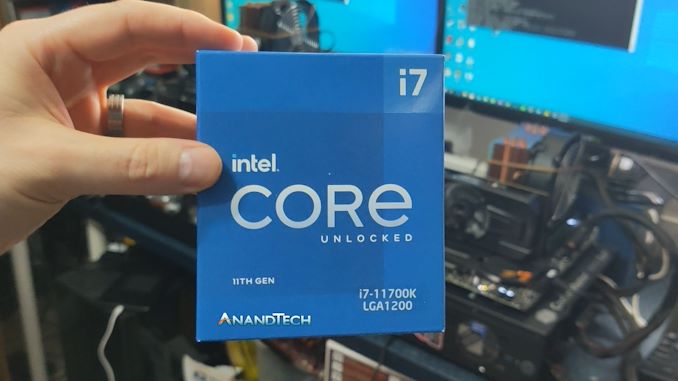 The Intel 10th Gen offerings, anything Core i5 and above, are getting some good discounts this month, averaging about 8% cheaper than our last guide. We've already mentioned the Core i7-10700KF which is 10% cheaper at $298 this month, and that is currently #17 on Amazon's best seller list. The Core i7-10700K is also cheaper this month, but at $322 is bit more expensive than the KF, despite being #8 from Amazon (moving up from #32). The Core i5-10600KF actually looks a good price at $200 from Newegg, some 15% cheaper than last month, but the Core i5-10600K at $226 is still preferred at Amazon at #12. The biggest drop on that best seller list is the Core i5-10400, moving from #4 to #19, as it is now $15 more expensive at $175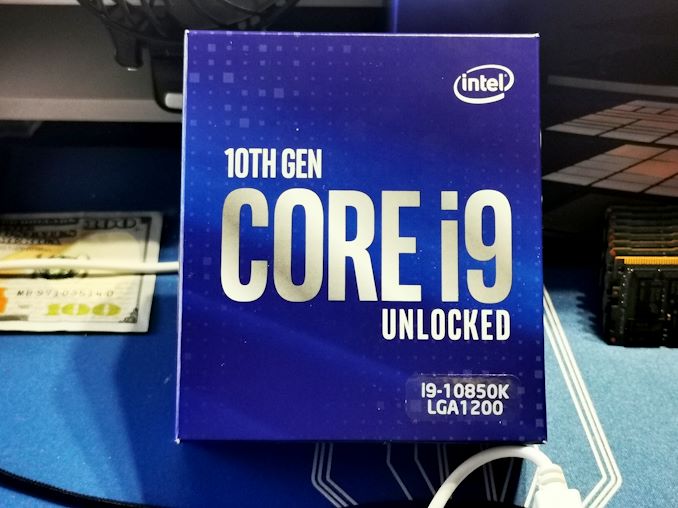 Intel's 9th Gen is still selling well it seems, perhaps because the supporting motherboards are now a good bit cheaper. The Core i7-9700K is the highest on Amazon's list, moving from #9 to #5 and is just shy of $300 (2% cheaper than February). The Core i5-9400 also moves up, now at #9, however the i9-9900KF drops off the top 50 altogether, and the Pentium G4930 moves from #20 to #50, and has a big 48% price increase.
Overall Intel's pricing this month looks better for those looking at something Core i5 and up, especially as the new Rocket Lake models are almost ready to go. Below that and it's getting slightly more expensive.
AMD at a Glance
In comparison to last month, AMD's stock levels look a lot healthier, especially for the Ryzen 5000 series. The 6-core and 8-core parts are certainly in stock a lot more often, with the 12-core and 16-core coming in and out, but on a more regular basis. All four Ryzen 5000 processors are cheaper than last month, from 8% to 42%, and getting very much near MSRP.
In terms of best sellers, the R7 5800X actually moves up from #5 to #2, however the rest have come down, especially the 5900X from #7 to #41.

The rest of the stack is where more AMD action is happening.
For another consecutive month, the Ryzen 5 3600 is Amazon's best-selling processor, and we're finding it for the same $200 price as last month. Just behind it is the Ryzen 5 3600X at #2, with a 9% saving compared to last month, but at $249 you would still go for the standard 3600. The 16-core Ryzen 9 3950X also appears to be back in stock, at $725, and the Ryzen 7 3700X is Amazon's #3, currently at $330. What is noticeable this month is that the 3000XT processors are all out of the Amazon top 50, even with some of them cheaper by 10% this time around. As always, the low end Ryzens are still alarmingly expensive.
Elsewhere in AMD's offerings, the Ryzen 5 2600 is Amazon's #7, but is $5 more expensive this month at $192.
The Ryzen APUs are somewhat interesting here though. We know that the 2000G and 3000G series are crazy expensive and have been for a while due to limited stock, but the newest 4000G would appear to be coming to Amazon properly in a week or so. The Ryzen 7 4750G at $460, the Ryzen 5 4650G at $290, and the Ryzen 3 4350G at $250, are all being dispatched by Amazon as OEM samples, which means no retail packaging and a shorter 1 year warranty, but it means we won't have to go through Hong Kong to buy them. I confirmed with AMD, this appears to be grey market hardware already in the distribution channel, and so the sales aren't officially sanctioned, as they're considered OEM parts, but it does mean users can look at some reasonably fast APUs.
In AMD's future, there's not much to talk about, and no launches on the horizon. I don't expect AMD to fill the cheaper 5000 series price points any time soon, either with CPU or APU, purely because AMD is likely using its 7nm silicon to build the more expensive EPYC CPUs and GPUs given the high demand.
Best CPUs for Gaming March 2021
Sometimes choosing a CPU is hard. So we've got you covered. In our CPU Guides, we give you our pick of some of the best processors available, supplying data from our reviews.
AnandTech Gaming CPU Recommendations
March 2021
(Prices correct at time of writing)
Segment
Recommendation
AMD
Intel
The $400+ CPUs
Ryzen 9 5900X (12C)
Ryzen 7 5800X (8C)
$550
$450
Core i7-11700K (8C)
$420
The $350 CPUs
Ryzen 5 5600X (6C)
$350
Core i7-11700 (8C)
Core i7-10900F (10C)
$350
$349
The $300 CPUs
Ryzen 7 3700X (8C)
$330
Core i7-10700KF (8C)
$298
Ryzen 5 4650G (6C)
$290
Core i5-11600K (6C)
$270
The $200 CPUs
Ryzen 5 3600 (6C)
$200
Core i5-10500 (6C)
Core i5-11500 (6C)
$200
$220
The $100 CPUs
Don't
On The Horizon
Alder Lake?
To see our Best CPUs for Workstations Guide, follow this link:
https://www.anandtech.com/show/11891/best-cpus-for-workstations
The majority of our recommendations aim to hit the performance/price curve just right, with a side nod to power consumption as well.
The $400+ CPUs
AMD Ryzen 9 5900X (12C, $550)
AMD Ryzen 7 5800X (8C, $450)
Intel Core i7-11700K (8C, $420)
These three are set to be very popular processors this first half of the year for anyone building a beefy consumer-focused system for productivity or gaming. Initially I put the 5800X and 11700K in here, especially given our recent review of the i7-11700K and how the price was always going to determine its positioning. It squares off against AMD's equivalent 8 core, the Ryzen 7 5800X, and more often than not the AMD processor is the obvious choice in that battle, but when the AMD part is hard to get, the Intel is a reasonable fallback, as long as you don't fall foul of those high temperatures and power draw. If both chips were available at MSRP or better, the i7-11700K in that regard would have to be around the $350 mark for a more serious consideration.


Initially this section was just going to be $400-$450 processors, but I changed it to $400 plus, because the Ryzen 7 5800X isn't a well-positioned chip in its own right. When the Ryzen 5000 series were first released, we said that for the extra $100 a user could get the Ryzen 9 5900X, which offers 50% more cores, which will blast through any multi-tasking or streaming workload a user needs, and be more futureproof. The variety of AMD's stock levels has put that into doubt since launch, but as these prices are starting to simmer down, and that $100 comes back into reality, then it does become a hard choice. For users looking to upgrade their systems and baulking at the price of graphics cards, then another $100 for the Ryzen 9 when you can find it should be an easy decision to make.
For those looking at the Core i9-11900K, at the $539 tray price and $619 listing at Newegg, it's not worth the hassle. The 10-core Core i9-10850K at $395, or the 10-core Core i9-10900F at $350, would be better Intel options, even without PCIe 4.0.
The $350 CPUs
Intel Core i9-10900F (10C, $349)
Intel Core i7-11700 (8C, $350)
AMD Ryzen 5 5600X (6C, $350)
We found these three processors all at the same price, and we have a good fight on our hands.
The options here boil down to:
The offerings here are trading cores for IPC, which makes this a very interesting proposition. The 8-core and 6-core also have PCIe 4.0 to put that into the mix. All three processors are rated at 65 W, although the AMD processor has a big efficiency advantage, with the Intel parts having some large turbo power draw.
Personally, the processor I would choose would come down to what I do other than high-resolution gaming. All three processors are going to be good for high resolution gaming, although if you want to get the frame rate higher at medium resolutions, then the higher IPC processors are going to help a lot more.
That being said, if a user does some real work on their system, such as video editing, then it's going to come down to ST vs MT performance. Simple graphs here, let's take a rendering workload.



*Closest substitutes were used out of what we've tested in house. Non-K and non-X samples are rare
The 10 core Comet does have the advantage in pure MT workloads, but it doesn't have PCIe 4.0: with more SSDs and GPUs moving to PCIe 4.0, that might be something to consider. Speaking to a few peers, all things being equal, they don't see themselves buying a system in 2021 that doesn't support PCIe 4.0. They were also split between the higher IPC of AMD Zen 3 in the Ryzen 5 5600X vs two more cores of Intel Rocket Lake in the Core i7-11700.
Personally, I would probably side on the AMD Ryzen 5 5600X at that price. It does give fewer cores, but there is better IPC, more PCIe 4.0, and the system is mature. It is more power efficient, and requires less cooling, never going above 88 W. There's also an upgrade path for the 12-core or 16-core. Going for the Rocket Lake system by contrast, the 8c will be an ultimate limit.
The $300 CPUs
AMD Ryzen 7 3700X (8C, $330)
Intel Core i7-10700KF (8C, $298)
or
AMD Ryzen 5 4650G (6C, $290)
Intel Core i5-11600K (6C, $270)
Around the $300 price point, we're at that crest the price offers either an expensive six core, or a cheaper eight core offering. The two main parts here current on sale are the Zen 2 based Ryzen 7 3700X, an eight core at $330, or the Comet Lake-based Core i7-10700KF, also an 8 core processor, at $298. I've also added a pair of upcoming six core processors as suggestions for variety.
From our eight options, they are both very popular options in this category. The Ryzen 7 3700X has a base frequency of 3.6 GHz and a turbo of 4.4 GHz for 65W, and the price of $330 is exactly on the suggested pricing for this processor at launch. The Core i7-10700KF by contrast has a base frequency of 3.8 GHz, a turbo of 5.1 GHz, a TDP of 125W, but is around $90 cheaper than its usual pricing.
Comparing the two in our benchmark suite puts the win to AMD in FP heavy results, and some of the single thread data, but the Intel processor overall gets better results. This comes down to the higher power budget of the Core i7-10700KF, and the peak power of the Intel has to be managed as it is more than double that of the AMD. Cooling no object, the Intel wins here, but the AMD offers an efficient choice with a good upgrade path to 16 cores.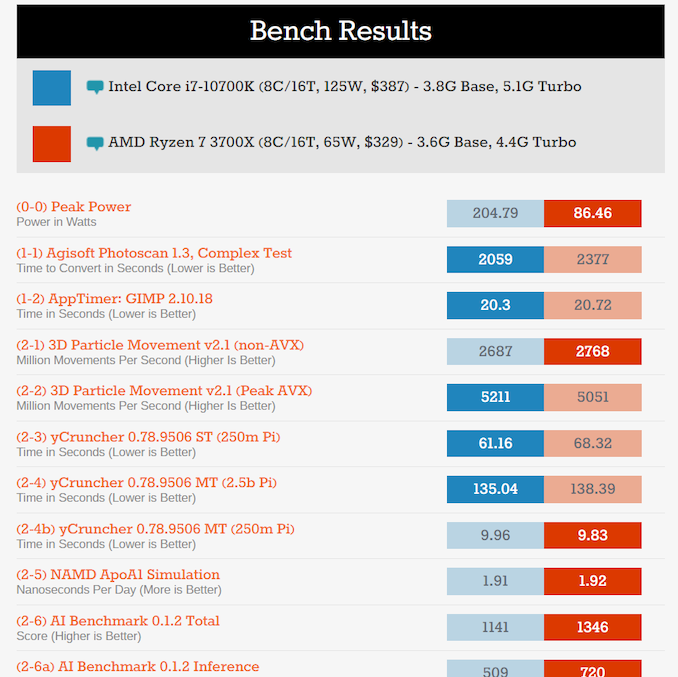 Click throught to see the full comparison
The other two processors listed here are two six core parts that are cheaper.
The Ryzen 5 4650G is a Zen-2 based processor with integrated graphics that Amazon should be selling in the US within a few days. At $290 it is an expensive six core, but the integrated graphics it offers is really good, as we saw in our review, for integrated graphics on the desktop. For users who don't want a discrete graphics card yet, this is a good medium that will enable eSports gaming at reasonable resolutions, and will still provide good performance when you have a discrete card ready to go.
The Intel Core i5-11600K is an upcoming six core processor from Intel's Rocket Lake family, so it has PCIe 4.0 as well as AVX-512 for accelerating some specific workloads if you use those tools. At $270, the main selling point over the Core i7-10700KF at $298 is going to be that PCIe 4.0, given that the Core i5 has two fewer cores.
The $200 CPUs
AMD Ryzen 5 3600 (6C, $200)
Intel Core i5-11500 (6C, $218)
Intel Core i5-10500 (6C, $200)
Moving down to a more comfortable pricing range at $200, here we are in the realm of a good mid-range six core processor. I've highlighted two that are available today, as well as an upcoming Rocket Lake processor to be aware of.
The AMD option here is the Ryzen 5 3600, Amazon's best-selling desktop processor for the last few months. It gives good all-around performance without breaking the bank, and AMD's Zen 2 architecture works well for all modern titles for those who can't step up to Zen 3. Of course there are always going to be niche applications where more performance would be nice, but the Ryzen 5 3600 does such a good job on most levels that it's a good element to a mid-range graphics card build. With the right AM4 board, it lends itself to a Zen 3 upgrade up to 16 cores in the future.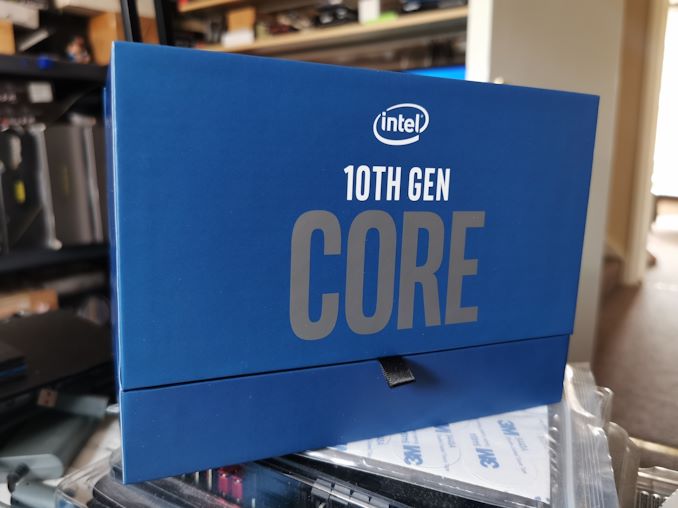 Intel's option here is the Core i5-10500, available for the same $200. This processor isn't as popular as AMD's one (in fact, it's not even in the top 50), but it is 10% cheaper than it was a month ago. I've put it here as a stepping stone to Intel's upcoming Rocket Lake Core i5-11500, its direct replacement, currently listed as a $218 preorder. The Rocket Lake model will have the additional IPC gain here, likely pushing it ahead of AMD's Zen 2 in the sorts of workloads a $200 processor is built for. Assuming that Intel can keep enough supply going forward, the Core i5-11500 could be a really nice option.
The $100 CPUs: Nothing worth looking at
At the cheaper end of the grid, unfortunately the CPU market is starting to come undone. There are no good $60 options any more, and beyond that, the dream of having a good quad core processor for $100 has disappeared.
Intel's Core i3-10100F used to fill this spot, but it is currently 20% above the tray price. The new refresh Core i3-10105F is likely to come in and take over here, but with no real performance differential.
AMD isn't really paying attention to this market while it can sell its high performance processors the minute they come off the production line. In the past, something like the Ryzen 3 3100 would be a good fit here, but those are currently $150. The cheaper dual-core APUs built on older Zen/Zen+ are also super expensive, usually around $60, but now $90.
It makes me wonder if we'll ever see desktop processors on this end of the market again being taken seriously.
On The Horizon: Alder Lake?
With Intel recently launching Rocket Lake, and AMD stock of Ryzen 5000 fluctuating, there isn't much to look forward to here in the market on the desktop.
On Intel's side, at the beginning of the year, Intel teased its next generation Alder Lake platform, which uses eight high performance cores and 8 efficiency cores. Intel said it would launch later in 2021, but didn't say what date. More importantly perhaps, Intel didn't say which market Alder Lake would be targeted for. Despite showing off a desktop-like system in the demonstration, Intel often uses desktop demonstration units to show off laptop processors as well, and I ultimately think that Intel will be targeting the laptop market first with Alder Lake, especially given that Tiger Lake of notebooks is six months older than the new Desktop processors. We are likely to see desktop Alder Lake in due course, but I'd be surprised if we see it in 2021.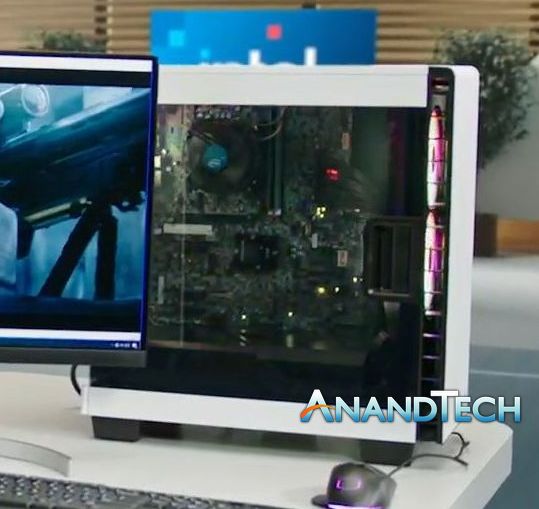 Intel's Alder Lake Demo system from CES
For AMD, the company is currently just selling everything it can make on Ryzen 5000. The base Ryzen 5000 processor right now is $300, and the company has not given any indication that it wants to fill out its offerings below that price right now, especially when the Zen 3 chiplets are yielding so well and when they can be sold for so much more inside EPYC Milan enterprise processors instead. There has been rumblings of new Ryzen 5000G APUs coming to market in that sub-$300 category, however these parts would be lower margins than what AMD has now, so they might decide just to skip them for the regular consumer market altogether.
As for what AMD has beyond Ryzen 5000, they have not mentioned. Some people are pointing to an AMD Zen 3+ before a Zen 4, however I'm reluctant to put any weight in those rumors – it all depends on what capacity AMD will get for Zen 4. Also, AMD's roadmaps have had Zen 4 on for a while, and AMD has said it is on target. Zen 3+ hasn't been on those roadmaps, so Zen 4 is probably almost completely designed that this point, if not complete, and ready for test silicon production. That would suggest we're probably 9-15 months away. Take a look at the time frame:
AMD Ryzen 1000: March 2017
AMD Ryzen 2000: April 2018 (+13mo)
AMD Ryzen 3000: July 2019 (+15mo)
AMD Ryzen 5000: November 2020 (+16 mo)
Based on that cadence, Ryzen 6000 should be in market around February 2022. But that's just a guess. Either way, I'm not expecting new consumer-level desktop processors for the rest of the year. I still expect Zen 3 Threadripper to come though.
The AnandTech CPU Coverage
Our big CPU reviews for the last 12 months have covered all the launches so far, and are well worth a read.