The original Droid Incredible was released as the third wave in Verizon's push to battle Apple's iPhone with modern, capable Android phones. Though its internals and display were almost plucked straight from a Nexus One, the exterior of the device took on a more aggressive and playful tone, with crimson red accents around the camera and under the battery cover. The 1 GHz Snapdragon SoC, large (for the time) 3.7" AMOLED display, and cutting edge 8MP camera made the phone worthy of its place as a 'halo' device on Verizon. But that was when 'halo' devices had just a few months in the spotlight before being replaced by the next best thing.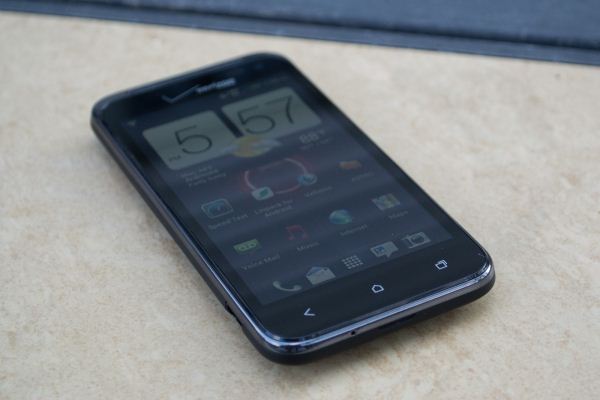 A lot has changed in the 30 months since the Incredible's premier, but the family resemblance is hard to miss on the Droid Incredible 4G LTE. Released as the third iteration of the Incredible line, the Incredible 4G foregoes the new styling and philosophy of HTC's One series, maintaining instead the classic Incredible styling of the past, advanced ever so incrementally. The back is defined by its odd hump made of soft-touch plastic, and now featuring a ribbed texture to improve grip. The red accents persist on the power button, front speaker grill and around the camera lens (and the superfluous Beats logo), but beneath that battery cover is just an expanse of matte black. The edge of the device is rimmed by black chromed plastic, and the now 4" display sits raised above the main body, and with a raised edge to protect it when laid face down. HTC has opted for dedicated capacitive buttons, in the now familiar ICS locations, and a large Verizon logo is planted above the screen.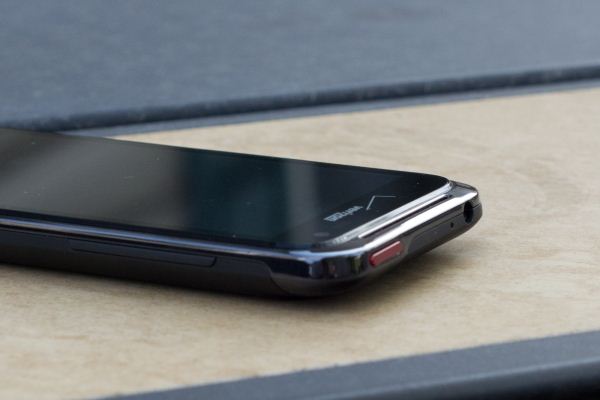 The bottom of the device is otherwise bare but for the voice mic, while the top has a second mic for noise cancellation and stereo audio recording, along with the power button and headphone port. The volume button is now on the right side (when viewing the screen in landscape), and isn't quite as raised or distinguishable from the surrounding plastic as I'd like; the left side sports just a microUSB port. The battery cover retains the HTC legacy, being thick and laden with antennas; this in contrast to Samsung's battery covers which tended to be almost terrifyingly flimsy. Beneath it you'll find a microSD slot and the microSIM tray, and a respectable 1700 mAh battery. With the same power-sipping 28nm internals (and underclocked at that) of the One S, and One X for AT&T, that battery should do the Incredible 4G justice, but more on that later.
Physical Comparison
Apple iPhone 4S
HTC Droid Incredible 4G LTE
HTC One S
HTC One X (AT&T)
Height
115.2 mm (4.5")
121.9 mm (4.8")
130.9 mm (5.15")
134.8 mm (5.31")
Width
58.6 mm (2.31")
61.0 mm (2.4")
65 mm (2.56")
69.9 mm (2.75")
Depth
9.3 mm ( 0.37")
11.7 mm (0.46")
7.8 mm (0.31")
8.9 mm (0.35")
Weight
140 g (4.9 oz)
132 g (4.66 oz)
119.5 (4.22 oz)
129 g (4.6 oz)
CPU
Apple A5 @ ~800MHz Dual Core Cortex A9
1.2 GHz Dual Core Qualcomm Snapdragon MSM8960
1.5 GHz Dual Core Qualcomm Snapdragon MSM8260A
1.5 GHz Dual Core Qualcomm Snapdragon MSM8960
GPU
PowerVR SGX 543MP2
Adreno 225
Adreno 225
Adreno 225
RAM
512MB LPDDR2-800
1 GB RAM
1 GB LPDDR2
1 GB LPDDR2
NAND
16GB, 32GB or 64GB integrated
8 GB NAND with up to 32 GB microSD
16 GB NAND
16 GB NAND
Camera
8 MP with LED Flash, Front Facing Camera
8 MP AF/LED Flash, VGA front facing
8 MP with AF/LED Flash, VGA front facing
8 MP with AF/LED Flash, 1.3 MP front facing
Screen
3.5" 640 x 960 LED backlit LCD
4.0" 960 x 540 Super LCD
4.3" 960 x 540 Super AMOLED
4.7" 1280 x 720 LCD-TFT
Battery
Internal 5.3 Whr
Removable 6.46 Whr
Internal 6.27 Whr
Internal 6.66 Whr
At nearly a half inch thick, the Incredible 4G is making no feints towards svelteness, and while HTC devices never feel plasticky and cheap, their design language has moved forward, yet this device remains in the past. But with updated internals, and a display whose only concession is size, this phone shouldn't be a slouch. But is there really a place for a mid-range phone in todays market? Let's dig-in and find out.