This is a good time to be a display lover, both in the mobile space and in the notebook and tablet space. Not that long ago we bemoaned the absurdity of 4.7" WVGA PenTile displays, with pixels so large you could almost imagine them plucking them up with tweezers. Now, we are awash in gorgeous HD displays, PenTile or otherwise, with fantastic viewing angles, fantastic brightness, and somehow adding nothing at all to the thickness of the handset. So, given its family's 'halo' origins, is it a burden for the Incredible 4G to sport a relatively paltry 960x540 qHD display?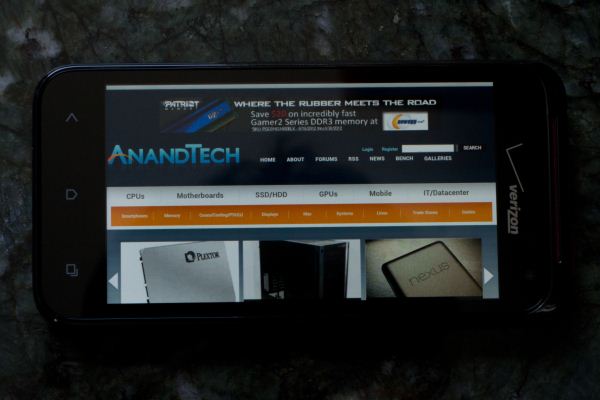 The Incredible 4G LTE's Super LCD 4" panel is not nearly so bad as the resolution might seem to imply. There's an error endemic to the industry to use size and resolution as the only hallmarks for display quality, and the price for that are absurdities like the HTC Titan's 4.7" WVGA display. When Apple introduced the Retina Display on the iPhone 4, it was the highest density display seen in the mobile space. That high pixel density was tied to good color representation and excellent viewing angles, and made the iPhone the gold standard for phone displays. The first return salvo from Android manufacturer's were bigger. That trend started with the Droid X, which at 4.3" was considered possitively massive at the time; though its WVGA resolution made it adequate at best in terms of pixel density. Over the next year and a half displays continued to grow (capping out at the Note's 5.3" display), while resolutions stalled first at WVGA, then briefly at qHD and now finally at 720p. PenTile was a temporizing move, that had mixed results at first, and was glaring at lower resolutions. We hope that issue has finally been settled with screens like the Galaxy S III's 4.8" HD Super AMOLED panel showing that subpixel densities well above 300 ppi make the stripe indistinguishable to the human eye.
But in real terms, if there are to be smaller screens, there must be lower resolutions. Let's take for example a theoretical 4" 1280x720 panel; with a pixel density of 367 ppi it would be the highest density display on a phone by some margin. There's a real power cost to pushing those extra pixels, both in terms of the panel and the additional GPU performance necessary. Now, HTC could overcome the power issue without resorting to an ever thicker body, or one more oddly shaped, I would be first in line for that device. Until then, though, a 4" phone deserves a greater than WVGA resolution, and qHD is the right choice.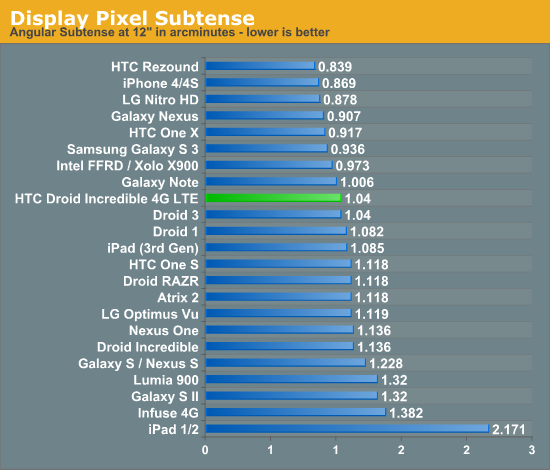 Angular resolution is our latest display measurement, and with it the key to recall is that as you approach and then drop below 1 arc minute, the human eye's ability to discern an individual pixel becomes impossible. The Incredible 4G's panel fares better here than other qHD screens, and is almost but not quite at 1 arc minute. This matches real world performance, where unless I brought the screen artificially close to my eyes, I never noticed individual pixels. Does the One X have a better angular resolution? Yep. Would a 720p 4" panel have a better angular resolution? Yep. Does that make this a bad display? Not at all.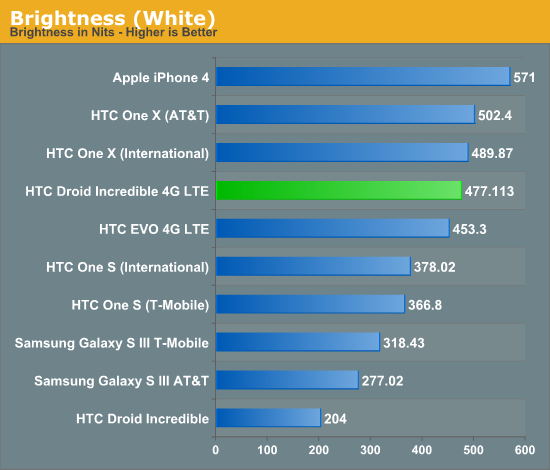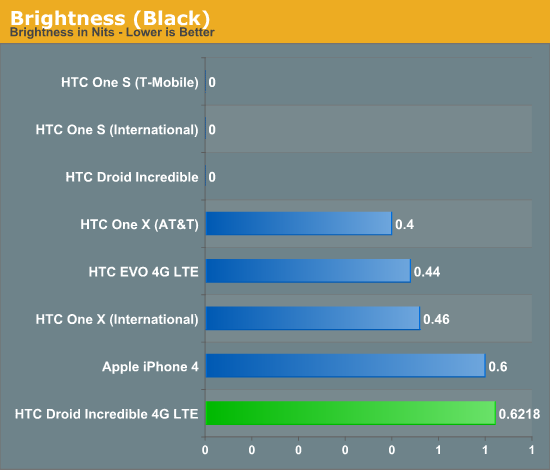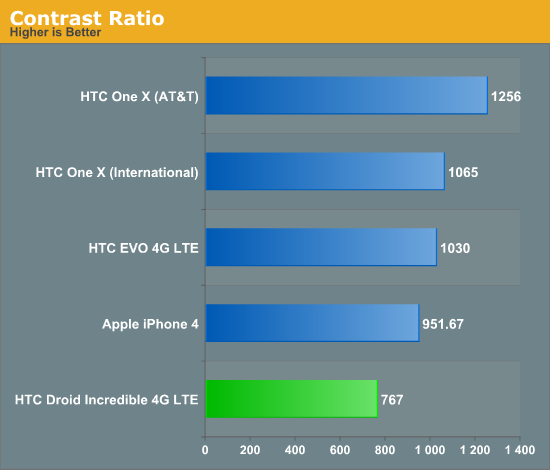 Brightness is comparable to the rest of the One series, though black level isn't exactly stellar. The result is a contrast ratio which isn't class leading, but certainly not unlivable. If you watch a lot of movies on your phone you might have some satisfaction issues; but then you're watching a movie on a 4" display so, since you've already overcome that, you'll hardly notice. Where there are no compromises is in viewing angles or outdoor visibility. RGB coverage looks great, and color temperature is good at just under 7000K. In the last few years, smaller phones have been left to smaller pricing, and often suffered from poorer displays as a result. Here though, there've been no concessions made to quality; if there's room for a 4" device in the mobile handset space, it should be as good as the Incredible 4G LTE's.