AnandTech Storage Bench 2011
Admittedly most of the benchmarks on the previous page really portray the Momentus XT in the best light possible. The workloads are light enough to mate well with the 8GB cache and none of them are really write intensive. Over time however you'll encounter more varied workloads, including those that are write intensive or those that only access data once or twice. In workloads that aren't perfectly tailored to the Momentus XT's cache, the honeymoon is over before it began. We'll start with our light storage bench: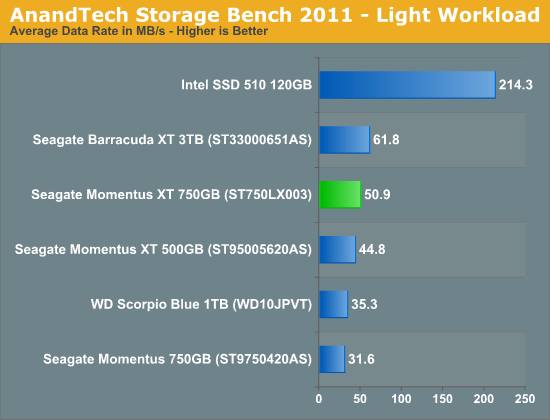 Here overall performance is definitely higher than any of the 2.5" drive offerings, including last year's 500GB Momentus XT. However compared to the 3.5" Barracuda XT, the newer Momentus XT is tangibly slower over the course of our test. If you look at performance compared to the Intel SSD 510, there's simply no competition.
Our trace based Storage Bench suites were designed to really stress SSDs, thus being more write intensive than your typical client workload. Not being able to cache writes at this point, the Momentus XT is penalized (perhaps unfairly) in these benchmarks. The results are valid however - when it comes to writing or non-repetitive workloads, the Momentus XT will perform like a good 2.5" hard drive rather than in the realm of SSD performance.
Our Heavy Storage Bench workload is even more write intensive. Furthermore, having been recorded on a Windows 7 pre-SP1 install, we see some of the potential penalties from moving to a 4KB sector drive. Most writes are 4KB aligned in Windows 7, however pre-SP1 there were still some significant cases where alignment could be an issue. Here we see the 750GB/4KB Momentus XT actually fall behind the 500GB drive with 512B sectors because of this difference: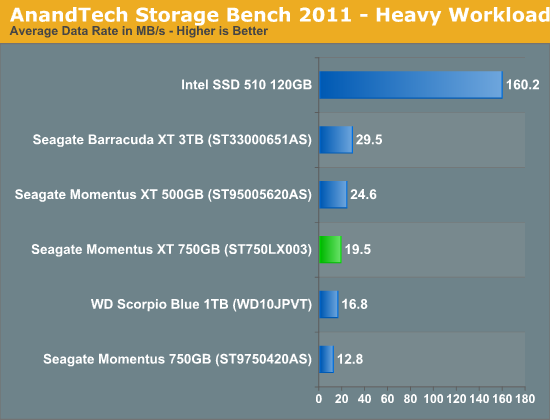 I included these results because if you formatted your drive with Windows 7 and later applied SP1 to the install, you may see this sort of performance regression when moving to a 4KB sector drive. The only way to avoid this is to reformat your drive using Windows 7 SP1 and install from a Windows 7 SP1 DVD/image. In place upgrades won't avoid the alignment issues that are exhibited here. For a greater understanding of why 4KB sectors are necessary and why alignment can be problematic on these drives, have a look at our coverage here.