Benchmark Configuration
We used the MySQL version (4.0.18) that came with the SUSE SLES9 CD's and Mac OS X Tiger 10.4.1, which was certified to work on our OS. Our YDL Linux reported: "Linux version 2.6.10-1.ydl.1g5-smp (gcc version 3.3.3 (Yellow Dog Linux 3.3.3-16.ydl.7))"
Software
Intel, AMD
SUSE SLES 9 (SUSE Entreprise Edition), Linux kernel 2.6.5, 64 bit
Workstation tests: Windows XP SP2
Apple PowerMac G5
OS X 10.4.1 Tiger, 64 bit (partially)
Yellow Dog Linux 3.3.3-16.ydl.7
Shared
MySQL 4.0.18, 32 en 64 bit, MyISAM engine
Gcc 3.3.3 and 4.0
Hardware
Here is the list of the different configurations:
Apple PowerMac Dual 2.7 GHz, Dual 2.5 GHz
4 GB (8x512 MB) Corsair XMS3200 running at CAS 3-3-3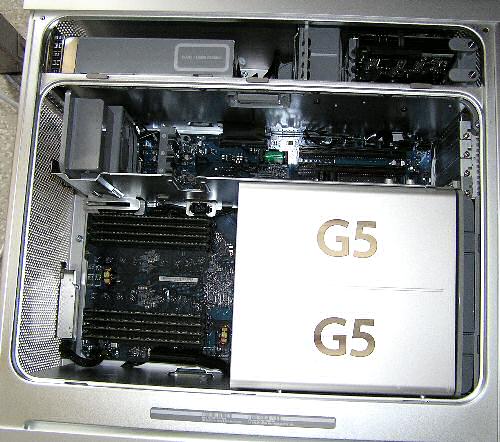 Dual Intel Xeon DP Irwindale 3.6 GHz 2 MB L2-cache, 800 MHz FSB - Lindenhurst Chipset
Intel® Server Board SE7520AF2
4 GB (4x1024 MB) Micron Registered DDR-II PC2-3200R, 400 MHz CAS 3, ECC enabled
NIC: Dual Intel® PRO/1000 Server NIC (Intel® 82546GB controller)
Opteron Server: Dual Opteron 250 (2.4 GHz)
Iwill DK8ES Bios version 1.20
4 GB: 4x1GB MB Reg. Transcend (Hynix 503A) DDR400 - (3-3-3-6)
NIC: Broadcom BCM5721 (PCI-E)
Client Configuration: Dual Opteron 250
MSI K8T Master1-FAR
4x512 MB Infineon PC2700 Registered, ECC enabled
NIC: Broadcom 5705
Shared Components
1 Seagate Cheetah 36 GB (15000 RPM, SCSI Ultra320, 8MB cache)
Maxtor 120 GB DiamondMax Plus 9 (7200 RPM, ATA-100/133, 8MB cache)
Words of thanks
A lot of people gave us assistance with this project, and we like to thank them, of course:
Frank Balzer, IBM DB2/SUSE Linux Expert
Jasmin Ul-Haque, Novell Corporate Communications
Matty Bakkeren, Intel Benelux
Trevor E. Lawless, Intel US
Larry.D. Gray, Intel US
Damon Muzny, AMD US
Nick Leman, MySQL expert
Ruben Demuynck, Vtune and OS X expert
David Van Dromme,
Iwill Benelux Helpdesk
I also would like to thank Lode De Geyter, Manager of the PIH, for letting us use the infrastructure of the
TUK
to test the database servers.