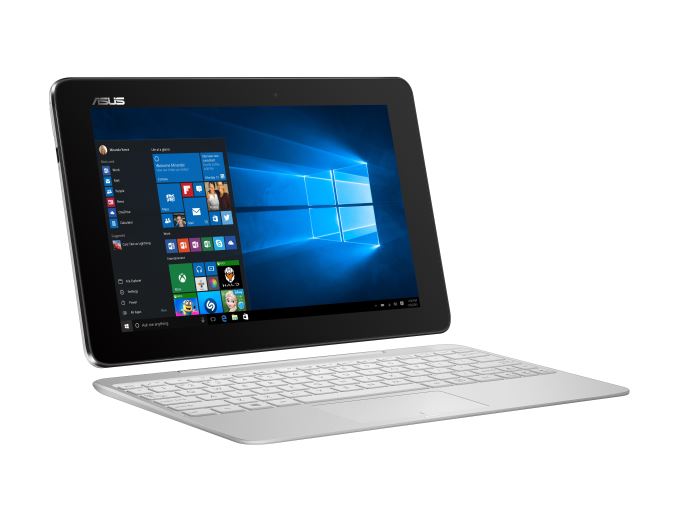 ASUS has been quite successful at trying to carve out a place in the tech sector by packing more into their lineup than the competitors. We saw that clearly with the ASUS Zenbook UX305 Notebook, which offers much more storage and RAM than pretty much any other notebook in its price range, and doesn't skimp on the form factor either. In the smartphone space, they also offer an impressive 4 GB of memory and 64 GB of storage in the ASUS ZenFone 2, and at a price that is pretty impressive. Back in 2013, Anand took a look at the ASUS Transformer Book lineup with the original T100. It was not perfect, but it certainly set a new bar for what to expect for what used to be netbook level pricing.
Today ASUS is at it again. The T100HA is the next generation of the original Transformer Book, and this time comes with Intel's Atom x5, with the detachable keyboard that defines the T100 series. The TP200SA is a convertible notebook with a 360° hinge allowing it to be used as a tablet as well.
ASUS Transformer Book
T100HA
TP200SA
Processor
Intel Atom x5-Z8500
1.44-2.24 GHz quad-core 14nm
2W SDP
Intel Celeron N3050
1.6-2.16 GHz dual-core 14nm
4W SDP 6W TDP
Memory
4GB
GPU
Intel HD Graphics Gen 8
Display
10.1" 1280x800 IPS with touch
11.6" 1366x768 IPS with touch
Storage
64 GB eMMC
I/O
1 x micro USB
1 x micro HDMI
1 x micro SD
1 x Type-C USB 3.0
Keyboard Dock 1 x USB 2.0
1 x micro HDMI
1 x micro SD
1 x Type-C USB 3.0
1 x USB 2.0
1 x USB 3.0
Dimensions
(mm) : 265 x 175 x 8.38 plus 7.11-9.91 for dock
(inches) : 10.43" x 6.89" x 0.33" plus 0.28-0.39 for dock
(mm) : 297 x 201 x 18.54
(inches) : 11.68" x 7.93" x 0.73"
Weight
Tablet: 580 g / 1.28 lbs
Dock: 471 g / 1.04 lbs
1.20 kg / 2.65 lbs
Battery
Up to 12 hours
Up to 8 hours
Price
$299
$349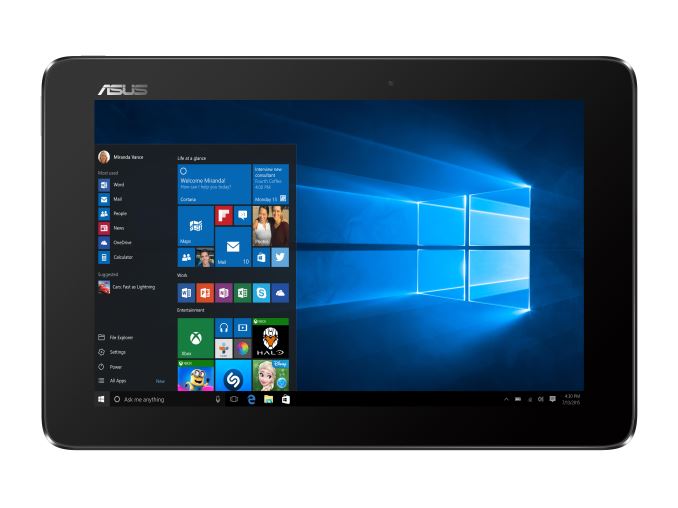 The T100HA moves to Intel's Cherry Trail Atom lineup which is the new 14 nm version of Atom. We first saw the x7 version of this in the Microsoft Surface 3, and ASUS is going with the quad-core x5-Z8500 model. The four cores have a base frequency of 1.44 GHz and a burst frequency of 2.24 GHz. The Scenario Design Power of this SoC is slightly lower than its x7 brother at just two watts. Graphics are Intel's Gen 8 graphics with 12 execution units, and a frequency range of 200 to 600 MHz. This should be a pretty nice bump in performance over the outgoing Bay Trail model, and the 14 nm Atom should also increase battery life. ASUS claims that T100 can now get up to 12 hours on a single charge.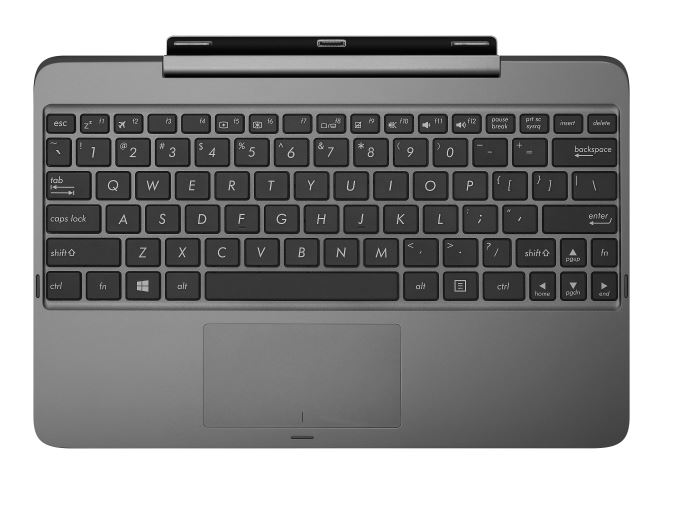 The tablet features an IPS display, and here it drops a bit of resolution over the old model but it also moves from a 16:9 to 16:10 aspect ratio, with the new model featuring a 1280x800 resolution. ASUS has also redesigned the keyboard dock, and the tablet now locks in with the help of neodymium magnets.
But I think where ASUS shows its strengths is the available storage and RAM, with the new model offering 4 GB of RAM and 64 GB of eMMC storage as the only option. For the price of $299, the 10.1-inch tablet offers quite a bit of versatility and performance, and as is always the case with the Transformer Book lineup, the price also includes the detachable keyboard. Impressive stuff. The 1.28 lb tablet also features micro USB, micro HDMI, micro SD, and a USB Type-C port, albeit with just USB 3.0 speeds available, along with another USB 2.0 port on the keyboard dock.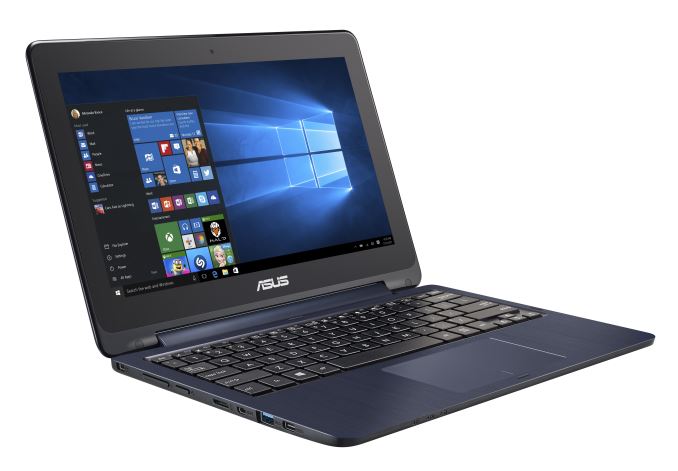 For those that would prefer a more traditional notebook, ASUS offers the Transformer Book Flip T200SA. At 11.6 inches, it's certainly a small notebook, but it also packs a lot in for a low cost notebook. The display is an IPS panel as well, which needs to be called out only because notebooks in this price range generally still ship with TN panels. The TP200SA features Intel's Braswell SoC, with the Celeron N3050. This is also based on the same Airmont cores as Cherry Trail, but in this case it is just two cores, from 1.6 to 2.16 GHz, but with a TDP up to 6 watts which should let the two cores stretch their legs. The graphics is also Intel Gen 8 with 12 EUs and 320-600 MHz available. Once again, ASUS is outfitting this model with 4 GB of RAM and 64 GB of storage, which is a nice baseline offering to have. The 2.65 lb notebook also features micro HDMI, Micro SD, USB Type-C 3.0, and two full sized USB ports with one at 2.0 speeds and another at 3.0 speeds. The notebook will come in a dark blue color scheme and will be sold for $349.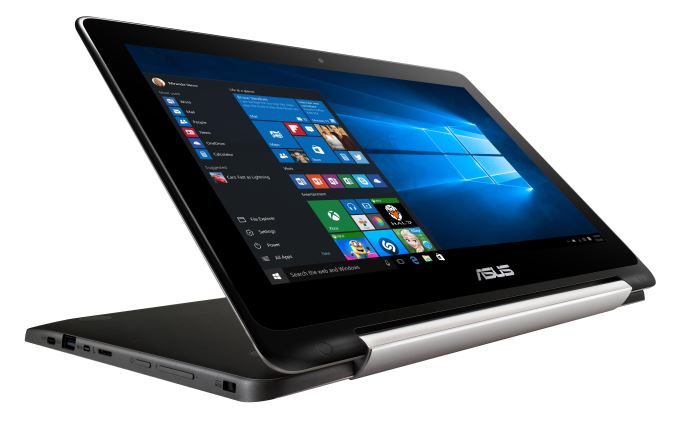 We've seen some pretty impressive low cost offerings in the last while, but ASUS has stepped up their game and are outfitting these models with enough storage and RAM to not make them feel overly strained. 32 GB on Windows 10 is doable, but space management becomes an issue fairly quickly despite the changes to how the OS uses that space. Even low cost tablets generally come with IPS panels, including the outgoing T100 model, but the TP200SA being outfitted with IPS at this price is very nice to see.
ASUS will begin selling both models later in the month.
Source: ASUS