OCZ's consumer accessible PCIe SSD line is the RevoDrive, but if you're an enterprise customer and want a custom configuration OCZ will build you a Z-Drive. To show you how far OCZ is willing to go, it announced a brand new Z-Drive at Computex: the R4 88.
Take eight SF-2281 controllers, put them all in a RAID-0 on a PCIe x8 card with an as-of-yet unknown controller and you've got the Z-Drive R4 88: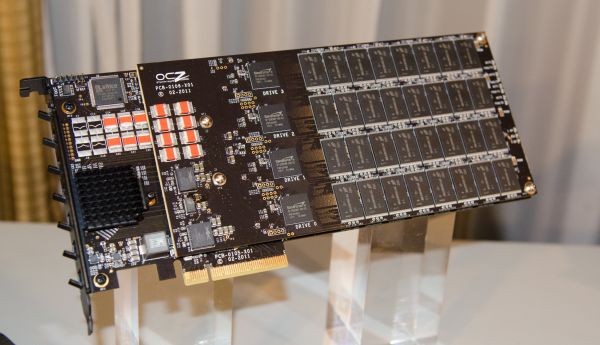 OCZ will be offering two types: the C Series and the R Series. The C Series has less over provisioning and lacks any polymer capacitors for power loss protection, while the R Series has more NAND set aside as spare area and comes equipped with some form of protection against sudden power loss.
OCZ had a 3U Colfax server with multiple Z-Drive R4 88s running an Iometer 4KB random read test, the end result was a single server that delivered more than 1 million IOPS. The drive is spec'd for up to 2.9GB/s reads and 2.7GB/s writes. Obviously as an 8-way RAID-0 there are reliability concerns and I'm not exactly sure the type of enterprise customer that would deploy such a thing, but it's a neat drive to look at nonetheless.