I haven't been to Computex since 2005. I felt that for a while there the show had lost some of its appeal. Motherboards alone weren't all that interesting and there was a lot of confusion in the market as to what to focus on next. These past couple of years I've seen a lot more news items of interest come out of Taiwan and after regretting not being at the show last year, I made it a point to show up this year.
My first meeting actually took place at LAX last night, hours before my flight with a couple of guys from SandForce. Hot on the heels of the SF-2000 family release there's really not much new to talk about from a technology standpoint but SandForce did have a couple of updates to give me.
First is an mSATA reference design based around the SF-2281 controller we've seen used in drives like the Vertex 3 and Agility 3: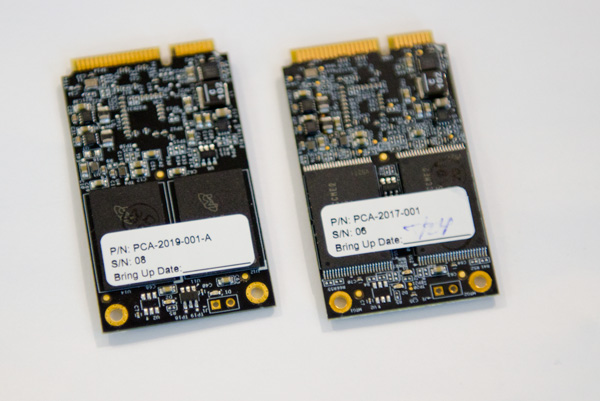 SandForce has both a 4-channel and an 8-channel version of the mSATA drive (right and left in the picture above, respectively).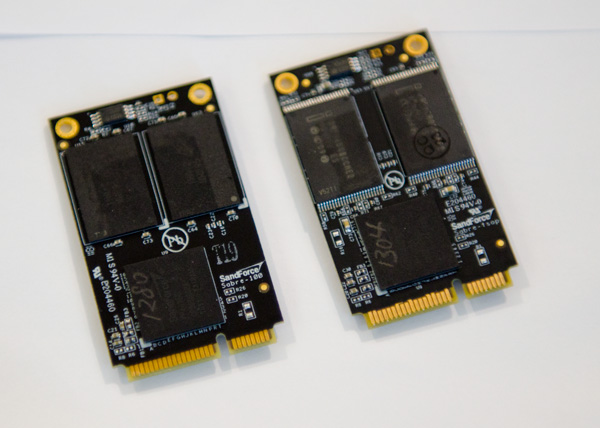 In order to route to the additional channels SandForce had to go with BGA NAND devices for the faster drive, which is the main difference between the two cards.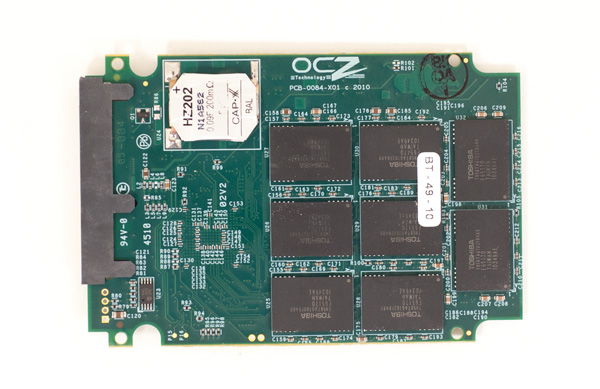 OCZ's Vertex 3 Pro pre-release sample with supercap
The other neat thing SandForce showed me was one of its enterprise SF-2000 reference designs. If you remember back to our Vertex 3 Pro Preview, SandForce's enterprise designs used a beefy capacitor to help flush data to NAND in the event of a sudden power failure. Unfortunately OEMs had concerns about the reliability of that supercap under load over the lifetime of the drive. Intel realized the same issues and opted for smaller polymer caps in its SSD 320 drive:
Below is a SF reference design that uses an array of similar capacitors instead of the single supercap: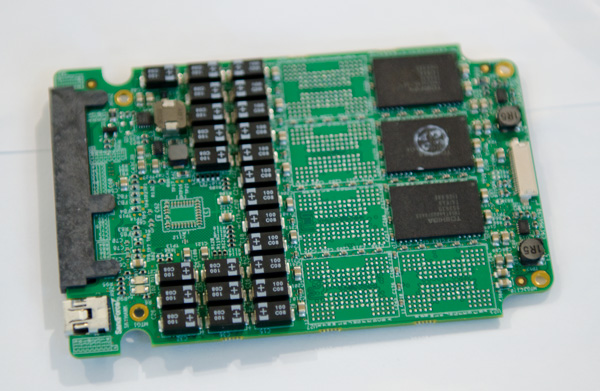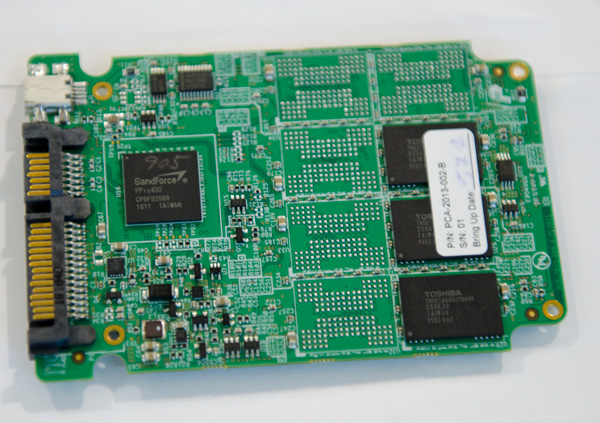 With an array of smaller capacitors the drive can withstand a failure of some in the array and still maintain data integrity in the event of a power failure. SandForce has shown an incredible amount of focus this generation on dealing with the issues that plagued it last generation. Firmware is more reliable, more time was spent on validation testing and with things like the move to smaller caps OEM needs are being met.