I still don't get how OWC managed to beat OCZ to market last year with the Mercury Extreme SSD. The Vertex LE was supposed to be the first SF-1500 based SSD on the market, but as I mentioned in our review of OWC's offering - readers had drives in hand days before the Vertex LE even started shipping.
I don't believe the same was true this time around. The Vertex 3 was the first SF-2200 based SSD available for purchase online, but OWC was still a close second. Despite multiple SandForce partners announcing drives based on the controller, only OCZ and OWC are shipping SSDs with SandForce's SF-2200 inside.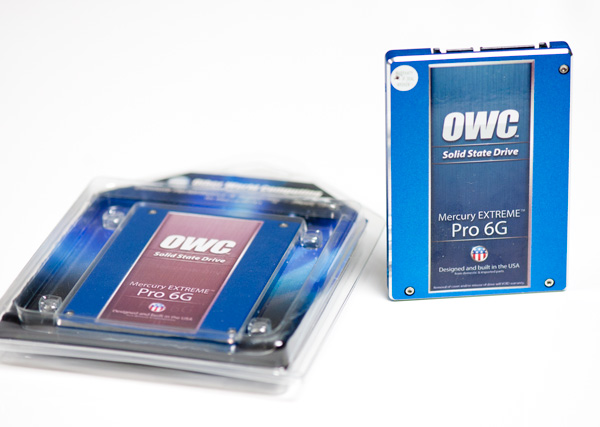 The new drive from OWC is its answer to the Vertex 3 and it's called the Mercury Extreme Pro 6G. Internally it's virtually identical to OCZ's Vertex 3, although the PCB design is a bit different and it's currently shipping with a slightly different firmware: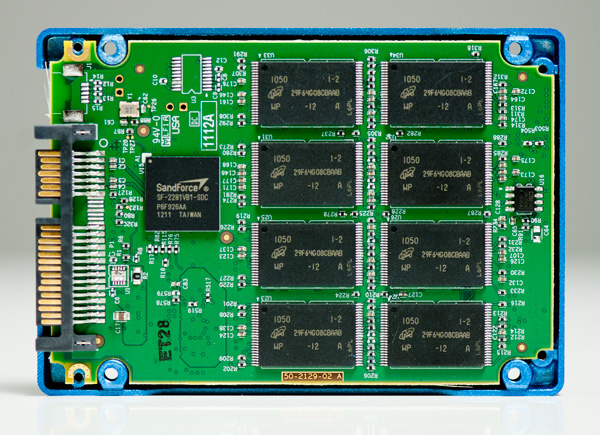 OWC's Mercury Extreme Pro 6G 120GB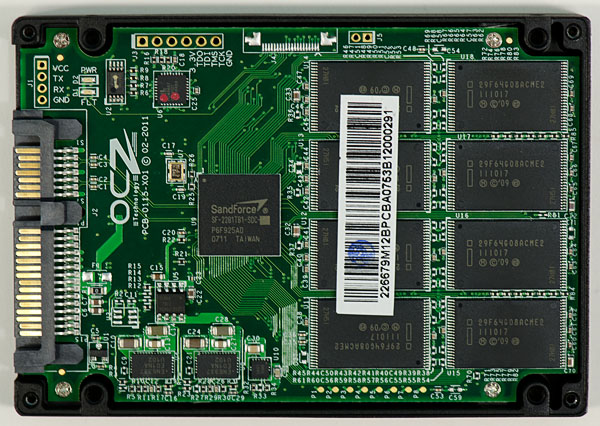 OCZ's Vertex 3 120GB
Both drives use the same SF-2281 controller, however OCZ handles its own PCB layout. It seems whoever designed OWC's PCB made an error in the design as the 120GB sample I received had a rework on the board: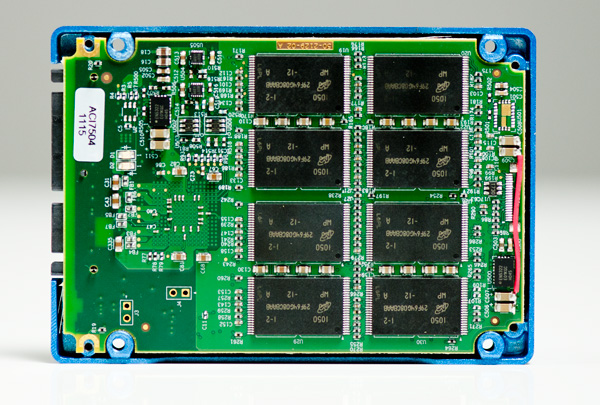 Reworks aren't uncommon for samples but I'm usually uneasy when I see them in retail products. Here's a closer shot of the rework on the PCB: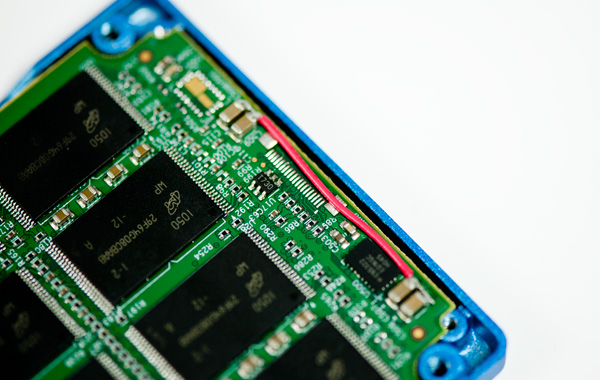 Eventually the rework will be committed to a PCB design change, but early adopters may be stuck with this. The drive's warranty should be unaffected and the impact on reliability really depends on the nature of the rework and quality of the soldering job.
Like OCZ, OWC is shipping SandForce's RC (Release Candidate) firmware on the Mercury Extreme Pro 6G. Unlike OCZ however, OWC's version of the RC firmware has a lower cap on 4KB random writes. In our 4KB random write tests OWC's drive manages 27K IOPS, while the Vertex 3 can push as high as 52K with a highly compressible dataset (39K with incompressible data). OCZ is still SandForce's favorite partner and thus it gets preferential treatment when it comes to firmware.
OWC has informed me that around Friday or Monday it will have mass production firmware from SandForce, which should boost 4KB random write performance on its drive to a level equal to that of the Vertex 3. If that ends up being the case I'll of course post an update to this review. Note that as a result of the cap that's currently in place, OWC's specs for the Mercury Extreme Pro 6G aren't accurate. I don't put much faith in manufacturer specs to begin with, but it's worth pointing out.
OWC Mercury Extreme Pro 6G Lineup
Specs (6Gbps)
120GB
240GB
480GB
Sustained Reads
559MB/s
559MB/s
559MB/s
Sustained Writes
527MB/s
527MB/s
527MB/s
4KB Random Read
Up to 60K IOPS
Up to 60K IOPS
Up to 60K IOPS
4KB Random Write
Up to 60K IOPS
Up to 60K IOPS
Up to 60K IOPS
MSRP
$319.99
$579.99
$1759.99
OWC is currently only shipping the 120GB Mercury Extreme Pro 6G SSD. Given our recent experience with variable NAND configurations I asked OWC to disclose all shipping configurations of its SF-2200 drive. According to OWC the only version that will ship for the foreseeable future is what I have here today:
There are sixteen 64Gbit Micron 25nm NAND devices on the PCB. Each NAND device only has a single 64Gbit die inside, which results in lower performance for the 120GB drive than 240GB configurations. My review sample of OCZ's 120GB Vertex 3 had a similar configuration but used Intel 25nm NAND instead. In my testing I didn't notice a significant performance difference between the two configurations (4KB random write limits aside).
OWC prices its 120GB drive at $319.99, which today puts it at $20 more than a 120GB Vertex 3. The Mercury Extreme Pro 6G comes with a 3 year warranty from OWC, identical in length to what OCZ offers as well.
Other than the capped firmware, performance shouldn't be any different between OWC's Mercury Extreme Pro 6G and the Vertex 3. Interestingly enough the 4KB random write cap isn't enough to impact any of our real world tests.
The Test
CPU

Intel Core i7 965 running at 3.2GHz (Turbo & EIST Disabled)

Intel Core i7 2600K running at 3.4GHz (Turbo & EIST Disabled) - for AT SB 2011, AS SSD & ATTO

Motherboard:

Intel DX58SO (Intel X58)

Intel H67 Motherboard

Chipset:

Intel X58 + Marvell SATA 6Gbps PCIe

Intel H67
Chipset Drivers:

Intel 9.1.1.1015 + Intel IMSM 8.9

Intel 9.1.1.1015 + Intel RST 10.2

Memory:
Qimonda DDR3-1333 4 x 1GB (7-7-7-20)
Video Card:
eVGA GeForce GTX 285
Video Drivers:
NVIDIA ForceWare 190.38 64-bit
Desktop Resolution:
1920 x 1200
OS:
Windows 7 x64