The EliteBook, ProBook b-series, and ProBook s-series
HP has divided their enterprise machines into three different lines. In descending order, they are the EliteBook p-series, the ProBook b-series, and the ProBook s-series. All of the features mentioned on the previous page are integrated into each of these lines, so it's largely a matter of market segmentation.
The EliteBook p-series
HP's big daddy line is the EliteBook p-series. These notebooks will be available in 14-inch and 15.6-inch models.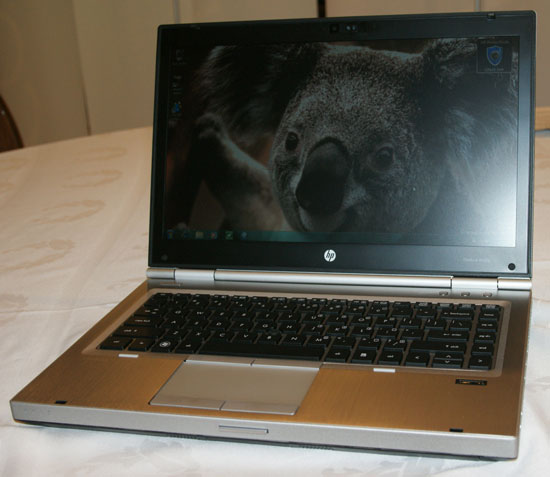 HP was quite proud to show these off and to be fair, they're mighty attractive. The major differentiators here are a silver outer shell with increased durability inside, designed to be as rugged and durable as possible. Perks include a chemically-strengthened glass touchpad designed to be simultaneously more comfortable and more wear-resistant along with support for HP's Ultra-Capacity notebook battery slate, which HP rates at offering the 14-inch model up to a staggering 32 hours of battery life.
The p-series will come equipped with the new Sandy Bridge processors, but graphics support is somewhat disappointing, topping out at just the AMD Radeon HD 6470M. The 6470M has just 160 stream processors and support for GDDR5, making it feel a bit anemic for such a premium line, but AMD has apparently introduced technology comparable to NVIDIA's Optimus that enables switching between the Sandy Bridge IGP and the dedicated AMD graphics. We hope to get a look at this in the near future.
The EliteBook notebooks start at $999.
The ProBook b-series
Stepping down to the ProBook b-series means moving to a slightly less rugged but still durable shell colored in a gunmetal shade of gray. You still get most of the perks, but HP hasn't announced availability of discrete graphics options for these notebooks. These can be ordered with processors ranging from the top-end Core i7 Sandy Bridge chips down to the lowly Celerons.
HP's ProBook b-series will start at $799 and will be available in 13.3-inch, 14-inch, and 15.6-inch form factors.
The ProBook s-series
One would be tempted to call the s-series the budget line of the bunch, but that's not entirely fair. These notebooks include many of the same design perks of the b-series and EliteBooks, with the primary differentiators seeming to be the latches on the lids and a slightly less generous port selection (upon inspection these looked to be missing FireWire and ExpressCard ports).
The flipside is that HP will be offering discrete graphics in these notebooks, though they haven't announced yet which models will be available except to say they'll be AMD Radeons. They'll also run a larger gamut of sizes, being available in 13.3-inch, 14-inch, 15.6-inch, and 17.3-inch models. Overseas there will be an additional 12.1-inch model, though unfortunately it doesn't look like we'll get to enjoy it in the states. Sales of ultraportables out here are fairly low while the Asian markets tend to eat them up and forego the larger desktop replacement models.
HP's ProBook s-series will start at $579.