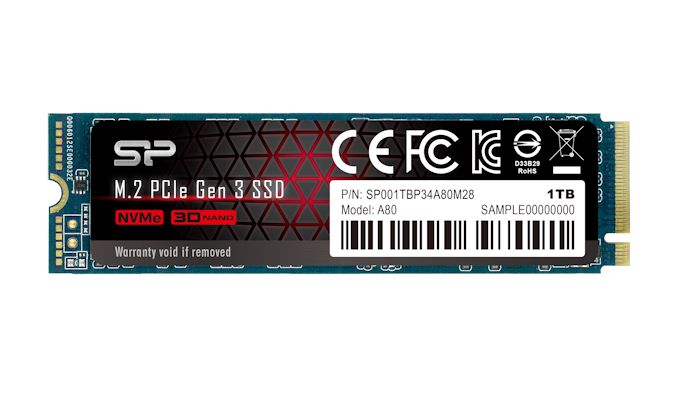 Silicon Power's SSD product line has always offered plenty of entry-level options, but they have only recently entered the NVMe market. Silicon Power is unusual among SSD brands for using controllers and reference designs from both Silicon Motion and Phison; most brands that use turnkey drive solutions are exclusive partners with just one of those two controller vendors. For their NVMe drives, Silicon Power is so far using Phison's second-generation NVMe controllers, starting last year with the P32A80 based on the Phison E8T DRAMless controller, and now followed up by the P34A80 high-end drive based on the Phison E12.
We previewed the Phison E12 controller solution with a review of an engineering sample before retail products were available, and later tested the Corsair Force Series MP510. Based on that, we have a pretty good idea of what to expect from the P34A80, but there are two potentially significant changes. First, the Silicon Power drive is configured with a larger usable capacity and thus smaller spare area than the Corsair drive: 1024GB instead of 960GB, while both drives have the same raw amount of flash memory onboard. Reserving more spare area is usually done to improve sustained performance on write-heavy workloads and to reduce worst-case write amplification and thus increase a drive's write endurance. The Silicon Power P34A80 may thus be at a disadvantage for the tests in our suite that measure performance of a completely full drive.
Second, the Silicon Power drive ships with newer firmware than we have previously tested: the Corsair MP510 was running version ECFM11.0 while the P34A80 is running ECFM12.1. We typically see many firmware versions for each Phison SSD controller. For the S10 SATA controller, quite a few of these revisions were necessary to support new NAND flash memory that was introduced over the course of the controller's long lifespan. For the E7—Phison's first NVMe controller—we saw at least four different firmware versions in shipping retail products, but ultimately none of them were able to extract enough performance to make the controller competitive against other high-end NVMe drives of the time. The Phison E12 launched as a serious contender, so there is much less need for tweaked firmware, but at the same time we have seen other controller hardware provide better performance when paired with the same Toshiba/SanDisk 64L TLC—most notably from Western Digital's in-house controller used in the WD Black product line.
Not all vendors of Phison SSDs are good about providing firmware updates. Silicon Power's current firmware updater is a year old, but they haven't yet needed to provide a firmware update for their NVMe drives. Corsair was much quicker to market with their Phison E12 drive, but they have not yet packaged the 12.1 firmware for their customers. MyDigitalSSD was another early adopter of the E12 controller with their BPX Pro, which was the first retail product to get the 12.1 firmware update.
Silicon Power P34A80 SSD Specifications
Capacity
256 GB
512 GB
1 TB
Model Number
SP256GBP34A80M28
SP512GBP34A80M28
SP001TBP34A80M28
Form Factor
M.2 2280 double-sided
Interface
PCIe 3.0 x4 NVMe 1.3
Controller
Phison PS5012-E12
NAND Flash
Toshiba 256Gb 64L 3D TLC
Sequential Read
3200 MB/s
Sequential Write
3000 MB/s
Warranty
5 years
Silicon Power provides only the most basic specifications for the P34A80, lacking any numbers for random IO performance, power consumption, and write endurance. The sequential IO performance numbers aren't broken down by capacity, but are a bit conservative compared to what other brands advertise for their 1TB Phison E12 drives.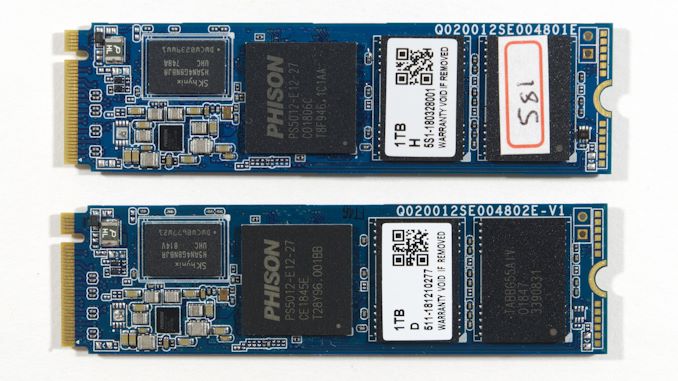 Top: Phison E12 Engineering Sample
Bottom: Silicon Power P34A80
Turning to the drive itself, we find no surprises under the sticker. The Toshiba 64L 3D TLC is by now very familiar, and the PCB layout is only slightly revised from the first Phison E12 reference design we tested. The drive is double-sided even at lower capacities due to the presence of some passive components on the back of the card in addition to DRAM and NAND.
The Competition
The closest point of comparison for the Silicon Power P34A80 is the Corsair Force Series MP510, with identical hardware but older firmware and configured for a lower usable. Other drives in this review that use the same Toshiba/SanDisk 3D TLC but different controllers include:
Kingston A1000, based on the Phison E8 entry-level NVMe controller
WD Black SN750, based on Western Digital's own in-house controller
Plextor M9Pe, based on the Marvell 88SS1093 controller
The Patriot Hellfire shows what the obsolete Phison E7 first-generation NVMe controller platform offered, with 15nm planar MLC NAND; its performance can only compete against the entry-level NVMe drives in today's market.
AnandTech 2018 Consumer SSD Testbed
CPU
Intel Xeon E3 1240 v5
Motherboard
ASRock Fatal1ty E3V5 Performance Gaming/OC
Chipset
Intel C232
Memory
4x 8GB G.SKILL Ripjaws DDR4-2400 CL15
Graphics
AMD Radeon HD 5450, 1920x1200@60Hz
Software
Windows 10 x64, version 1709
Linux kernel version 4.14, fio version 3.6
Spectre/Meltdown microcode and OS patches current as of May 2018