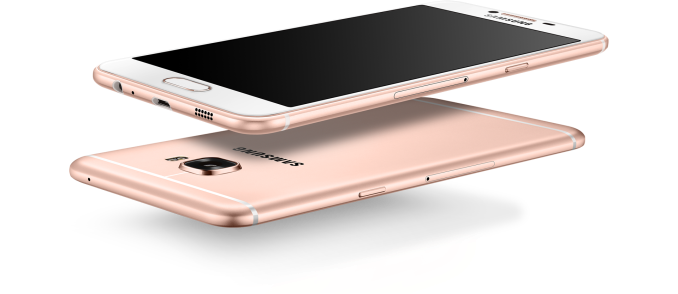 Today Samsung announced two new smartphones that are coming to the Chinese market. They're called the Galaxy C5 and Galaxy C7, and they kick off a new line of Samsung smartphones targeting the upper-mid segment of the smartphone market. Both the C5 and C7 have a full metal chassis, and they have an interesting mix of specifications, which you can check out in the chart below.
Samsung Galaxy C5
Samsung Galaxy C7
SoC
Qualcomm Snapdragon 617
Qualcomm Snapdragon 625
GPU
Adreno 405
Adreno 506
RAM
4GB LPDDR3
Display
5.2" 1920 x 1080 AMOLED
5.7" 1920 x 1080 AMOLED
Size / Mass
145.9 x 72 x 6.7 mm
143 grams
156.6 x 77.2 x 6.7 mm
165 grams
Battery
2600 mAh
3300 mAh
Camera
8MP f/1.9 Front-facing
16MP f/1.9 Rear-facing
32GB
32GB
64GB
MicroSD
Up to 128GB
I/O
3.5mm headset, Micro USB 2.0
Connectivity
2.4 + 5GHz 802.11 a/b/g/n/ac, BT 4.2, GPS/GNSS, NFC
Price
~$330
~$396
The Galaxy C5 and C7 are the same in a number of ways. They share the same cameras, wireless capabilities, and amount of RAM. The fact that they ship with 4GB of RAM stands out to me, but it doesn't seem to have had a large impact on the price so there's not really any harm. The devices are primarily differentiated by their SoCs and displays.
The Galaxy C5 uses Qualcomm's Snapdragon 617 SoC. This is still a 28nm LP part, with four Cortex A53 cores that have a peak frequency of 1.5GHz, and another four with a peak frequency of 1.2GHz. The Galaxy C7 is another story, as it's built on Samsung/GlobalFoundries' 14nm LPP process. It still has two clusters of four Cortex A53 cores, but the performance cluster tops out at 2.0GHz.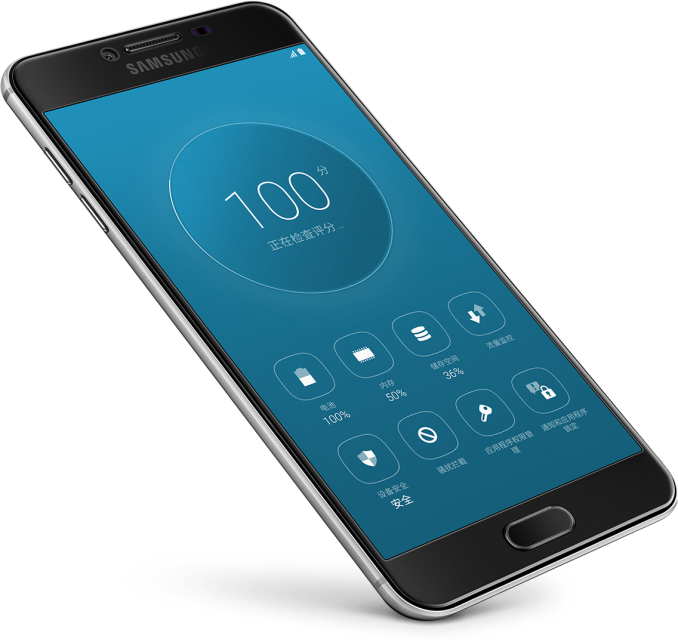 As for the displays, the big difference is the size. The Galaxy C5 uses a 5.2" 1080p AMOLED panel, while the Galaxy C7 moves to 5.7" while maintaining the resolution. At that size a PenTile subpixel arrangement is less than optimal, but on phones of this price I wouldn't expect to see anything else, and so it may be that the Galaxy C5 ends up having the better display of the two phones. The battery capacity scales naturally with the display, with it going from 2600 mAh in the C5 to 3300 mAh in the C7.
The Galaxy C5 and C7 are only headed to China for now, but there's always a chance that devices like these can make their way to other parts of Asia, to Europe or even North America, although the latter is quite unlikely. Both of them come in silver, black, gold, and rose gold, and they also include Samsung Pay which just recently launched in China. Both devices come in under $400 when you convert the price to USD, with the Galaxy C5 coming in at roughly $330 and the Galaxy C7 at $396.