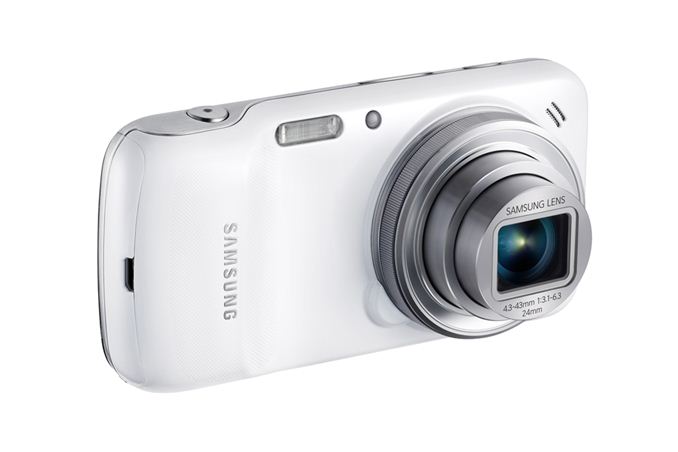 Samsung's Galaxy camera came out almost a year ago, and it roughly mimicked the specs of an international SGS3 but included a unique camera system and body. Although the device couldn't make phone calls, it included cellular connectivity and was arguably the best in the first of a limited number of connected cameras competing with it. After many whispers, Samsung has announced the Galaxy S4 Zoom, an updated version of its connected camera line with a display and front face emulating the SGS4 but topped with another 16 MP camera system.
Camera Emphasized Smartphone Comparison
Samsung Galaxy Camera (EK-GC100)
Nikon Coolpix S800c
Nokia PureView 808
Samsung Galaxy S4 Zoom
CMOS Resolution
16.3 MP
16.0 MP
41 MP
16.3 MP
CMOS Format
1/2.3", 1.34µm pixels
1/2.3", 1.34µm pixels
1/1.2", 1.4µm pixels
1/2.3", 1.34µm pixels
CMOS Size
6.17mm x 4.55mm
6.17mm x 4.55mm
10.67mm x 8.00mm
6.17mm x 4.55mm
Lens Details
4.1 - 86mm
(22 - 447 35mm equiv)
F/2.8-5.9
21x zoom + OIS
4.5 - 45.0mm (25-250 35mm equiv)
F/3.2-5.8
8.02mm
(28mm 35mm equiv)
F/2.4
4.3 - 43mm
(24-240 mm 35mm equiv)
F/3.1-F/6.3
10x zoom + OIS
Display
1280 x 720 (4.8")
854 x 480 (3.5")
640 x 360 (4.0")
960 x 540 (4.3")
SoC
Exynos 4412 (Cortex-A9MP4 at 1.4 GHz with Mali-400 MP4)
ARM Cortex A5(?)
1.3 GHz ARM11
1.5 GHz Exynos 4212
Storage
8 GB + microSDXC
1.7 GB + microSDHC
16 GB + microSDHC
8 GB + microSDHC
Video Recording
1080p30, 480p120
1080p30
1080p30
1080p30
OS
Android 4.1
Android 2.3.6
Symbian Belle
Android 4.2
Connectivity
WCDMA 21.1 850/900/1900/2100, 4G, 802.11a/b/g/n with 40 MHz channels, BT 4.0, GNSS
No cellular, WiFi 802.11b/g/n(?), GPS
WCDMA 14.4 850/900/1700/1900/2100, 802.11b/g/n, BT 3.0, GPS
WCDMA 21.1 850/900/1900/2100, 4G LTE SKUs, 802.11a/b/g/n with 40 MHz channels, BT 4.0, GNSS
It appears Samsung's biggest emphasis with the follow up to Galaxy Camera was thickness, as the S4 Zoom is 15.4mm thick, compared to 19 mm for Galaxy Camera. Display gets a bump down from 720p LCD to qHD LCD, and oddly enough SoC goes from the quad A9 Exynos 4412 to dual A9 Exynos 4212, though Samsung includes the usual "AP differed by market" caveat, so there's a possibility the LTE variant includes some similarly classed Snapdragon SoC. As usual it isn't really easy to find out until all the different model numbers and band combinations are in the open.
Last time around Samsung made things easy by supplying the sensor size, it's easy enough however to verify that the S4 Zoom is using the same 1/2.3" 16 MP sensor by going off of crop factor (5.64 crop factor for a 1/2.3" format sensor * 4.3 mm focal length, gives us their own published 24 mm focal length in 35mm-effective numbers). Likewise the availability of some photos published by a few websites with access to the hardware makes it easy to verify the same captured photo size of 4608 x 3456. I'm not surprised that Samsung kept sensor the same size given the desire to get the package thinner, but I find myself wishing that this did include a larger one for better indoor and low light sensitivity. There's thankfully still OIS (Optical Image Stabilization) onboard. The change in thickness also accordingly comes with a slightly higher F/# at the widest and most telephoto points, from F/2.8 to F/3.1 wide open, and F/5.9 to F/6.3 at telephoto. There's no way around the fact that on paper the S4 Zoom is a bit of a step down compared to Galaxy Camera, but it is thinner.
Of course, the real benefit is that it's a connected camera running Android 4.2 and including GNSS, 802.11n dual band WiFi, BT 4.0, NFC, and a 1.9 MP front facing camera. The biggest change of course is that unlike the Galaxy Camera, Galaxy S4 Zoom is capable of making voice calls directly. I could see myself sticking a SIM in Galaxy S4 Zoom and using it as a hybrid smartphone plus point and shoot device for sure, I just wish it was a step up over Galaxy Camera on the camera side of things. For that we'll have to wait and see if a Galaxy Camera 2 appears.
Source: Samsung