If ever a product has summed up the progression of the Android ecosystem, it's the Motorola Droid. The first Droid catapulted Android into the mainstream with its first 2.x release, and since then the Droid itself has seen a yearly update cadence that honestly has shown no sign of stopping. The updates thus far track the trends that we've seen affect the Android ecosystem as a whole - newer and better versions of Android alongside ever increasing SoC performance, display improvements, camera improvements, and refined hardware design.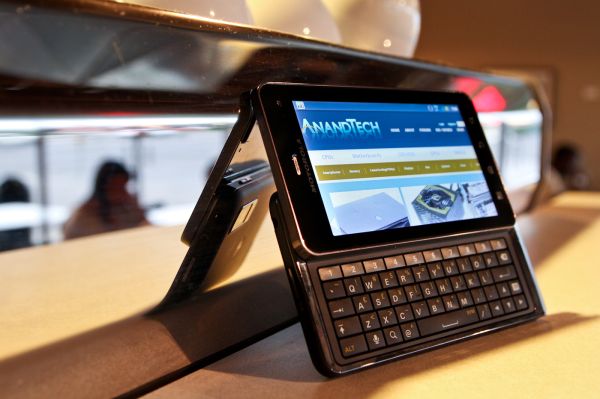 I think that pretty much sums up what kind of update the Motorola Droid 3 (henceforth just Droid 3) is. It's an iterative product launch, for sure, but that belies just how good the improvements all around really are. I noted a few of them already - the Droid 3 includes a dual core OMAP 4430 SoC, larger 4" qHD display, more internal storage, better camera, front facing camera, and most notably a much improved 5 row QWERTY keyboard.
Of course the huge question mark is what has improved connectivity-wise on the Droid 3. There's no 4G LTE baseband, however, instead of repeating the Droid 2 and Droid 2 Global duopoly, Motorola just went ahead and made the Droid 3 global from the start. That's right, it's a dual-mode phone. It's no consolation if you're still waiting for an LTE enabled device with a physical keyboard (for that, you'll have to wait for Samsung to release its rumored next device), but in my mind right now you can either have multi-mode global (CDMA2000 and GSM/UMTS) compatibility or multi-mode (CDMA2000 and LTE) with 4G connectivity. As of yet there's no having it both ways.
We'll talk more about all of that in due time, but for now let's just go over the Droid 3's outward physical appearance and hardware.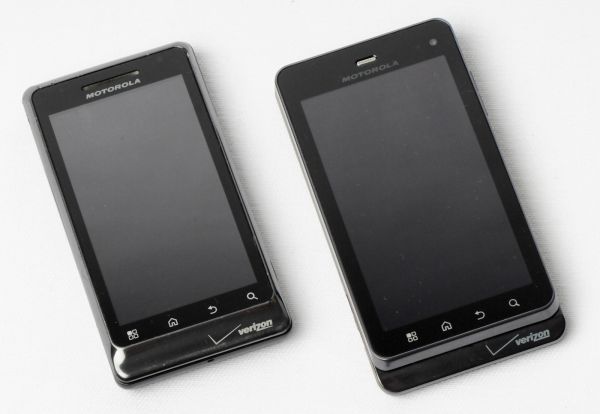 First off, the Droid 3 is notably larger than its predecessor. It's 3 mm wider, 7 mm taller, but almost 1 mm thinner. Those changes in outline are both to accommodate the 4" screen (as opposed to 3.7") and likewise the additional keyboard row. Mass is up as well, from 169 to 184 grams. I won't bore you with all the specifications that have changed, you can just check out the table below.
Physical Comparison
HTC Thunderbolt
Motorola Droid 2
Motorola Droid X2
Motorola Droid 3
Height
122 mm (4.8")
116.3 mm (4.6")
126.5 mm (4.98")
123.3 mm (4.85")
Width
67 mm (2.63")
60.5 mm (2.4")
65.5 mm (2.58")
64.1 mm (2.52")
Depth
13.2 mm (0.52")
13.7 mm (0.54")
9.9 - 14.4 mm (0.39"-0.57")
12.9 mm (0.51")
Weight
183.3 g (6.46 oz)
169 g (5.9 oz)
148.8 g (5.25 oz)
184 g (6.49 oz)
CPU
1 GHz MSM8655 45nm Snapdragon
1 GHz Cortex-A8 OMAP 3620
1 GHz Dual Core Cortex-A9 Tegra 2 AP20H
1 GHz Dual Core Cortex-A9 OMAP 4430
GPU
Adreno 205
PowerVR SGX 530
ULP GeForce
PowerVR SGX 540
RAM
768 MB LPDDR2
512 MB LPDDR2
512 MB LPDDR2
512 MB LPDDR2
NAND
4 GB NAND with 32 GB microSD Class 4 preinstalled
8 GB integrated, preinstalled 8 GB microSD
8 GB NAND, 8 GB microSD class 4 preinstalled
16 GB NAND, up to 32 GB microSD
Camera
8 MP with autofocus and dual LED flash, 720p30 video recording, 1.3 MP front facing
5 MP with dual LED flash and autofocus
8 MP with AF/LED Flash, 720p30 video recording
8 MP with AF/LED Flash, 1080p30 video recording, VGA (0.3MP) front facing
Screen
4.3" 800 x 480 LCD-TFT
3.7" FWVGA 854 x 480 IPS-LCD
4.3" 960 x 540 RGBW LCD
4.0" 960 x 540 RGBW LCD
Battery
Removable 5.18 Whr
Removable 5.2 Whr
Removable 5.65 Whr
Removable 5.65 Whr
Subjectively however, I was shocked at just how thin the Droid 3 feels in the hand in spite of the slide-out keyboard. It seems like generally there's a certain amount of unacceptable overhead that always comes alongside including an actual keyboard, yet the Droid 3 manages to do it without making it painfully obvious that everything was designed around it instead of with it.
The other major difference is how much different the Droid 3 feels compared to the Droid 2 - entirely as a result of the device using squared edges instead of the rounded chamfers that ringed the Droid 2. There's been a recent slow march away from rounded industrial design to one dominated by rigid 90 degree angles, and the Droid 3 follows that trend with this move.