A tipster dropped a link our way early this morning to a GLBenchmark 2.0 results browser page that might be of interest to many. Hit that page and you'll find a complete run of the current GLBenchmark 2.0 suite, and a bit of a confirmation about what is and isn't the upcoming Motorola Droid 3. It isn't Tegra 2, it's OMAP 4430.
First off, the hardware specifications that we can glean from the information page seem to make it a virtually identical match with the specs of the Motorola Milestone 3, or XT883. That means a qHD 960x540 display likely 4" in size, hardware five-row QWERTY keyboard, Android 2.3.4, a possible 1 GB of LPDDR2 (512 MB is the other less-desirable, rumored number), 8 MP rear camera, front camera, and of course an accompanying CDMA2000 baseband for Verizon.
Given the number of recent flagship Motorola product launches with Tegra 2 SoCs, starting with the Motorola Atrix, the Droid X2, and the now-delayed Droid Bionic it seemed that a flagship (read: QWERTY keyboard-packing) summer Motorola Droid launch with Tegra 2 was inevitable. From the results page, it now seems that the Motorola Droid 3 will include a 1GHz OMAP 4430 SoC with PowerVR SGX 540 graphics, and not a Tegra 2.
The model in the results browser is codenamed "Solana" which matches the codename we've heard about for the Verizon-bound Motorola Droid 3. The photos below are of the XT883 which the Motorola Droid 3 will undoubtedly bear an uncanny resemblance to.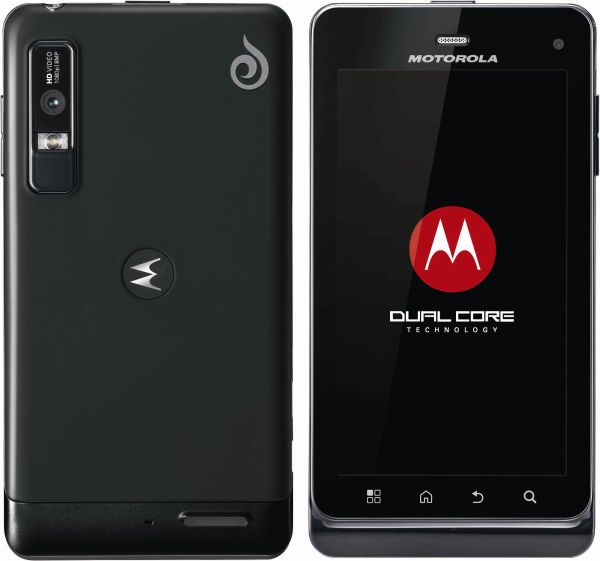 Motorola Milestone 3 - XT883 for China (courtesy: Motorola Mobility)
The benchmarks themselves paint an interesting picture, and while we're at it I've tossed in some other devices we have in-hand but haven't finished our full reviews of yet for comparison with these results from the Motorola Droid 3. Again GLBenchmark 2.0 runs we're reporting here are at native resolution for the respective devices, which we've now included in the description line for comparison. For a quick refresher, WVGA is 800x480, FWVGA is 854x480, and qHD is 960x540.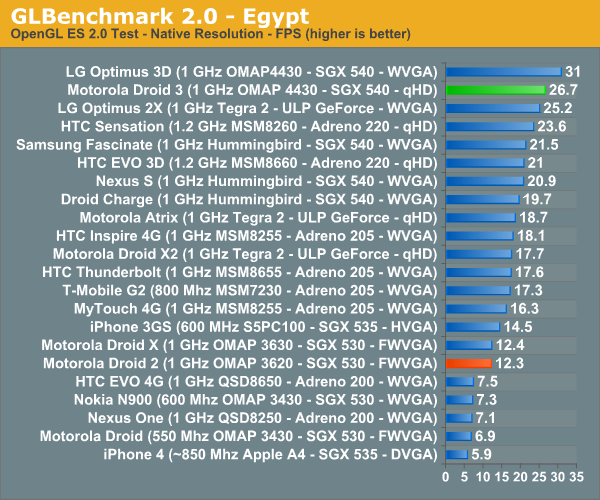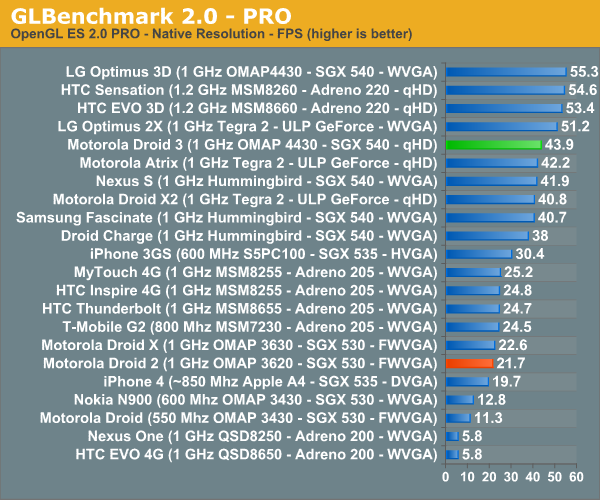 I've highlighted the previous Motorola Droid 2 results (which we reviewed last year) just for fun to illustrate how far we've come in one calendar year.
The Motorola Droid 3 results are impressive, edging out the Adreno 220-packing HTC Sensation and EVO 3D in the more demanding Egypt test, but not quite in Pro. No doubt this is thanks at least partially to the newer Imagination drivers which give a small performance boost.