Kingston KHX11000D3LLK2
Kingston hardly requires an introduction as a memory manufacturer. As the world's largest memory manufacturer you will find Kingston products available at almost every computer retailer. If a product uses memory then Kingston likely makes such a product. Headquartered in Fountain Valley, California, Kingston has grown from its beginnings with a single product in 1987 to $3.4 Billion in sales last year and an offering of over 2000 memory products.
Kingston
is by far the world's largest independent memory manufacturer, and it is more than 3 times larger than #2.
Kingston today manufactures memory at four manufacturing locations: US, Malaysia, China, and Taiwan. The four manufacturing plants have more than 35 Surface Mount Technology (SMT) lines for producing virtually every kind of memory available in the world. This includes the DIMMs, SO-DIMMs, and flash memory that are of most interest in the Computer and Digital Imaging markets. Within these product categories, Kingston manufactures a full range of products, from OEM parts to their popular Value RAM series to enthusiast-oriented HyperX products.
While Kingston is one of the first names to pop into mind when anyone mentions memory, it is not the first name most computer enthusiasts might think of when it comes to high-end memory. Yet, Kingston always provides competitive high-end products in their HyperX line, and they are large enough to often be first to market with new memory technology. Today's review of Kingston DDR3-1333+ memory rated at 7-7-7 timings is an example of that.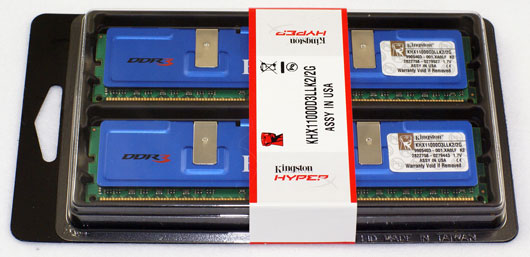 For memory that is charting new territory the packaging is not really new. You will find the low-latency HyperX DDR3-1333 in the traditional Kingston double kit tray with a clear cover and an adhesive ID label.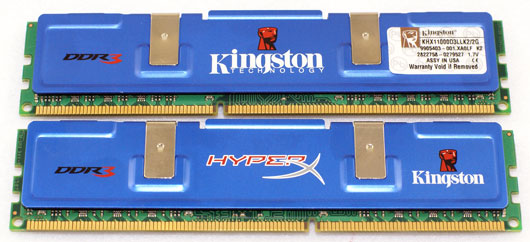 The DIMMs themselves are also typical. The only feature that makes them stand out in appearance is the familiar blue heatspreader that identifies this as top-line HyperX memory. Of course the specs begin to tell us that this is the fastest DDR3 we have yet tested with the best timings on the market.
Kingston KHX11000D3LLK2
Memory Specifications
Number of DIMMs & Banks
2 DS
DIMM Size
1GB
Total Memory
2 GB (2 x 1GB)
Rated Timings
7-7-7-20 at DDR3-1375
Rated Voltage
1.7V (Standard 1.5V)
If the specifications look a little strange, recall that DDR3 is lower voltage, higher speed and slower timings than DDR2. The chart below summarizes some of the differences in the official JEDEC DDR2 and DDR3 specifications.
JEDEC Memory Specifications
DDR2
DDR3
Rated Speed
400-800 Mbps
800-1600 Mbps
Vdd/Vddq
1.8V +/- 0.1V
1.5V +/- 0.075V
Internal Banks
4
8
Termination
Limited
All DQ signals
Topology
Conventional T
Fly-by
Driver Control
OCD Calibration
Self Calibration with ZQ
Thermal Sensor
No
Yes (Optional)
JEDEC specifications are a starting point for enthusiast memory companies. However, since there was never a JEDEC standard for memory faster than DDR-400 then DDR memory running at faster speeds is really overclocked DDR-400. Similarly DDR2 memory faster than DDR2-800 is actually overclocked DDR2-800 since there is currently no official JEDEC spec for DDR2-1066. DDR speeds ran to DDR-400, DDR2 has official specs from 400 to 800, and DDR3 will extend this from 800 to 1600 based on the current JEDEC specification.
The Kingston KHX11000D3LLK2 is the first DDR3 we have tested with a rated 1333 or higher speed. It also offers lower latency than any DDR3 we have seen so far.
Kingston HyperX DDR3-1375 with be available in the 2GB kit we are reviewing here, as well as in a 1GB kit consisting of a matched pair of 512MB DIMMs. Kingston will also sell single 1GB and 512MB DDR3-1375 DIMMs. Kingston will announce this DDR3-1375 low latency memory at Computex on June 5th. As we were finishing this review we asked Kingston when this new DDR3 memory will be available for purchase. They told us distributors have the memory or will be receiving it shortly, and that readers should be able to buy the new low-latency DDR3 on launch day, June 5th.
Pricing for the low-latency DDR3 kits is set by sellers, and it is normally lower than the manufacturer's suggested price. Kingston has set the following MSRP for the new DDR3 low-latency kits:
2GB (2 x 1GB) kit $518
1GB (2 x 512MB) kit $256
Single 1GB DIMM $268
Single 512MB DIMM $134
This HyperX DDR3-1375 7-7-7 memory is Kingston's top-of-the-line product, but Kingston will also be launching DDR3 Value RAM. We don't yet have specifications or pricing for the Value RAM product.