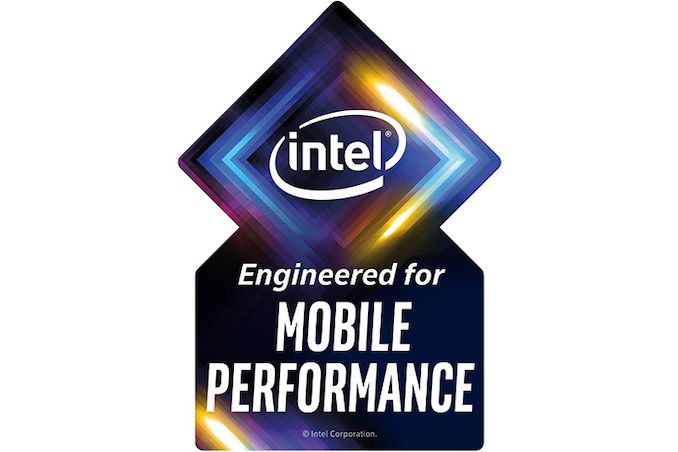 With the release of the first Ice Lake-U laptops, Intel has announced that there will be a badge/visual identifier for laptops that comply with Intel's Project Athena standard. The 'Engineered for Mobile Performance' label will be used for online listings, product pages, on in-store display systems, on packaging, and for demonstrations. Do note, however, that there won't be any 'Engineered for Mobile Performance' badges on actual notebooks. Apparently, neither Intel nor PC makers want to put badges on the chassis of premium computers (this itself typically being treated as a premium feature).
Stylized like a medal, Intel's 'Engineered for Mobile Performance' label indicates that a particular notebook meets Intel's key experience indicators (KEI) for Athena laptops, which stipulate requirements for performance, features, and battery life, among other things. As previously announced, Intel is doing Athena verification itself, so any product carrying the label means that it has been verified by Intel's tests and conducted by Intel's specialists.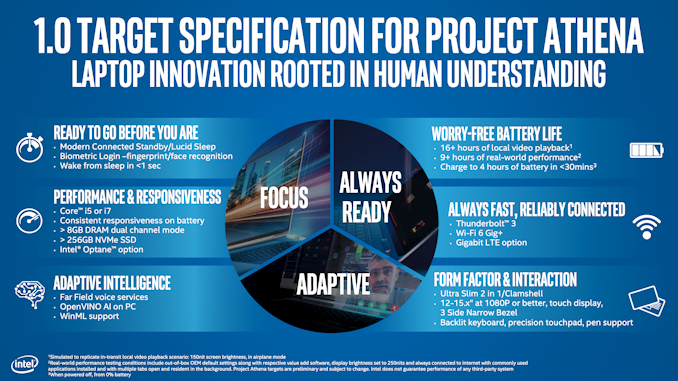 With the Athena specifications set to be revised every year, for this first year's 'Engineered for Mobile Performance' notebooks that comply with the Project Athena v1.0 specification, Intel wants the following.
Intel Project Athena v. 1.0 Requirements
Feature
Requirement
Form-Factor
An ultra-thin clamshell or convertible notebook, or a 2-in-1 hybrid PC.
Display
Touch-enabled 12 – 15-inch display with narrow bezels.
At least a Full-HD resolution.
Stylus support
Internal Hardware
Intel's 10th Gen Core i5 or Core i7 processor with Intel Dynamic Tuning Technology.
At least 8 GB of dual-channel DRAM.
At least a 256 GB NVMe SSD with or without Optane H10 caching SSD.
Responsiveness
Consistent responsiveness both on battery and on power outlet.
Instant Action
Connected Standby/Lucid Sleep support.
Wake up from sleep in less than a second.
Wake up to Internet browsing time should not exceed two seconds.
Wireless Connectivity
Wi-Fi 6 and optional Gigabit LTE.
Wired Connectivity
Thunderbolt 3.
Battery Life
At least 9 hours of mixed-workload battery life at 250 nits display brightness.
At least 16 hours of local video playback.
Fast charge support.
Intelligence
Far Field microphone with voice services.
Hardware-accelerated OpenVINO AI and WinML support (which requires Ice Lake).
Interaction
Backlit keyboard, precision touchpad, touch display, stylus.
While the PC notebook market is (and will remain) widely varied in features, performance, and prices, Intel is ultimately aiming to tighten up the high-end portion of the market by giving its OEM/ODM partners goals, and matching incentives to reach them. PC hardware in general has been a continual race to the bottom – OEMs are always looking for an edge in costs/price – so in this respect Athena is an effort to entice OEMs to use higher-quality, more expensive (and frequently all-Intel) parts for better performance and greater energy efficiency. Intel is no stranger to this strategy, having employed something similar for both their Centrino and Ultrabook programs, so they are once again turning to it to shape the direction of high-end laptops going into 2020, as well as fending off a push from Arm-based laptops.
The first laptop to meet Intel's Project Athena program requirements is Dell's XPS 13 2-in-1 model 7390 that became available on August 8. Shortly, Acer's Swift 5, HP's Envy 13 Wood Series, and Lenovo's Yoga S940 will also make their debut.
Related Reading:
Source: Intel