Performance
Depending on which model you get, the ZenFone 2 will come with either Intel's Atom Z3560 or Atom Z3580 SoC. The former has a max boost clock of 1.8GHz, while the latter has a max of 2.33GHz. It's also important to note that the more expensive model with the Z3580 comes with 4GB of LPDDR3 1600 memory, with the Z3560 models only sporting 2GB. While it's not unheard of to see one of Intel's Atom SoCs in an Android device, this is the first time I've seen it in a smartphone with such wide availability. I'll be talking more about x86 on Android in the final review, but the main point is that the nature of Java applications means that users don't need to be concerned about whether their device uses ARM, MIPS, or x86.
The model we have for testing is the high end Z3580 + 4GB configuration. While I can't make any concrete statements, based on the thermal constraints of smartphones I would expect that Z3580 will outpace Z3560 in race to sleep scenarios where the SoC runs at a high speed for a short period. In more sustained workloads I think that the two phones will perform similarly as they throttle down to manage heat. The extra 2GB of RAM may also be a factor, but it feels more like a future proofing measure, as we don't even see the 3GB of RAM in flagship devices being saturated. Android RAM requirements are also trending downward rather than upward due to the majority of Android sales being inexpensive devices.
To evaluate the performance of the ZenFone 2, I've run it through our standard suite of web and native benchmarks. This section mixes together the more CPU bound and GPU bound benchmarks, and I've just posted the overall score for many of the tests. I'll be looking at the scores for the subtests of benchmarks in the full review to see exactly what areas it performs better in than others.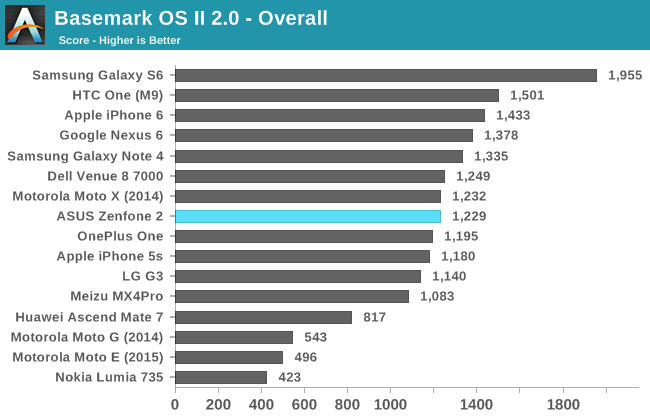 The overall score in Basemark OS II paints the ZenFone 2 in a good light. Its performance when considering every aspect of the hardware ends up being in the same range as the 2014 flagship smartphones. Some of the newest devices pull ahead, with the Galaxy S6 being very far ahead due to its UFS memory. All the devices ahead of it also happen to cost upwards of $500, $600, and even $700, so ASUS and Intel should be proud.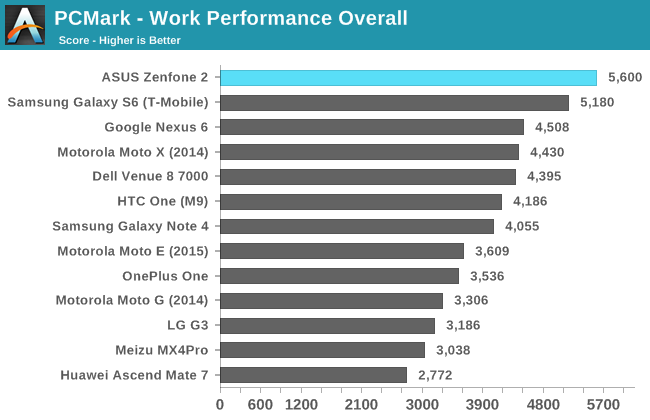 PCMark is a benchmark that emphasizes real world tests. It performs actions like playing and seeking within videos, writing text and into files, etc. All of these are race to sleep scenarios where the CPU should run at its high frequency for a short period and then return to a low frequency to save power. The quad core Atom Z3580 with its 2.33GHz peak frequency pulls ahead of every other smartphone, including the Galaxy S6 which was the previous leader. I'm very impressed with the ZenFone 2's performance here, and it does indeed translate into the same real world tasks that PCMark runs.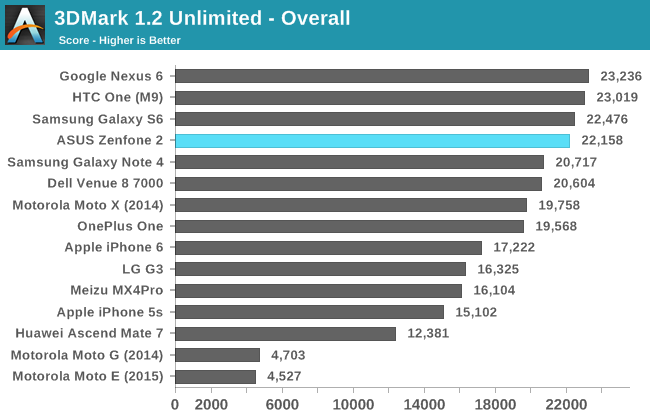 The 3DMark benchmark has both GPU and CPU components. In this test the ZenFone 2 does surprisingly well, with a score that sits among the newest flagship devices.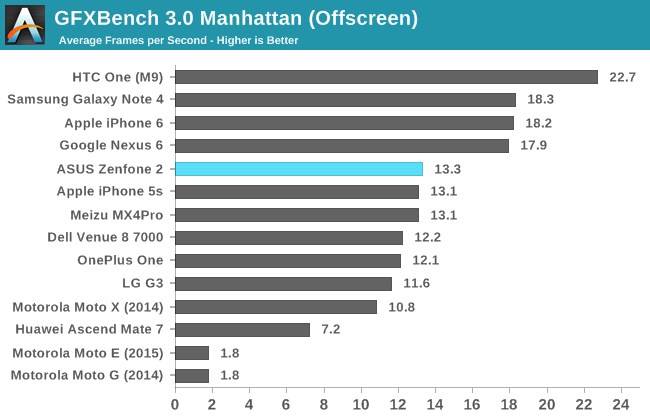 Last, but not least, we have GFXBench's Manhattan benchmark. In this test, we see that the ZenFone 2 performs roughly as well as the iPhone 5s, with a deviation that is small enough to attribute to variance between different runs of the test. It makes sense that the ZenFone 2 performs around as well as the iPhone 5s, as they both share the same PowerVR G6430 GPU. Since the clock speed for the GPU in Apple's A7 chip is unknown, it's not clear whether the ZenFone 2 is at any performance advantage or disadvantage due to driver differences between iOS and Android.
Overall I'm more than pleased with the performance of the ZenFone 2. It's not even worth comparing it to other phones in the $200-300 price range, as it performs at the level of last gen and in some cases current generation flagship smartphones. The GPU in Intel's Moorefield line is definitely the area that needs the most improvement when the next generation of mobile Atom parts comes around. Intel will undoubtably continue to use GPUs from Imagination Technologies, and it will be interesting to see if Intel moves to the PowerVR 7 series with their next generation of SoCs.
Initial Thoughts
Based on the time I've spent using the ZenFone 2 so far, I'm impressed with what ASUS and Intel have managed to create within their price constraints. In some respects, the ZenFone 2 competes with phones that cost substantially more money. In others, it doesn't do quite as well, but it usually outperforms other devices in the $200-300 range by a significant margin, and this is where its real strength seems to lie.
There's a lot to like about the ZenFone 2. While it doesn't support an aluminum or steel chassis, the design is still very nice. Personally, these 5.5" devices are still a bit too big for me to use comfortably, but that's more of a personal preference. The display is also very sharp, although the accuracy could be improved. I understand that CABC can be helpful in certain cases to improve battery life, and even Apple employs it in certain scenarios such as full screen video. That being said, employing it constantly can be problematic, and ultimately I don't think the display issues it can introduce are worth it.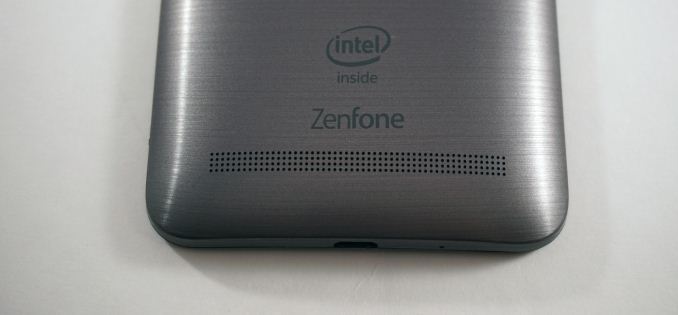 In terms of performance, the CPU is competitive at times with this year's fastest flagship devices. Apple, Qualcomm, and Samsung should probably be a bit concerned about ASUS and Intel's efforts to get this kind of performance into devices that cost only $200 or $300, as it significantly compresses the gap between them and $650 flagship phones. Meanwhile the GPU is similar in performance to last year's flagship smartphones and tablets. I think the GPU should definitely be the main area of focus for Intel with future SoCs. Otherwise compared to more similar phones in the $200-$300 range, the ZenFone 2 is well ahead when it comes to both CPU and GPU performance.
Based on what I've seen so far, the choice between the ZenFone 2 and other devices at the same price is looking to be an easy choice if you're concerned with performance first and foremost. The bigger question to tackle for our full review may very well be just what tradeoffs you do make between the ZenFone 2 and the major manufacturer's flagship phones. At $199/$299, ASUS isn't intending to go to go head-to-head with the likes of the iPhone and Galaxy S6, but if the ZenFone 2 can deliver enough of the flagship experience then it has the potential to be a spoiler for users who can accept the compromises in exchange for significant savings.
Wrapping things up, there are still many aspects of the ZenFone 2 to explore. I'm currently in the process of evaluating the camera, battery life, NAND performance, and ASUS's Zen UI for Android. I hope to be able to present that information to all of you soon, and I hope that you'll join me again when the full review of the ZenFone 2 is completed.