Introducing the Logitech G600 MMO Mouse
While the G710+ mechanical keyboard is a respectable entry into Logitech's canon of peripherals and certainly notable as their first mechanical keyboard, the G600 MMO gaming mouse is a pretty impressive piece of kit unto itself as well.
What characterizes an MMO mouse is, essentially, a massive cluster of programmable buttons under the thumb. I think the existing entrants on the market have reached varying degrees of success with their designs, but the G600 is, like the G710+, an unusually and impressively intuitive piece of kit. While I think Corsair's first keyboards and mice were very strong options out of the gate, Logitech has more experience in designing peripherals, and their patient study of the competition with both the keyboard and this mouse is evident.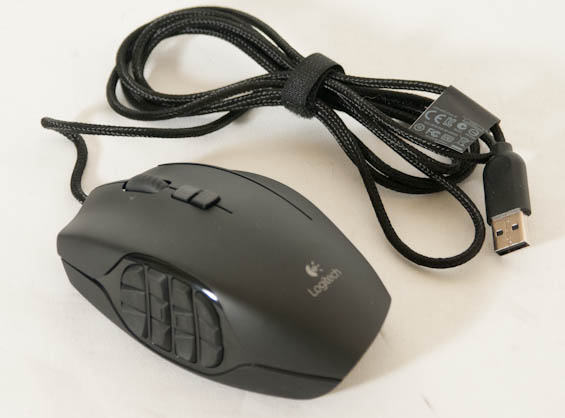 The G600's design is remarkably simple. They use a soft-touch plastic that's in my opinion more pleasing to use than the material Razer uses on their mice; Razer mice have always made my hand clammy, while the surface of the G600 (and my personal favorite, the mainstay G500) seems to let my skin breathe just a little more.
Where the G600 excels is in its overall layout, though. The top surface of the mouse actually sports three distinct buttons (as opposed to the usual two and the mouse-wheel button) along with the mouse-wheel button and two buttons beneath it. The third and rightmost button is for your ring finger, and can be configured however you wish, although Logitech has a clear plan for it. Meanwhile, the array of twelve buttons under the thumb is freakishly intuitive. These buttons are essentially designed as two nests of six, raised at the edges; the rep said it was rare for individuals to use all twelve buttons, but that the two nests of six allowed people with varying sizes of hands to pick a set that was comfortable to them and go.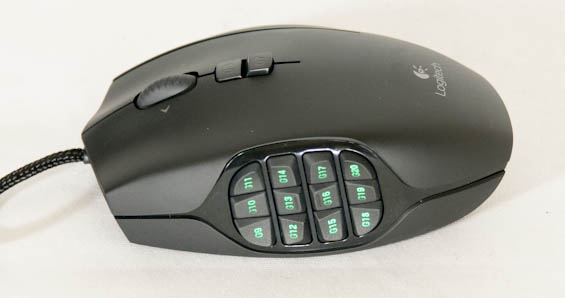 It gets better. The side button array is also backlit, and the backlighting is not only color and pulse configurable but corresponds to whatever programmed set of buttons you're using. The G600 can be programmed with a staggering 48 sets of functions on these buttons; three profiles to switch between, plus what Logitech calls their "G-Shift" profile, enabled by holding the third surface button under the index finger.
If the G600's design has any major flaws, it's that it's frankly just a large mouse and in some ways feels a bit stripped down. The buttons are fantastic and the third surface mouse button seems like such an obvious inclusion that I'm surprised nobody else is doing it; the last time we saw this with any kind of frequency was decades ago. Yet I miss their switchable freewheel for the mouse wheel, and while adjustable weight might not be strictly necessary for a mouse this large it would still be appreciated.