Drivers & Software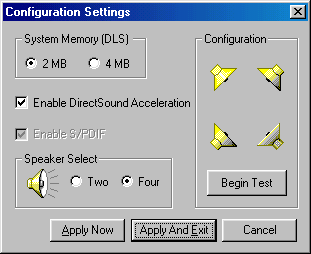 In accordance with the whole branding scheme, Diamond likes to have unique names for every piece of their products. The driver utility is known as the Diamond InControl Audio Tools. Unfortunately, unlike the recent InControl Tools featured on the Viper V770 and Viper II, the ones included with the MX400 offer very limited functionality - nothing more than an option to select 2 or 4 speaker output, select the wavetable set, and to enable/disable DirectSound acceleration.
Complete Sound Blaster Pro emulation is included in the Windows drivers, as well as a DOS executable for true DOS support.
Similarly, the bundle is known as the "Monster Bundle" and offers quite a bit of software actually. You get the Slave Zero OEM demo (7 levels), Demolition Racer NetActive version, Liquid Player, Mixman Studio FX, RioPort Audio Manager, Zoran SoftDVD, Soft Karaoke Lite, Yamaha Soft Synthesizer S-YXG50, and Adobe Acrobat Reader.
Zoran's SoftDVD is perhaps the most interesting piece of software included because it actually interacts specifically with the MX400. Zoran was the one that first incorported Dolby Digital AC-3 5.1 downmixing for quad speaker output on Vortex2 cards and they've done it again for the Canyon3D on Diamond's MX400. Two speaker surround through HRTF is also available with Zoran. Additionally, there is support for the pass through of DVD AC-3 audio through the onboard S/PDIF digital output.
Slave Zero and Demolition Racer are limited versions of those two games, while Liquid Player, Xing Audio Catalyst (trial), Mixman Studio FX, and the RioPort Audio Manager are all audio related.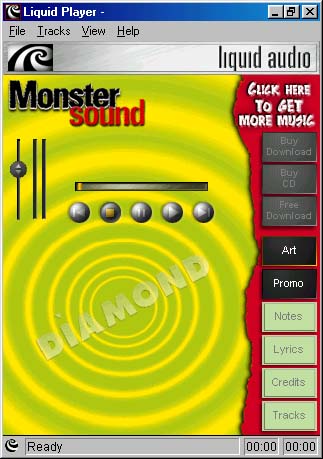 Liquid Player comes from Liquid Audio and provides support for virtually all digital audio standards, including MP3, Secure Digital Music Initiative (SDMI), Real Networks, Dolby Digital, and Advanced Audio Compression (AAC).
The Mixman Studio FX interface looks like two turn tables and allows you to create your own MP3 mixes.
RioPort Audio Manager allows you to make and organize your own MP3's as well as interface with Diamond's Rio portable MP3 line.