Supermicro is a true innovator when it comes to form factors. Two years ago Supermicro invented the Twin² a 2U chassis with four servers. The 4 server nodes were fed by two shared redundant 1200W PSUs. When we heard about the Twin³, we became very curious.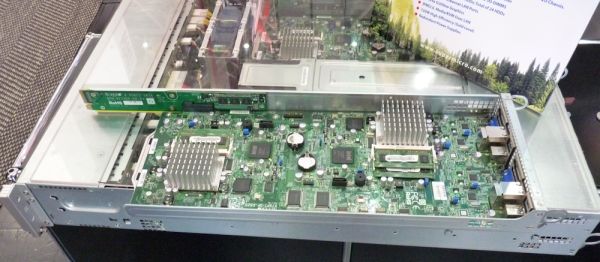 The Twin³ contains 4 hotpluggable units just like the Twin². However, each unit contains two separate motherboards, and as a result there are 8 servers inside this 2U node. The Twin³ is not aimed at the same market as the Twin². The Twin² offers high processing power in a dense, high available chassis.
The Twin³ , also known under the less sexy name Superserver 2015TA-HTRF, is based on the dual-core Intel Atom D525 1.8 GHz. Each node also supports 4 GB of non-ECC DDR3-800 SO-DIMMs, dual Gigabit Ethernet LAN, 2 USB ports, IPMI 2.0 with virtual media over LAN support, and 3x 2.5" SATA hot-swap HDDs. With 4 GB of RAM and a dual-core Atom, we can hardly speak of the Twin³ as a speed daemon.
It is not completely clear to me which market is targeted. According to Supermicro, there are server markets where very low power in idle is important and where little processing power is required. I would personally solve that problem by consolidating all those low intensive workloads on a decently powerful virtualized host with tons of RAM so that you can keep the total amount of servers low. But we have to give this server the benefit of the doubt.
The system also includes (1+1) redundant 720W Gold Level power supplies with PMBus, and four high quality fans. In reality it will be hard to push this system into consuming more than 400W.