Nehalem EX Confusion
One of the reasons that the Xeon X7560 did not show its full potential at launch was a small error in the firmware of the Dell R810 testing platform. This caused the memory subsystem to underperform. As a result some of the bandwidth sensitive benchmarks, including many HPC applications, were not performing optimally. Intel claimed that a dual CPU config should be able to reach 39GB/s, and a quad CPU configuration should reach up to 70GB/s. We could not reach those stream numbers as we test with our somewhat older stream binary as described here. Using the same stream binary as before allows us to compare our findings with all our previous measurements.
We reran our stream benchmarks on the new QSSC-S4R server system.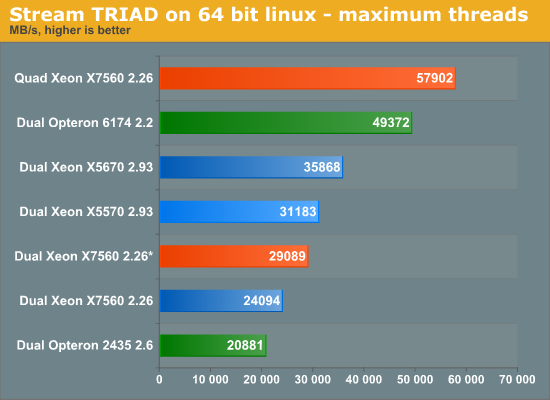 * New measurements.
The new results tell us that available memory bandwidth is about 21% higher (29GB/s) than what we previously measured on the DELL R810 (24GB/s). That means that many benchmarks published at the launch of the Xeon 7500 and using the Dell R810 were too low, especially the HPC ones. The Xeon X7560 will not be able to beat the quad Opteron 6174 when it comes to raw bandwidth, but it is far from a bandwidth starved platform.