Microsoft's App Store... Er... Marketplace
Phone 7's Application Marketplace will be the only way to install and get software on the device. Yes, it's that cut and dry. This is definitely a partial letdown for the platform's openness to some extent, mirroring a very apple-esque distribution model and store. At the same time, it's a simplifying move that guarantees common paths to installation. All the same Apple App Store highlights exist here, including one-time credit card information entry and organization. However, one thing Marketplace has that App Store doesn't is complete support for trial software. It's as easy as calling a function called isTrial().

Perhaps the most interesting issues raised were from developers focused on software for corporate employees; without another installation path, anyone could install privileged software. Until a framework exists for them to either have an access token, or an alternate install method, they're out of luck. I'm told Microsoft has taken this feedback seriously and plans to eventually make that happen.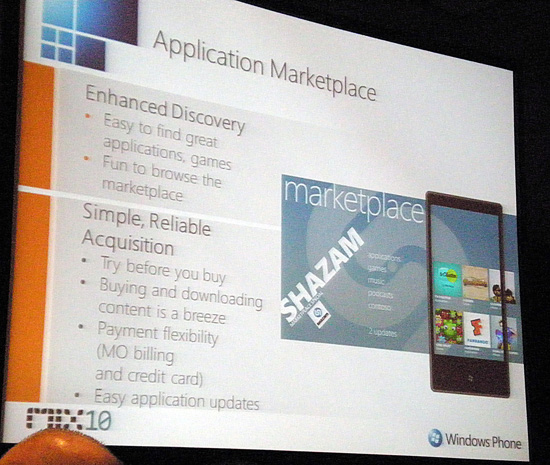 There will be a submission process for applications to be approved and entered in the marketplace, though these details will likely come today or tomorrow (so stay tuned!). What we do know is that there are three specific tests for application approval: business related policies, technical related policies, and (perhaps most controversially) content related policies. Microsoft representative Charlie Kindel repeatedly emphasized that the "approval process will be completely open and [developers will] know what's going on at each step." Again, we fully expect these to be fleshed out during the remainder of MIX10.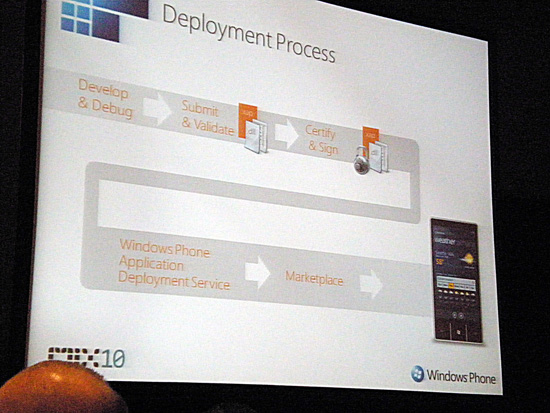 Application Submission Workflow
All the rest of what you'd expect from an application marketplace is here, including updates and support for free applications.