AMD Entry-level PC
A year ago our entry AMD was single-core, last December 40% less money bought a 2.6GHz dual-core system, and today's AMD entry system uses a Black Edition unlocked 2.7GHz dual-core that costs a few dollars less than our choice just three months ago. That is certainly increased value in an economy that forces most buyers to look closely at price. With memory so cheap we have continued our recommendation of 4GB at a kit price of just $37. You can go with 2GB and save $18, but that money is well spent in doubling memory. The hard drive remains at 500GB.
AMD Entry-level PC
Hardware
Component
Price
Processor
Athlon 64 X2 7750 Kuma 2.7GHz Black Edition
(2.7GHzx2 95W 2x512KB L2)
$60
Cooling
CPU Retail HSF
$-
Video
On-Board
$-
Motherboard
ASRock A780GXE/128M 780G
$80
Memory
G.Skill 4GB (2x2GB) DDR2-800
$37
Hard Drive
WD Caviar GP WD5000AACS 500GB
$60
Optical Drive
Samsung 22X DVDRW/DL SH-S223Q
$25
Audio
On-Board
$-
Case
SIGMA La Vie ABWBP Black Aluminum/ SECC ATX Mid Tower with 500W Power Supply
$60
Power Supply
Included with Case
$-
Base System Total
$322
Display
Hanns-G HB-175APB Black 17" 8ms Widescreen LCD Monitor Built in Speakers - Retail (1440x900)
$99
Speakers
Built into Monitor
$-
Input
Microsoft CA9-00001 Black PS/2 Standard Keyboard and Optical USB/PS2 Mouse - OEM
$16
Operating System
Microsoft Vista Home Premium OEM
$99
Complete System Bottom Line
$536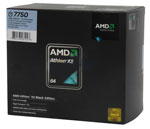 Prices on all processors are continuing to drop in the face of the aggressive pricing strategy adopted by Intel in entry to upper midrange processors. The $60 AMD 2.7GHz dual-core is a faster CPU at a slightly lower price than our December guide. Not only is it faster but it's also a Black Edition (unlocked) CPU. Most have been easily running at 3.0GHz just by increasing the multiplier. If you want even more power the Phenom 8750 triple-core Black Edition is a good value for just $44 more ($104). However, for most users the Athlon 64 X2 7750 provides plenty of power for an entry system. If you're counting pennies you could drop down to a single-core 2.6GHz Orleans 45W processor for $42 and save $18.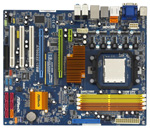 The 780G chipset is one of the best budget IGP designs we have worked with over the years. This is the chipset that made integrated graphics relevant again. One of the best boards in this price category is the ASRock A780GXE. The A780GXE features AMD/ATI Radeon 3200 integrated graphics. ASRock loads the board with six 3Gb/s SATA ports featuring RAID 0/1/10, 5.1 HD Audio, Gigabit LAN, two PCI-E x16 slots, one PCI-E x1 slot, three PCI slots, and support for 16GB of memory. Durability is addressed with solid capacitors for CPU power and duracap long-life capacitors for the rest. This board has been rock solid for us and supports AM2/AM2+ and the newest AM3 CPUs. The A780GXE has 128MB of sideport memory for additional performance. It fully supports the 140W Phenoms, and it can do dual x8 CrossFire. The A780GXE used to be a $100 board, so it is a good value at the current $80 price. It is ATX format, and ASRock also manufactures the A780FullHD motherboard, which at $57 may be a better choice for those pinching pennies. However, the extra performance of sideport memory and the better chipset for the $23 price difference is worth it in our opinion.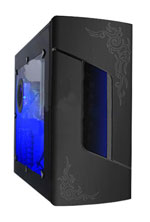 The case and power supply are the Sigma 500W La Vie mid-tower. This case and power supply are currently on sale after a $25 rebate for $40. Sigma makes both decent cases and decent power supplies that are sold separately. While no one will mistake this case/PSU combo for one of the premium Sigma offerings, it is still good quality and good value for a very reasonable price. Even if you pay the regular price of $60 to $65 you will get good value in this combo. We have built several entry systems with the Sigma case and PSU and had good results and stable performance. The only caveat is to check out the case when it arrives as shipping can take its toll on the case front door.
If you prefer a smaller case to mate with your Micro ATX motherboard the HEC 6K28BSOH48D Micro ATX mini-tower used in the Intel entry system is a good choice. It is a solid small case with a power supply from HEC, which is one of the world's best PSU makers. You should generally go for the best case and power supply you can reasonably afford, so you should also look at the cases and power supplies recommended for more expensive systems if you plan to keep your case/PSU and merely upgrade other components in the future.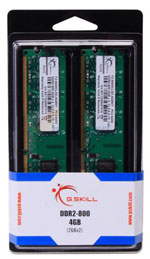 With DDR2 prices so very low, we went for 4GB of DDR2-800 this time. This is double last year's entry recommendation for less than half the price. This 50% to 75% drop in DDR2-800 memory prices in the past year is why you're not seeing much memory advertising these days. RAM prices as a whole are certainly in the commodity category as of late. We recommended the G.Skill 4GB DDR2-800 CAS 5 kit, but you could just as easily choose OCZ, Kingston, Corsair, Crucial, Geil, Patriot, A-Data or any other quality DDR2-800 name and shop for the memory based on a combination of price and the company's support reputation. Again, if you are truly pinching pennies you can save about $18 by going with a 2GB DDR2-800 kit instead at $19 to $20.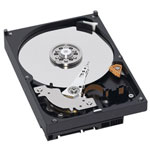 Hard drive capacity continues to grow, as you can see in our selection of the Western Digital Caviar 500GB for our entry system. It seems a waste to choose a lower HD capacity when 500GB is now available for around $60 - even from www.amazon.com. While there are differences between hard drives, outside of running benchmarks most people aren't likely to notice the difference in performance between Western Digital, Seagate, Samsung, Hitachi and other major brands. All are worthy of consideration if the price per gigabyte (or terabyte) is right.
For the optical drive we went for value with the dependable Samsung 22X DVD. With the rise of the 25GB/50GB Blu-ray burners, DVD writers have continued to drop in price. A DVD writer that supports double-layer and 22X DVD writes for $25 is a bargain indeed.
The last major component to discuss is the display, and here the tilt was toward price. $99 is a really low price for an LCD monitor, and the Hanns-G is a 17" widescreen that supports a native resolution of 1440x900. This is the resolution supported by most 19" and 20" widescreen monitors. You will not give up resolution with this monitor, but things will be a bit smaller.
If your budget allows, you can choose the 19" Acer X193Wb with the same 1440x900 resolution at $120, or a 21.5" Viewsonic VX2233wm with true HD 1920x1080 resolution at $170. 21.5"/22" True HD is today's sweet spot, since the next step up to 23.6"/24" starts around $250. If your budget can stretch to $170, that is money well spent on a 21.5" 16:9 HD widescreen display.