Words of Thanks
A lot of people gave us assistance with this project, and we would of course like to thank them.
Damon Muzny, AMD US
Brett Jacobs, AMD US
(
www.amd.com
)
Randy Chang, ASUS
(
www.asus.com
)
Kelly Sasso,
Crucial Technology
Matty Bakkeren, Intel Netherlands
(
www.intel.com
)
Benchmark configuration
Here is the list of the different configurations. All servers have been flashed to the latest BIOS, and unless we add any specific comments to the contrary, the BIOS are set to default settings.
Opteron 2350 Server: ASUS KFSN4-DRE
Dual Opteron 2350 2GHz
Asus KFSN4DRE BIOS version 1001.02 (8/28/2007) - NVIDIA nForce Pro 2200 chipset
8GB (4x2GB)
Crucial Registered DDR2-667 CL5 ECC
NIC: Broadcom BCM5721
Opteron Socket F 1207 Server: Tyan Transport TA26 - 2932
Dual Opteron 2222 3GHz / 2224SE 3.2GHz
Tyan Thunder n3600m (S2932) - NVIDIA nForce Pro 3600 chipset
8GB (4x2GB)
Crucial Registered DDR2-667 CL5 ECC
NIC: nForce Pro 3600 integrated MAC with Marvell 88E1121 Gigabit Ethernet PHY
Xeon Server: Intel "Bensley platform" server
2x Xeon 5160 3GHz or 2x Xeon E5345 at 2.33GHz
Intel Server Board S5000PSL - Intel 5000P Chipset
8GB (4x2GB)
Crucial Registered FB-DIMM DDR2-667 CL5 ECC
NIC: Dual Intel PRO/1000 Server NIC
BIOS note: Hardware prefetching disabled
Client Configuration: Dual Opteron 850
MSI K8T Master1-FAR
4x512MB Infineon PC2700 Registered, ECC
NIC: Broadcom 5705
Software
SUSE Linux SLES 10 SP1 (Linux 2.6.16.46-smp)
MySQL 5.0.26 as shipped with SUSE SLES 10 SP1
SPECjbb2005
Sun Hotspot Java JVM 1.5.0_08
3DSMax 9
Cinebench 9.5
WinRAR 3.62
ASUS KFSN4-DRE: Split Power Enabled
ASUS was the first to send us a board which supports AMD's split power plane. Split power plane or dual dynamic power management means that the memory controller and the core are fed from different power rails. According to AMD, this allows the memory controller to run at 1.8GHz instead of 1.6GHz, and provides a 7% boost in raw memory performance. The new quad-core Opteron processors should work in the older socket-F motherboards with a BIOS Update. These unified plane motherboards will be slightly slower (slightly lower clocked memory controller) and consume a bit more power though.
The ASUS KFSN4-DRE supports no less than 16 DIMMs in total, good for a maximum of 64GB of RAM (but at lower speeds than 667 MHz). To improve performance, ASUS has implemented a "dual link". The two processor sockets are connected by a pair (instead of one) of 16-bit coherent HyperTransport buses. According to ASUS, dual link and split power planes offer not only lower power but up to 14% higher performance. Unfortunately, it has not been disclosed in which application this 14% has been measured.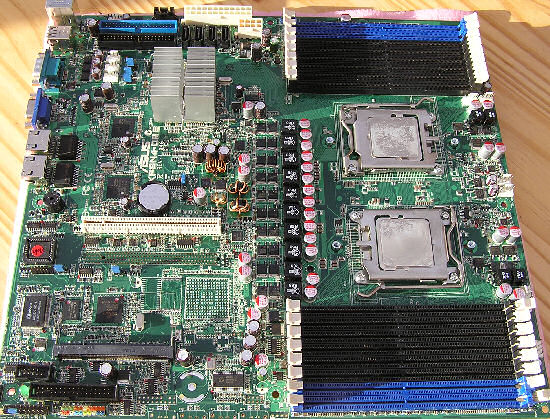 The SSE EB board is clearly made for a compact 1U server. The one x16 PCI-E slot can be used to plug in a riser card which allows you to use two x8 PCI-E slots. Using the NVIDIA nForce pro 2200, the board is able to provide four SATA ports which can support RAID levels 0,1,10 and 5. Luckily, for those of you thinking of using VMWare ESX on this board, a version with the LSI 1064 SAS controller and four SAS connectors will also be available. ASUS has made an excellent choice by using the Broadcom BCM5721 PCI-E for the Gigabit LAN interfaces.
ASUS left some space for an optional IPMI Module (ASMB3) for Out-of-Band and Remote Server Management. With two 667 MHz DIMMs in each node, the ASUS KFSN4-DRE ran all our benchmarks for many hours. The LINPAC benchmark in particular takes up to eight hours and proves that the board behaved very well in this configuration. We will investigate other DIMM configurations later.