What do we have today?
The current AMD platform hasn't changed much at all; the only change has really been the move to 1GHz HyperTransport. The K8 architecture is fairly old news now, but is certainly still more scalable and higher performing than Intel's offerings. Intel hasn't made any significant changes, though the E8500 chipset does use a dual shared bus instead of a single bus from the older Xeon MP chipsets. The shared bus helps the bandwidth bottleneck, but with more than 4 processor cores scalability really starts to slow. The diagrams below give a high level overview of the 4P architecture that AMD and Intel currently offer.
Current 4P Architecture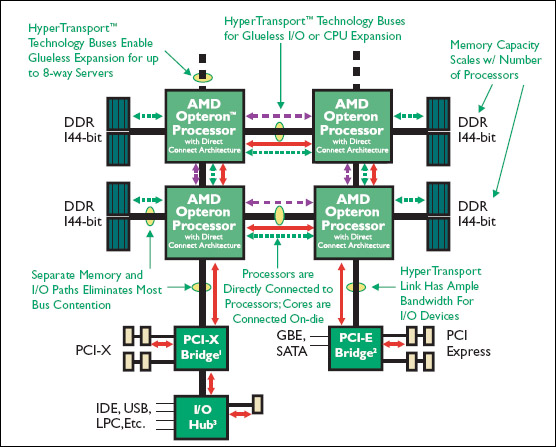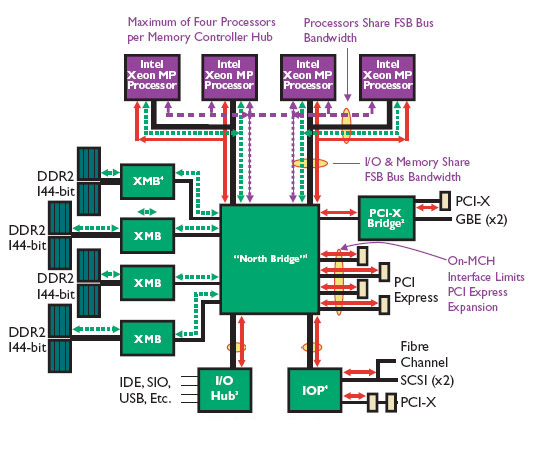 AMD Server Processor Roadmap
As we mentioned, there haven't been any changes to Opteron recently, besides a speed bump and a move to 1GHz HyperTransport last year. Although the Opteron is getting up there in years, it's still a proven, scalable architecture. AMD does have some changes on the horizon for Opteron, though: DDR2 and a new socket. Will that be enough to keep them on top when Woodcrest is released? Only time will tell, but if our recent
preview of socket AM2 performance
is any indication, changing the server platforms to DDR2 isn't likely to increase performance much over current offerings.
We haven't seen any indications of pending changes other than the socket and memory controller. AMD is being very tightlipped about their plans for Opteron, but below is a synopsis of what we know is on the books.
Highlights
DDR2 (2006)
AM2 Socket (2006
Multi Core (2007)
FBDIMM (2007)
Shared L3 Cache (2007)
Intel Server Processor Roadmap
Intel has actually been quite forthcoming about what they are working on, for obvious reasons. They need the market to know that they are going to be competitive, and how that will be accomplished. The first two quarters of 2006 will introduce the Bensley platform, which brings the
Dempsey Dual Core Xeons
.
The last two quarters of the year are where things get interesting. Woodcrest is to debut in the second half of this year. Woodcrest is supposed to drop power consumption from 130W (Dempsey) to <80W, which should make a huge impact on the power consumption numbers
we measured earlier this year for Dempsey
. Note that Woodcrest processors will also run on the Bensley platform.