Software
HyperX baptized their new keyboard control software "NGenuity". Although HyperX advertises it as a "programmable RGB LED software", NGenuity is not limited to lighting programming. Instead, it makes the Alloy Elite RGB a fully programmable keyboard, allowing the individual remapping/reprogramming of every key. It can hold up to three profiles into its onboard memory but more may be present locally.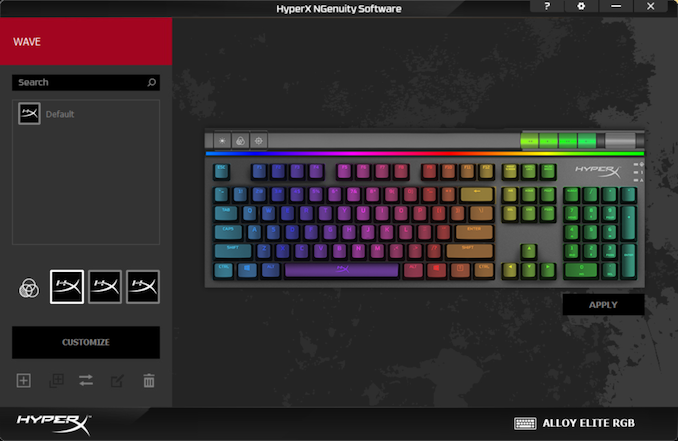 The layout of the software initially appears clean and simple. There is more to it than what initially meets the eye though, with several submenus and numerous options. Fortunately, the software has in-built tutorial screens that are helpful and can be brought up at any time by clicking the icon at the top of the interface.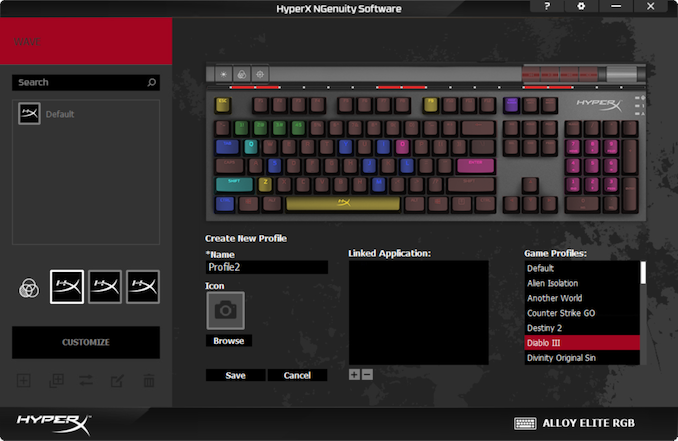 The first screen of the software is very simple, allowing the selection of a local or hard-programmed profile, or its creation. When a new profile is created, the user received a rather long list of pre-programmed lighting profiles to choose from. Note that the lighting profiles are accurate in terms of highlighting the default keys of each game but they are not dynamic, i.e. the key lighting will not change according to any in-game parameters. Each profile can be linked to one or more applications but, obviously, only one icon can be chosen for each profile.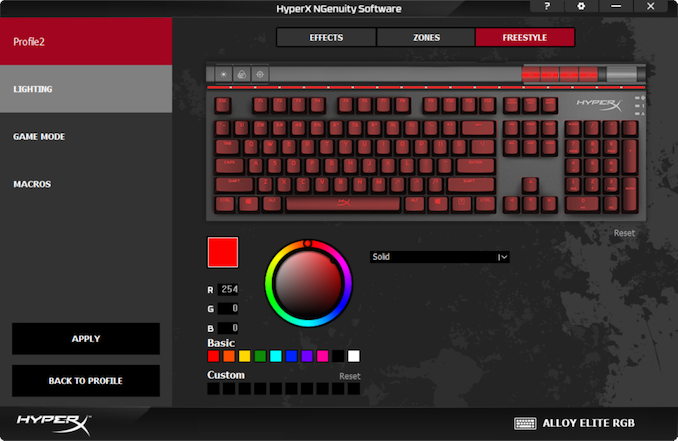 After a profile has been created, users can click the "Customize" button to edit it. This brings up a new set of menus, allowing per-key input and lighting programming. The lighting programming can be either done with the keyboard as a whole, where users can select one pre-programmed lighting effect or color, in zones, where users can define zones to apply effects and colors to, or in "freestyle" mode, where each key must be individually programmed. The lighting programming controls are very versatile and should satisfy any kind of user.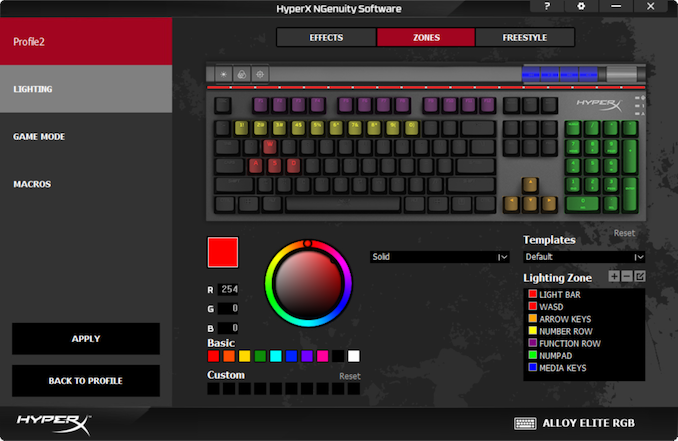 The Macro programming screen holds much more than what its title suggests. From this screen users can manually reassign (or even disable) each single key. There is a wide range of options to choose from, from simple layout changes to multiple concurrent keystrokes. The software has an in-built macro programmer but is very simple, allowing only the capture of keyboard keystrokes and the manipulation of delays, with no repeat settings or the ability to insert mouse movements or clicks. Advanced commands also include the launching of third-party software, allowing the use of advanced third-party macro programmers if the need arises.