Navigating Power: Intel's Dynamic Tuning Technology
In the past few years, Intel has introduced a number of energy saving features, including advanced speed states, SpeedShift to eliminate high-frequency power drain, and thermal balancing acts to allow OEMs like Dell and HP to be able to configure total power draw as a function of CPU power requests, skin temperature, the orientation of the device, and the current capability of the power delivery system. As part of the announcement today, Intel has plugged a gap in that power knowledge when a discrete-class graphics processor is in play.
The way Intel explains it, OEMs that used separate CPUs and GPUs in a mobile device would design around a System Design Point (SDP) rather than a combined Thermal Design Power (TDP). OEMs would have to manage how that power was distributed – they would have to decide that if the GPU was on 100% and the SDP was reached, how the CPU and GPU would react if the CPU requested more performance.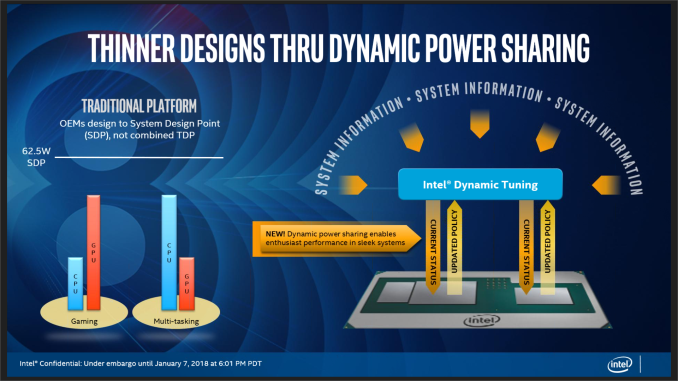 Intel's 'new' feature, Intel Dynamic Tuning, leverages the fact that Intel can now control the power delivery mechanism of both the combined package, and distribute power to the CPU and pGPU as required. This leverages how Intel approached the CPU in response to outside factors – by using system information, the power management can be shared to maintain minimum performance levels and ultimately save power.
If that sounds a bit wishy-washy, it is because it is. Intel's spokespersons during our briefing were heralding this as a great way to design a notebook, but failed to go into any sort of detail as to how the mechanism works, leaving it as a black box for consumers. They quoted that a design aiming at 62.5W SDP could have Intel Dynamic Tuning enabled and be considered a 45W device, and by managing the power they could also increase gaming efficiency up to 18% more frames per watt.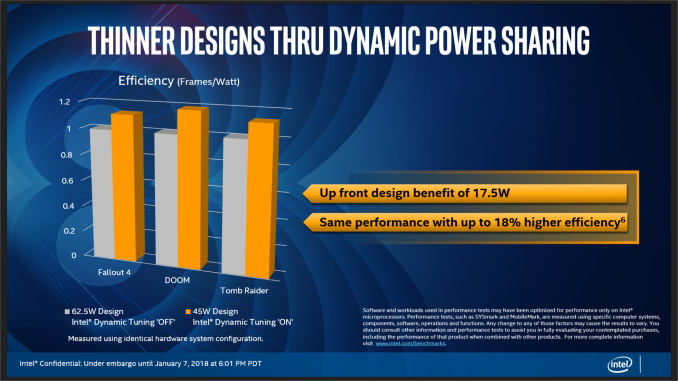 One of the big questions we had when Intel first starting discussing these new parts is how the system deals with power requests. At the time, AMD had just explained in substantial detail its methodology for Ryzen Mobile, with the CPU and GPU in the same piece of silicon, so it was a fresh topic in mind. When questioned, Intel wanted to wait until the official launch to discuss the power in more detail, but unfortunately all we ended up with was a high-level overview and a non-answer to a misunderstood question in the press-briefing Q&A.
We're hoping that Intel does a workshop on the underlying technology and algorithms here, as it would help shine a light on how future Intel with Radeon designs are implementing their power budgets for a given cooling strategy.