ROG
Asus has introduced a new flagship RTX 4090 graphics card that uses an all-in-one liquid cooling system combined with liquid metal thermal interface. Dubbed the ROG Matrix GeForce RTX 4090, Asus says that its advanced cooler combined with extremely efficient thermal interface will ensure the maximum boost clocks possible, with Asus taking clear aim of producing the fastest gaming graphics card on the market. Proper power delivery and efficient cooling are main ways to enable consistently high CPU and GPU performance these days, so when designing its ROG Matrix GeForce RTX 4090, the company used its own proprietary printed circuit board (PCB) with an advanced voltage regulating module (VRM). Meanwhile cooling is being provided by an all-in-one liquid cooling system that removes heat not only...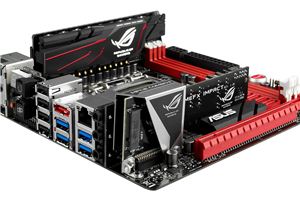 In previous generations, the ASUS Republic Of Gamers (ROG) range has been split across three models – the micro-ATX Gene, the gaming oriented Formula and the more overclocker friendly...
69
by Ian Cutress on 11/22/2013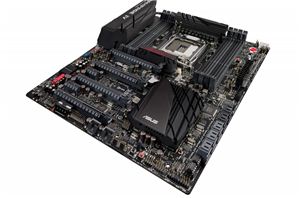 The extreme end of Intel's performance platform is a relatively small end-user market, but despite this we had requests back at Sandy Bridge-E launch to test a good number...
15
by Ian Cutress on 11/8/2013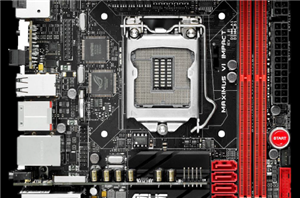 ASUS ROG Press Conference: Motherboards For at least every Computex I have attended, ASUS have put on a show – the ROG press conference. This is ASUS' opportunity to...
27
by Ian Cutress on 6/4/2013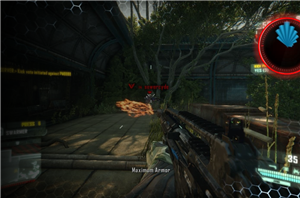 With a brand focused at gamers (and overclocking), software is all important. Over previous generations ASUS have included better audio software packages, integrated SSD caching, network-stack bypassing NICs...
12
by Ian Cutress on 6/3/2013
The motherboard market is tough – the enthusiast user would like a motherboard that does everything but is cheap, and the system integrator would like a stripped out motherboard...
38
by Ian Cutress on 3/25/2013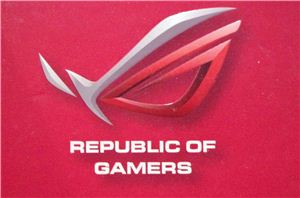 The Republic of Gamers (ROG) brand has been on the radar for a good five years now. Initially in the form of motherboards, the ROG brand aimed to...
34
by Ian Cutress on 8/3/2012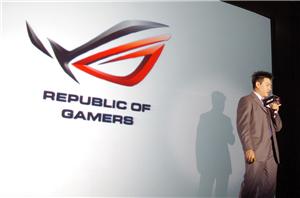 This week at Computex, along with the ASUS announcement of the Padfone, the UX series, and the $199 MeeGo netbook, we also have had a glimpse into what the...
17
by Ian Cutress on 6/3/2011