MasterAir
Cooler Master has strengthened the brand's already prolific CPU air cooler portfolio with the latest addition in the form of the MasterAir MA824 Stealth. There's also a 30th-anniversary edition of the new cooler with an ARGB fan. The MasterAir series is already home to some of the more prominent high-performance CPU coolers; therefore, the MasterAir MA824 Stealth will fit right in. The MasterAir MA824 Stealth features a dual-tower design like many popular CPU air coolers, such as the Cooler Master's previously-released MasterAir MA624 Stealth or the Noctua NH-D15. Aesthetically-conscious consumers will value the MasterAir MA824 Stealth's all-black exterior since it helps the CPU cooler blend into most PC builds. The top cover is a nice touch that adds some flair to the design. Checking in...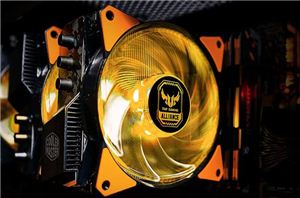 Cooler Master recently announced a partnership with ASUS to produce a new line of TUF Gaming-branded products in collaboration with ASUS' TUF Gaming initiatives. TUF Gaming is a product...
6
by Joe Shields on 5/16/2018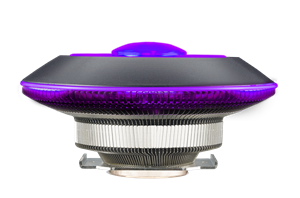 LAS VEGAS, NV — Cooler Master has announced a new air-based CPU cooler at CES 2018, the MasterAir G100M. Also announced is addressable RGB LED lighting with a new...
11
by Gavin Bonshor on 1/10/2018