Supermicro's MicroCloud SYS-5038ML-H8TRF
Supermicro's 3U MicroCloud chassis is not a competitor for "advanced" micro servers such as AMD's SeaMicro SM15000 or HP's Moonshot. Advanced micro servers save power and keep management costs low due to an integrated fabric that routes networking and storage traffic very fast inside the box and only needs to be attached to the core switch via a few cables outside. You could say that the rack switch has been upgraded and integrated.
The Supermicro MicroCloud is a lot simpler. Only the power and cooling is shared among the nodes; there is no sophisticated integrated network or storage backplane. The MicroCloud still needs a separate switch and storage is pretty straightforward: each node has access to two disks.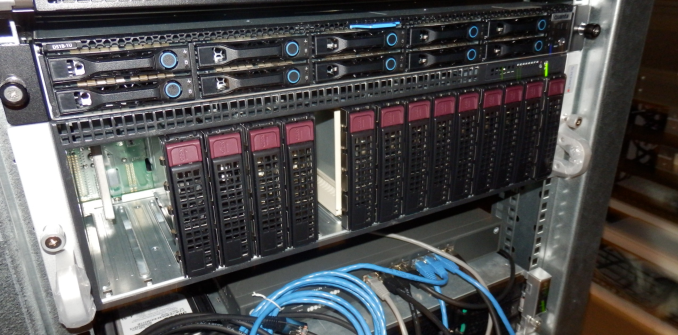 Basically the MicroCloud is just a bunch of server nodes that share two redundant power supplies and cooling (4x 8 cm fans). As a result, it is a dense and inexpensive way to bundle eight (up to 24 in some SKUs) low-end servers. It is clearly targeted at the HPC and hyperscale datacenter where people want a "blade-like" server chassis but do not want to pay for features they rarely/never would use (e.g. centralized remote management/KVM, integrated switching, and SAN technology).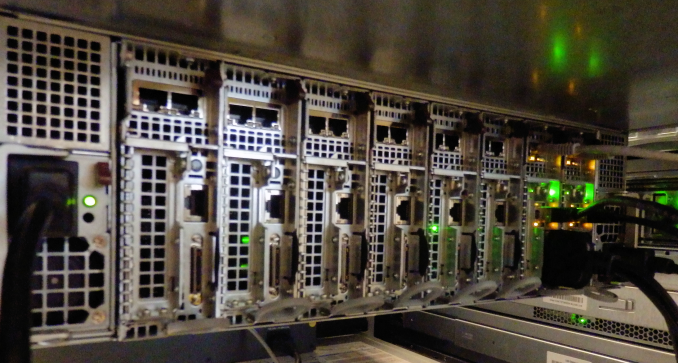 We've heard from several resellers that this chassis has been very successful, not in the least for being simple and affordable. Each node has a dual gigabit Intel i350 gigabit controller and one Ethernet interface for remote management; a KVM connector is also available. If you need more networking speed, one PCIe x8 slot is available.