External Appearance
Visually, the Power Zone 850W CM PSU is certainly unique. Plastic frames cover the front and rear sides of the unit, while the series logo is embossed on the sides of the black chassis. The fan guard is not a typical circular grill but instead uses an array of parallel wires. A metallic badge is placed above the fan's engine, denoting the unit's maximum power output, and the sticker with the electrical specifications can be seen on the top of the chassis.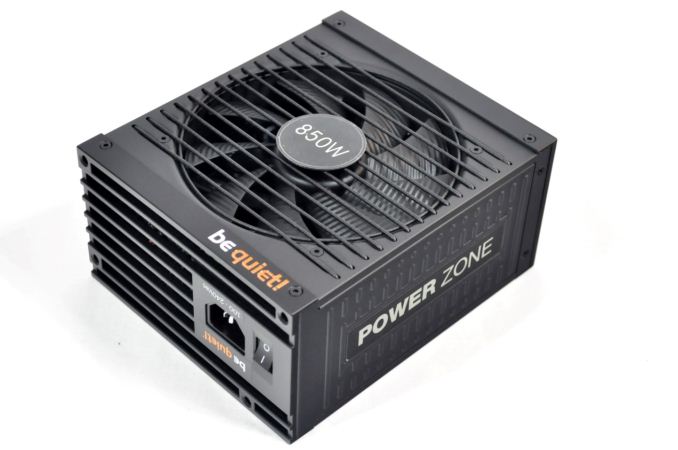 The visual enhancements however also add bulk, making the chassis 175mm deep, considerably deeper than a typical ATX PSU, thus the Power Zone 850W CM is incompatible with a large number of PC cases. The plastic frames also add spacing around the main PSU chassis, which is why be quiet! includes longer screws than normal.
For the cabling, this is a fully modular design, with no hardwired cables. Many modular PSUs will have hardwired 24-pin and ATX12V/EPS12V cables as these are always required, but by making a fully modular case it opens the door for shorter cable harnesses. Unfortunately be quiet! doesn't currently sell any shorter cable sets for the Power Zone series, but that may change.
Internal Design
One of this product's most important features is the use of a "Silent Wings" 135mm fan. These fans have been designed by be quiet! with ribbed blades that are supposed to reduce aerodynamic noise; however, this particular model is not very quiet, as it has a maximum speed of 2900RPM. It takes a very efficient 850 Watt unit to allow the use of a low-speed cooling fan, and with a Bronze rating this particular line benefits from better airflow and cooling. The fan does use a high quality fluid dynamic bearing, which will help to reduce noise, but as we'll see in a moment the PSU is still clearly audible at higher loads.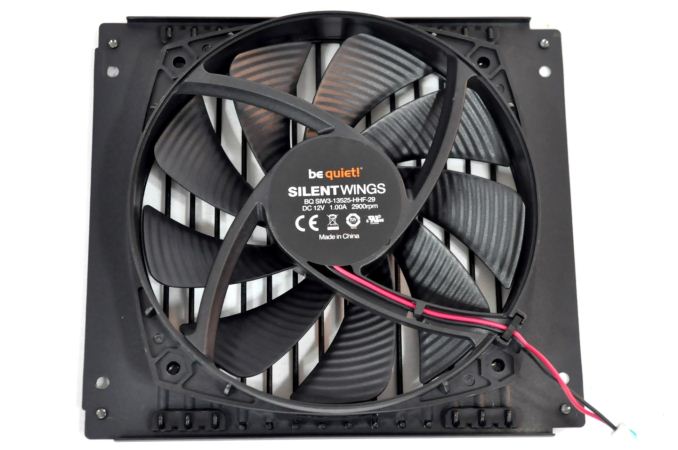 The OEM behind the Power Zone 850W CM is Fortron Source, a company we usually find behind middle and lower range products. This PSU uses a textbook filtering stage, with four Y capacitors, two X capacitors, and two filtering inductors at the back of the receptacle and on the main board. Two primary rectification bridges work in parallel, each bolted onto its own small heatsink next to the large APFC coil. The two 220 μF APFC capacitors are rated for operation at 105 °C and are supplied by Teapo. Actually, almost every single capacitor in the Power Zone 850W CM, electrolytic and polymer alike, is supplied by Teapo, with the weird exception of a single small Nippon Chemi-Con electrolytic capacitor on the distribution PCB.
Strangely, although the platform has very good potential and implements modern technologies, such as an Active Clamp topology and DC-to-DC conversion circuits, be quiet! uses very basic active components (i.e. transistors) on the primary inversion and secondary conversion levels. This reduces the overall efficiency of the Power Zone 850W CM down to 80 Plus Bronze levels. If they would have chosen active components with lower resistance and/or better behavior, this design could easily qualify for 80 Plus Silver or Gold status.
The assembly quality of the Power Zone 850W CM is excellent, especially for a Fortron Source design. It is a clean design, with black glue used to mechanically secure the components and minimize high frequency vibration noises. The soldering job is not perfect, as we found a few joints where the use of solder was a bit too generous, but it is very good nonetheless.