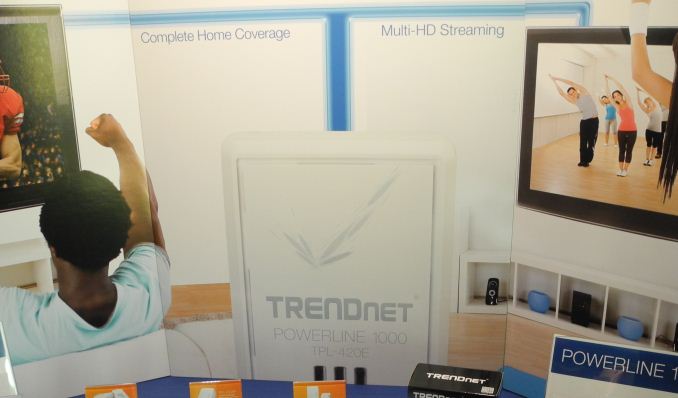 TRENDnet is a popular player in the networking space. We had covered the launch of their 802.11ac lineup at the 2013 CES. We dropped by their suite again this year to look at the new products. There was the usual upgrade with the introduction of the TEW-818DRU, a beamforming-capable AC1900 router (with a 1.3 Gbps 3x3 802.11ac solution along with the standard N600 simultaneous 802.11n dual band solution). Retail availability is expected next month, and the product carries a MSRP of $260. I suspect that the street price will be competitive with the other AC1900 routers in the market (i.e, closer to $200).
The announcement which caught my eye, however, was the TPL-E420E2K, a 1 Gbps powerline adapter kit. This seems to be one of the first products to be announced based on the MIMO-capable QCA7500 from Qualcomm Atheros. Since the public announcement of the chip was only in October 2013, it is not surprising that the TPL-E420E2K is expected to ship only in June 2014. The MSRP will be $170. Considering that TRENDnet was confident enough to announce as well as display the product (in its non-final form) at CES, it is likely that the product bringup is going smoothly on schedule.
Other announcements include IP cameras (a couple of the models come with 802.11ac radios), new USB wireless adapters and new powerline adapters.