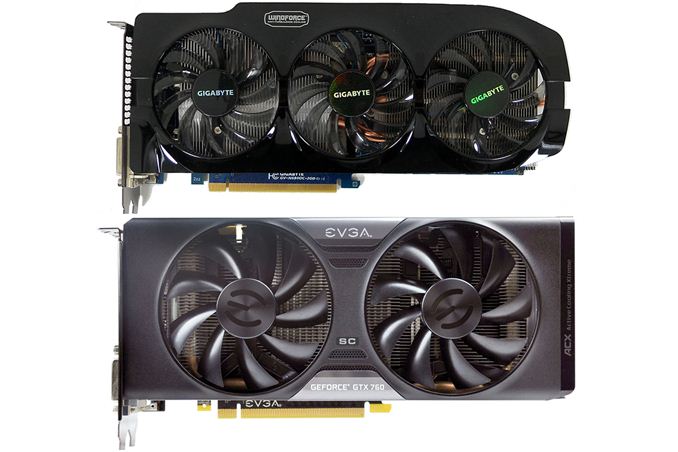 Last week we took a look a selection of semi-custom and custom GTX 770 cards. Based on NVIDIA's otherwise "small and unassuming" Kepler workhorse GPU, GK104, we found that due to NVIDIA's pushing GK104 so hard on the stock configuration, there wasn't quite as much overclocking headroom as usual left in the design. As a result GTX 770 cards end up performing quite similar to each other even with factory overclocks thrown into the mix. This does make it a bit harder for NVIDIA's partners to stand apart in a crowded field, but ultimately their products could still differentiate themselves based on card/cooler design, warranties, and other value added aspects.
Today we'll be looking at the opposite end of the spectrum with custom cards based on NVIDIA's GeForce GTX 760. Still based on GK104, GTX 760 is NVIDIA's low-end GK104 SKU targeted towards high graphical quality 1080p gaming. Compared to GTX 770 it operates at lower clockspeeds and with fewer SMXes, lower TDPs, and comes in at a much lower MSRP of $250. The lower clockspeeds of GTX 760 mean that partners have a bit more headroom to play with for factory overclocks, but like the GTX 770 that performance needs to be backed up with a solid design and good value added functionality if it's to start apart in what's an equally crowded market.
Today we'll be looking two such cards, once again coming from EVGA and Gigabyte. Both are fully custom cards pairing factory overclocks with custom coolers and custom software, so both vendors come into this on relatively equal footing.
GeForce GTX 760 Specification Comparison
GeForce GTX 760 (Ref)
EVGA GTX 760 Superclocked ACX
Gigabyte GTX 760 OC Windforce 3X
Base Clock
980MHz
1072MHz
1085MHz
Boost Clock
1033MHz
1137MHz
1150MHz
Memory Clock
6GHz
6GHz
6GHz
VRAM
2GB
2GB
2GB
TDP
170W
>170W
>170W
Width
Double Slot
Double Slot
Double Slot
Length
9.5"
9.5"
11"
Warranty
N/A
3 Year
3 Year
Price
$249
$249
$259
Gigabyte GTX 760 OC Windforce 3X
The first card in today's roundup is Gigabyte's GTX 770 OC Windforce 3X. As has become the case for Gigabyte in the past year or so, their factory overclocked cards are focused on bigger and better, typically packing larger coolers and higher factory overclocks than the comparable cards from other vendors, something the 760OC Windforce lives up to in full.
The 760OC Windforce is a fully custom card, pairing a custom Gigabyte PCB with Gigabyte's high end Windforce 3X cooler. As far as clockspeeds go the 760OC Windforce ships with the larger of the factory overclocks in today's roundup, shipping at a core clock of 1085MHz, 105MHz (10%) over the stock GTX 760. Surprisingly, the 760OC Windforce does not ship with a memory overclock despite the fact that the stock memory frequency on GTX 760 is only 6GHz, so any performance gains must come solely from the core overclock. With that said factory memory overclocks are exceedingly rare on GTX 760 cards altogether, so Gigabyte is not alone here.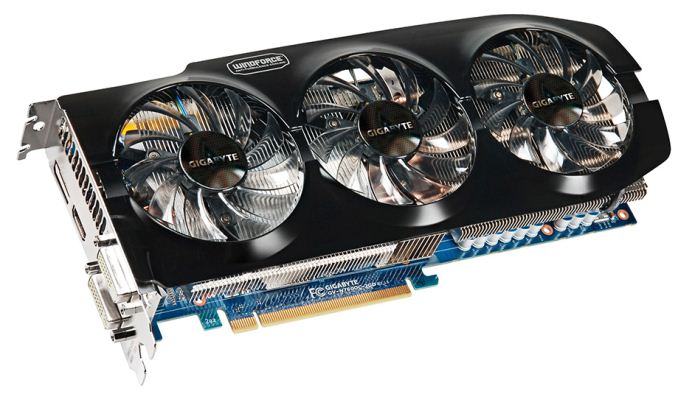 Breaking down the construction of the card, Gigabyte has equipped the 760OC with their traditional Windforce 3X cooler, the largest of the company's line of Windforce coolers. This is the full size Windforce 3X, measuring at 11 inches long, making it an inch longer than the 10 inch PCB Gigabyte uses for this card. Consequently the card has a definite "oversized" aspect to it due to the heatsink hanging off the rear, though despite the oversized cooler the construction on the card is fairly rugged thanks to a stiffener that runs most of the length of the card. Ultimately this coupled with the solid construction of the heatsink, mechanically supported by the VRM heatsink below, keeps the card from flexing too much in any direction.
As far as Gigabyte's custom PCB is concerned, the company isn't doing anything particularly exotic here. But for discrete components the company is once more using their Ultra Durable VGA components, which guarantees the use of solid (ferrite core) chokes, Japanese sourced solid capacitors, and low RDS MOSFETs in the name of improving efficiency and overclocking stability; though with a 230W card, it's hard to imagine Gigabyte going with anything else in the first place. On a side note, Ultra Durable VGA also guarantees the use of Hynix or Samsung GDDR5 RAM, though the thermal pads have worn out the lettering on the RAM, so we can't tell which it is from looking at the card.
Moving on we have Gigabyte's Windforce 3X cooler and "triangle cool" based heatsink. This is Gigabyte's highest end cooling configuration, and while Gigabyte's claimed 450W capacity isn't something that's testable on this configuration it's clearly an oversized cooler for the 170W GTX 760. The Windforce 3X cooler has 3 75mm fans pushing air along the card, and in practice results in most of the front surface area of the card being made of fans.

Meanwhile the 760OC Windforce's heatsink is equally oversized, being composed of two segments that run the full 11 inch length of the card, and implement Gigabyte's "triangle cool" heatsink technology to reduce fan turbulence. 3 copper heatpipes run between the heatsinks and the GPU for transferring heat, and furthermore a simple aluminum baseplate covers the RAM and other components immediately near the GPU, transferring heat to the heatsink directly above. A small heatsink also covers the MOSFETs that are part of the primary VRMs, both supporting the primary heatsink above against flexing while also providing surface area for cooling for those MOSFETs.
Moving on, like the other cards in this roundup Gigabyte implements NVIDIA's standard display I/O configuration of 2x DL-DVI, 1x HDMI, and 1x DisplayPort 1.2. Meanwhile Gigabyte has gone above and beyond on power delivery, using 6pin + 8pin external PCIe power connectors that will be able to provide the card with far more than the 170W it officially requires at stock.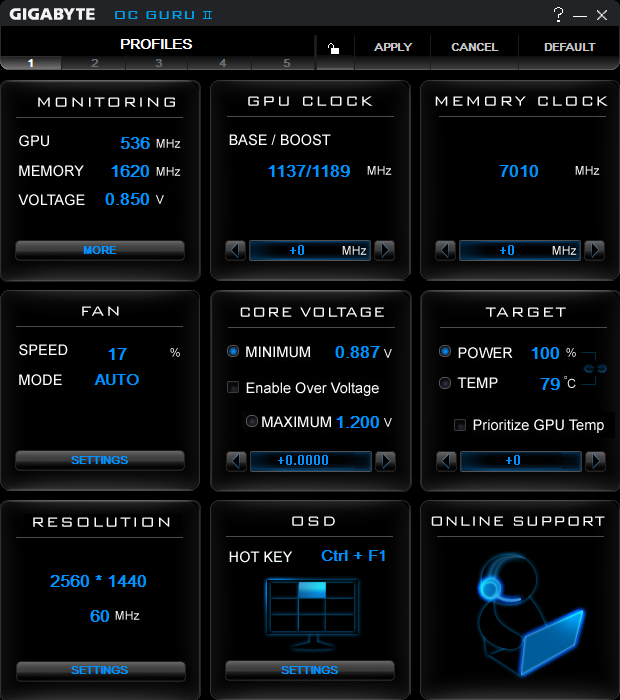 Gigabyte rounds out their package with their OC Guru II overclocking and monitoring software. As far as overclocking software goes, OC Guru II is not going to be the gold standard for software due to some of the clunky interface choices Gigabyte has made – mainly a lack of sliders – but it is competent at its task. OC Guru II offers the full suite of monitoring and overclocking controls we've come to expect, including the ability to overvolt (unlock restricted boost bins) on GTX 760.
Finally, as with all of Gigabyte's North American cards, the 760OC Windforce comes with Gigabyte's standard 3 year warranty. For pricing Gigabyte is charging a slight premium here, with the MSRP on the 760OC currently landing at $259, $10 over the MSRP for a stock GTX 760. Gigabyte does offer a non-overclocked variant of this card, so the $10 primarily covers the 10% factory overclock.