Kindle Paperwhite
It may come as a surprise, but reading in the dark is actually something plenty of people would love to do. Leaving lights on to read is a hassle, wastes precious electricity, and isn't very easy on the eyes. The Barnes & Noble Nook Touch Glowlight addressed this, and it's a pretty good device, and now Amazon has a direct competitor to what many have called the one e-reader that's actually better than a Kindle.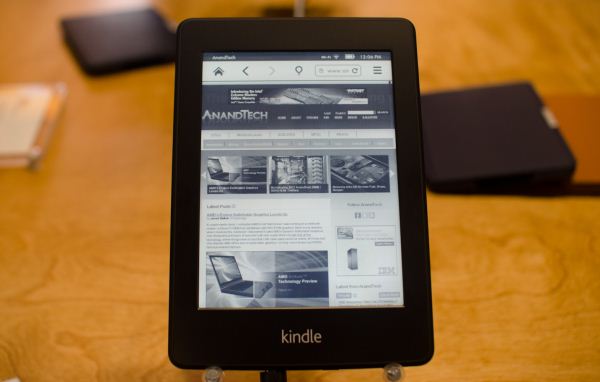 The Paperwhite technology is interesting enough, though difficult to test in a moderately well-lit environment like a partially sunny airport hangar. The Kindle itself is noticeably faster than the last generation. It takes roughly 1-2 seconds for any new page to load completely, and 4-5 seconds over a moderate Wi-Fi connection for anything web-based.
You can check out the gallery above to see the differences in brightness using the Paperwhite technology. The brightness levels are relatively high, especially for an e-reader, though the whites are cold and I didn't find them particularly pleasing to the eye. That may prove different when actually reading in a dark environment, and adjusting the brightness accordingly.
Amazon e-readerSpecification Comparison
Kindle Touch (2011)
Kindle
Kindle Paperwhite
Barnes & Noble Nook GlowLight
Dimensions
172 x 120 x 10.1mm
165.75 x 114.5 x 8.7mm
169 x 117 x 9.1mm
240 X 164 X 8.8mm
Display
6-inch 600 x 800 16-level grayscale
6-inch 600 x 800 16-level grayscale
6-inch 1024 x 768, 16-level grayscale
6-inch 600 x 800 16-level grayscale
Weight
213g
170g
213g
197g
Storage
4GB (3GB usable)
2GB (1.25GB usable)
2GB (1.25GB usable)
2GB (1GB usable)
Battery
Rated 2-months
Rated 1-month
Rated 8-weeks
Rated 1-month
Pricing
$79/$109 (original price; no longer available)
$69
$119/$179 (3G)
$139
Both new Kindle e-readers (simply the Kindle and Kindle Paperwhite) are thinner than last year's Touch model, though the Paperwhite is identical in weight and is the true successor to the last generation. The Kindle stems from last year's non-touch e-reader, and is the lowest rung on the e-ink totem pole. At $70, it's also very affordable. I've owned several e-readers and while touch has always been convenient, tactile feedback is always welcome in my home. Interestingly, Amazon will continue selling the Kindle Keyboard 3G and isn't lowering the price or improving on the design whatsoever. Here is Andrew's review of last year's Kindle.
The Paperwhite, compared to last year's Touch, improves on size, shape, and reading in the dark, as well as the display density (from 167ppi to 212ppi), but drops 1.75GB of usable storage and raises the price significantly. For serious book readers, the drop from 3GB to 1.25GB doesn't mean very much; books are tiny and take up almost no space. But with the new Whispersync for Voice, it's presumable that a handful of voiced books will eat up the little drive space there is. Only the original Kindle e-reader had an SD card slot, but I'm waiting for Amazon to confirm that the latest models do not.