While we don't usually cover every software update on every platform, I thought it worth noting something special about the new update which will begin going out shortly to the Motorola Droid RAZR and RAZR MAXX. Among the features included in "6.12.173.XT912.Verizon.en.US" is a new feature that isn't directly advertised in the changelog - it's the inclusion of Connected Discontinuous Reception, or CDRX for Motorola/TI's codename Wrigley 4G LTE baseband. The short of it is improved battery life on 4G LTE.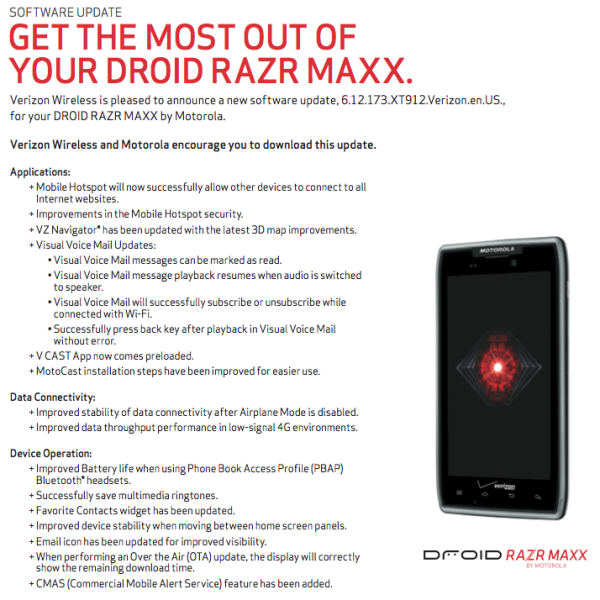 Discontinuous Reception (DRX) is nothing new for UMTS based networks, and is a power reduction feature. The aim is simple - during idle periods, the cellular network tells the handset that it doesn't need to expect any traffic, and thus the handset can shut down the RF frontend and other power draining bits. The phone can then wake up the parts required to receive and listen to a paging channel when the discontinuous cycle ends.
The above is the way things work in UMTS, in 4G LTE things change a bit, but the concept is the same. However a new feature is the somewhat strangely-named connected DRX mode. The "connected" part comes from the fact that DRX now can work while the user equipment is in an RRC_Connected state, in addition to RRC_Idle. The result is that the handset can now shut down parts required to listen with much finer frequency, for example during the idle periods when a webpage is loading, as opposed to the longer idle periods when the phone is locked and in a pocket.
I'm told that CDRX is now enabled on about half of Verizon Wireless' 4G LTE network, specifically in markets where Ericsson is the radio network equipment supplier. The other Alcatel-Lucent markets will be upgraded as well in due time. Unfortunately my markets in Tucson and Phoenix AZ are Alcatel-Lucent (to the best of my knowledge, from seeing many empty Alcatel-Lucent boxes and trucks around new LTE eNodeBs), so I'll have to wait to see just how big of a difference this makes in real-world testing.
Source: Verizon Software Update (PDF)