HP has announced two desktop PCs for the United States ahead of CES next week: the Omni27, a 27" all-in-one that follows the general design of the TouchSmart lineup but excludes the touchscreen, and the Pavilion HPE Phoenix h9, a performance-oriented tower being marketed toward gamers and content creators.
The Omni27, pictured above, features a 27" 1920x1080 display, a 2.5 GHz Core i5 2400S quad core (four thread) processor, Intel's HD Graphics 2000, 6GB of RAM, two USB 3.0 ports, one HDMI-in port, HP's Beats Audio speakers, and a wireless keyboard and mouse for $1,199. Hard drive options up to 2TB are available, though it's not clear what comes with the base unit. The display is a bit low-resolution for a 27" screen (for comparison's sake, the 27" iMac uses a 2560x1440 panel, though it's a pricier machine), and most of you should be familiar with the limitations of the Intel HD 2000 GPU, which won't be able to run most recent games, especially not at the display's native resolution. With the exception of the hard drive and an optional Blu-Ray player, information about available upgrades was not available.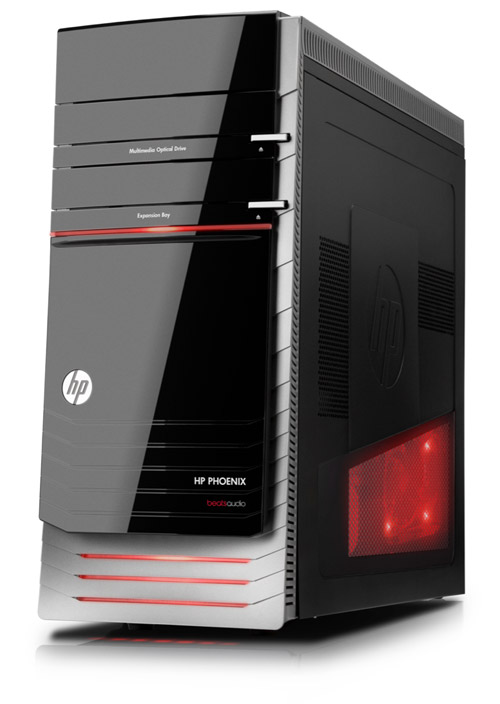 The Pavilion HPE Phoenix h9, previously available in Europe, sports AMD's Bulldozer-based eight-core FX-8100, an AMD Radeon HD 7670 graphics card, 8GB of RAM, a 160GB SSD, Beats Audio, surround sound capability, and a wireless keyboard and mouse for a starting price of $1,149. The HP press release boasts that the tower can accommodate 250 watt GPUs and features a total of 4 RAM slots and three internal hard drive bays. Don't get too excited about that Radeon HD 7670 - like some of the HD 7000M parts we've talked about, it's actually a rebranded Turks-based card available only to OEMs, with specs pretty much identical to the HD 6670 we reviewed last year. Some of the European HPE h9 models also ship with Intel processors, but it's not clear whether that will be an option for the American version.
Both of these systems are due to begin shipping on January 8.
Source: HP