Yesterday we took a look at the flagship of Nokia's Lumia series - the Lumia 800. Today we're looking at its younger and more entry-level sibling, the Lumia 710. Though the specs are lighter weight and the device isn't a flagship, Nokia's expectations for the device are no less high then they were for the Lumia 800, and there's a lot riding on the 710.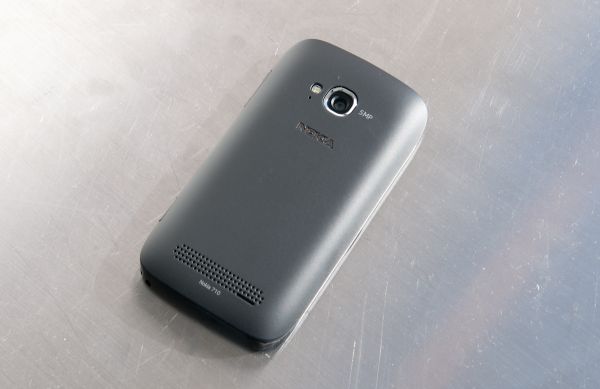 Superficially, the Lumia 710 and 800 are very different. While the 800 is based on the N9's design with a unibody polymer construction, the 710 is a more traditional device form factor with battery door and removable battery. In the size and weight department, the 710 is actually taller, thicker, and wider than the 800, though more than a half ounce lighter. No doubt some of this is to accommodate the removable battery and door, however it's surprising how the 710 manages to be larger in almost every way.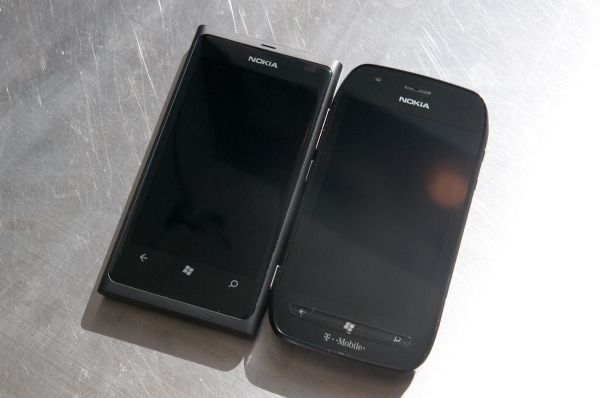 The front of the Lumia 710 is one flat and continuous piece of Gorilla Glass. The Windows Phone buttons are of the physical sort, though they are really one continuous plastic button with three pressure sensitive areas that click in. I found using this continuous button somewhat disconcerting at first but easy enough to use after a day or so. The buttons are backlit like they should be, as well.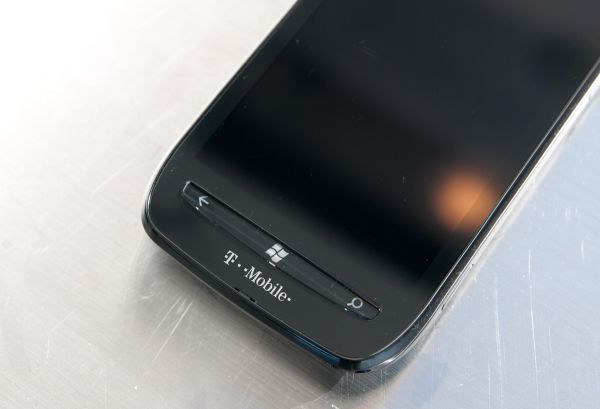 The only downside to this arrangement is that because the buttons jut out so much, they become the surface that ends up coplanar with a table or desk when the phone is placed face down. As a result, they do pick up scratches if you aren't careful.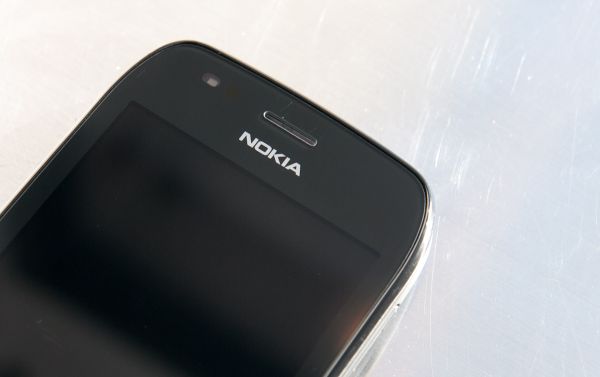 Just below this is a small gap where the primary microphone is located, and at the very top are the usual culprits (earpiece, proximity sensor and ambient light sensor). I don't believe the glass display has an oleophobic coating either. There's a small gap in-between the glass edge and plastic around it where dust can gather as well, but it isn't a hugely big deal.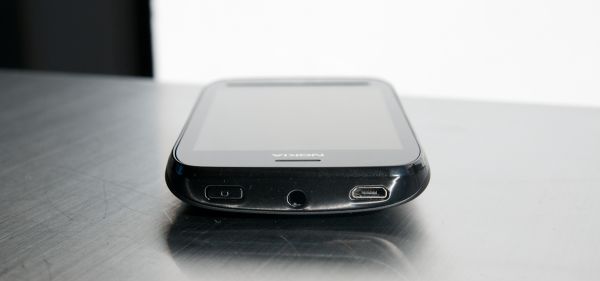 The Lumia 710 is ringed with a glossy plastic lip that thankfully isn't chrome but still shows ample fingerprints. At the top and bottom, this lip gets thicker, whereas on the sides it serves primarily for the battery door to snap into. The battery door is a relatively typical black matte soft touch material (I should note that there are multiple body + battery door color combinations of Lumia 710 that will arrive) which doesn't show fingerprints, thankfully.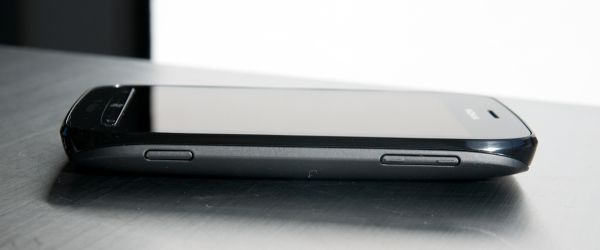 The battery door clips onto the right side (where the buttons are) and snaps into place on the left. Nokia thoughtfully also lines the inside region with foam to minimize flex between the door and battery, and also seal out dust that always manages to get inside on other devices. You can also tell that Nokia has been at this for a long while, since there's no unnecessary extra piece of transparent plastic between the camera module and the battery door.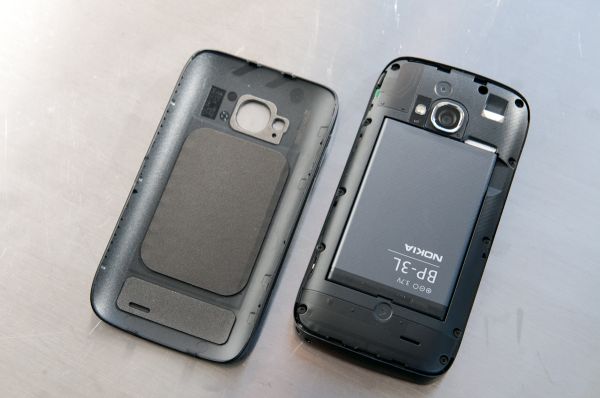 Nokia's removable battery is on the smaller side for phones lately at just 4.81 Whr. We'll talk more about battery performance in the next section, however. The battery compartment is also where the Lumia 710's microSIM port is, which slides in face down and is held in place by an installed battery. There's a window at the top where you can get a fingernail inside and push the SIM out. With the backside off, you can also pick out the 710's cellular antenna (at the bottom) and WLAN/BT antenna (top left) which are pretty standard fare.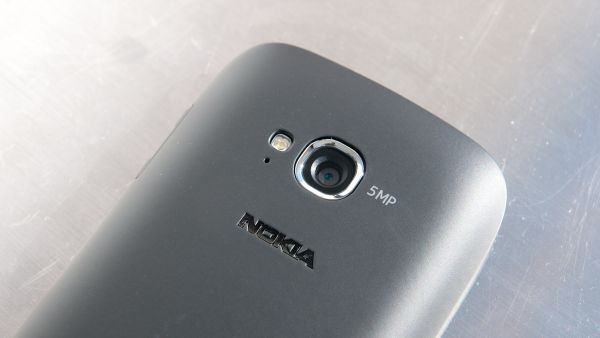 On the backside is the 5 MP camera and single LED flash, and just below the flash is the port for the 710's second microphone. At the very bottom is the speakerphone grille, though only the thin notch in the bottom right actually goes through to the backside.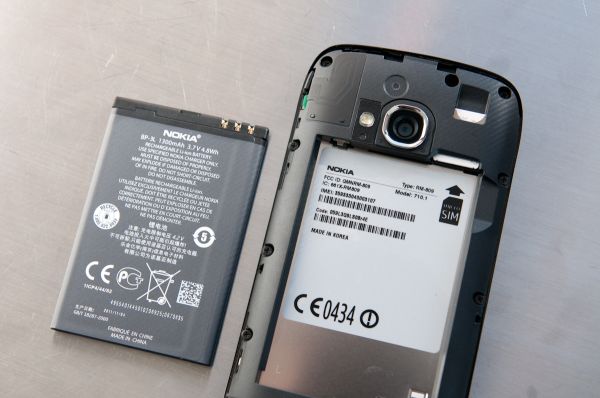 Next are the buttons - the Lumia 710 places the standby/power button at the very top right, and and the volume rocker and camera buttons in their usual places on the right side. My only complaint is with the camera button. The button is two-step, yet the first detent (for focus and exposure) is impossible to feel on our 710 review unit. Only the second stage which captures is clicky enough to actually be felt.
Just like the Lumia 800, the 710 features a microUSB port and headset jack on the very top. At the very bottom is a cell phone charm/hand strap port.
Physical Comparison
HTC Sensation
Samsung Focus S
Nokia Lumia 800
Nokia Lumia 710
Height
126.3 mm (4.97")
126.1 mm (4.96")
116.5 mm (4.59")
119.0 mm (4.69")
Width
65.5 mm (2.58")
66.8 mm (2.63")
61.2 mm (2.41")
62.4 mm (2.46")
Depth
11.6 mm (0.46")
8.5 mm (0.33")
12.1 mm (0.48")
12.5 mm (0.49")
Weight
148 g (5.22 oz)
125 g (3.9 oz)
142 g (5.0 oz)
125.5 g (4.4 oz)
CPU
1.2 GHz Dual Core Snapdragon MSM8260
1.4 GHz Single Core Snapdragon MSM8255
1.4 GHz Single Core Snapdragon MSM8255
1.4 GHz Single Core Snapdragon MSM8255
GPU
Adreno 220
Adreno 205
Adreno 205
Adreno 205
RAM
768 MB LPDDR2
512 MB LPDDR2
512 MB LPDDR2
512 MB LPDDR2
NAND
4 GB NAND with 8 GB microSD Class 4 preinstalled
16 GB NAND (no external microSD)
16 GB NAND (no external microSD)
8 GB NAND (no external microSD)
Camera
8 MP AF/Dual LED flash, VGA front facing
8 MP AF/LED, 1.3 MP front facing
8 MP AF/Dual LED Flash, 720p Video Rec.
5 MP AF/LED Flash, 720p Video Rec.
Screen
4.3" 960 x 540 S-LCD
4.3" 800 x 480 SAMOLED+
3.7" 800 x 480 SAMOLED w/ClearBlack
3.7" 800 x480 TFT LCD w/ClearBlack
Battery
Removable 5.62 Whr
Removable 6.1 Whr
Internal 5.37 Whr
Removable 4.81 Whr
Internally, the Lumia 710 is nearly the same beast as the Lumia 800. At their core, both are based on a 1.4 GHz Qualcomm single core Snapdragon MSM8255, both have 512 MB of LPDDR2 RAM, and share most of the surrounding chipset. The Lumia 710 also includes 8 GB of NAND of which 6.28 GiB are available to the OS for storage of photos, pictures, music, and videos. Again, the 710 is positioned as more of an entry level device, so we don't see some of the same expensive extras that really add up.
It's important to keep some context for the Lumia 710, which in the USA is headed to T-Mobile USA. On T-Mobile USA, the only other current Windows Phone it must compete against is the HTC Radar 4G, which carries similar specifications - 8 GB of NAND, 3.8" WVGA LCD, 5 MP camera, and another MSM8255 but at 1.0 GHz. The Lumia 710 will go on sale on Jan. 11 for $49.99 after a $50 mail-in rebate card on two year contract, which definitely shows how Nokia and T-Mobile intend to position the 710 as a mainstream WP7 platform.
I really have to emphasize that although the super high end devices wind up getting most of the attention and really drive the enthusiast perception of a platform, it's the mainstream and middle tiers where Android (and now hopefully Windows Phone 7) will make major inroads. That's something I have to occasionally remind myself about as well; although we have a major tendency to only do deep dives on the absolute bleeding edge hardware, it's the mid tiers where the platform battles are won and lost.
By most measures, the 710 is a great entry-level device. Its in-hand feel doesn't feel cheap or flimsy, and at $50 on contract feels a lot better than some of the first generation entry level Android phones I've handled but never formally reviewed. The only downside is that the 710 still strikes me as being larger than it really needs to be - there's no huge battery that it needs to accommodate, nor an absurdly huge display, and yet it still manages to be bigger than the much more fully featured Lumia 800.