Corsair
If you've been following along you've noticed Corsair has been branching out more and more over the past couple of years, mostly with a measure of success. In 2011 they intend to expand the new product lines introduced in 2009 and 2010.
One of the biggest announcements was the new Performance 3 series SSD. If you read the RealSSD C400 preview some of this should sound familiar: SATA 6Gbps interface, Marvell controller, and very high transfer rates. With the Performance 3, Corsair quotes a peak 480MB/sec read speed and a peak 320MB/sec write speed, both substantial improvements upon incumbent SandForce-based drives (although SandForce has some surprises still in store). The drives use a Marvell 9174 controller blended with some of Corsair's secret firmware sauce and feature TRIM support and aggressive background garbage collection.
Corsair also briefly went over their Vengeance series memory modules for enthusiasts; while RAM may not be as exciting as SSDs and some of the other things we've seen, these kits are nonetheless impressive. Sandy Bridge-optimized DIMMs sport XMP profiles along with a reasonably low 1.5V operating voltage.
On the audio front, Corsair's expanding their lineup ever so slightly. If you remember the Corsair HS1 gaming audio headset, the HS1A is going to seem awfully familiar: same kit, but with analog connectivity instead of USB. They're also introducing two new 2.1 desktop speaker sets: the SP2500 and SP2200.
The SP2500 is the big daddy of the two, and at an MSRP of $259 it's not going to come cheap. Corsair listed a rated 232 watts total RMS: the satellites are rated for 56 watts apiece, and then the subwoofer has dual 60 watt amplifiers. Each satellite comes with a three-inch driver and ferro-cooled silk dome tweeter, while the driver in the subwoofer is eight inches with a rubber surround. Control is handled through a 1.8" TFT display-equipped controller that features 3.5mm input and headphone jacks along with a USB port that can actually be used to flash the system's firmware. The controller also has a built-in equalizer and can be used to switch between environmental programs as well as enable or disable modes like "Late Night Mode" (levels out sudden volume changes) and "Dynamic Pop" (combines equalization to boost highs and lows.)
For those of us not willing to drop that kind of bread on a 2.1 system, there's the more affordable (albeit less exciting) SP2200. At $99 it's still a little pricey, and features a combined rated 46 watts total RMS. The satellites have two-inch full range drivers while the subwoofer is ported with a six-inch driver. No dedicated controller either; all the controls are on the right satellite.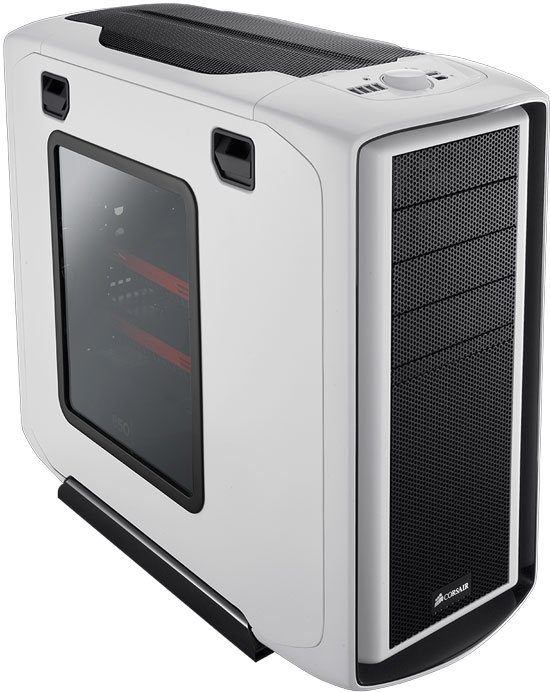 It was disappointing to see only two cases announced by Corsair, though: the Obsidian and Graphite series enclosures are expensive but excellent and well-received, and we were hoping for more than just a special edition Graphite 600T featuring a white finish with black accents and optional mesh or windowed side panels. The Obsidian 650D is more compelling: essentially a mid-tower version of the 800D, it features the same brushed aluminum and steel construction but adds an external SATA 6Gbps hot swap dock to go along with the eight PCI expansion slots and toolless drive bays. MSRP is expected to be $199.
Last but not least, Corsair also introduced their "Corsair Link" technology. This is essentially software that interfaces through USB and can be used to control fan speeds, lighting, and cooling.