The Flagship Mobile Core i9-8950HK
with Intel Thermal Velocity Boost
The peak of Intel's mobile binning strategy for the Spring 2018 launch is the new Intel Core i9-8950HK. It sits atop the mobile CPU stack with six cores, a high base frequency, a high turbo frequency, an even higher turbo based on thermals, and support for overclocking. Intel calls this its highest-performance mobile 8th Gen Intel Core processor, focused on no-compromise gaming, VR, and content creation. Ultimately the marketing comes across as this is a desktop replacement (DTR) processor for those that need big and beefy mobile systems with one or two high-end graphics cards: the sort of DTR laptops that weigh several pounds.
| | | |
| --- | --- | --- |
| AnandTech | Core i9-8950HK | Core i7-7820HK |
| Generation | Coffee Lake-H | Kaby Lake-H |
| Launch | April 2018 | January 2017 |
| TDP | 45 W | 45 W |
| Cores | 6C / 12T | 4C/8T |
| Base Frequency | 2.9 GHz | 2.9 GHz |
| Turbo Frequency | 4.6 GHz | 3.9 GHz |
| Thermal Velocity Boost | +200 MHz | - |
| iGPU | UHD 630 | HD 630 |
| iGPU Base/Turbo | 350 / 1200 MHz | 350 / 1100 MHz |
| DRAM Support | DDR4-2666 | DDR4-2400 |
| Optane Support | Yes | No |
| Tray Price | $583 | $378 |
The Core i9-8950HK is the only product that will have the Core i9 branding, although unlike the Core i9 products for the high-end desktop, the only things here that separates the Core i9s to the Core i7s are the frequency, the new Thermal Velocity Boost, the overclocking, and the L3 cache per core.
The Core i9-8950HK is a six-core processor with a base frequency of 2.9 GHz, and will have a nominal maximum turbo of 4.6 GHz. The 45W thermal design power (TDP), a staple of a Core-H series processor, will be for that 2.9 GHz figure: any turbo mode is likely to go beyond the TDP for power consumption values, so something like 4.6 GHz on all cores might be pushing nearer 100W. This is important, as Intel will actually list the maximum turbo frequency as 4.8 GHz due to the inclusion of Intel's Thermal Velocity Boost (TVB) feature.
TVB is essentially another phase on top of Intel Turbo Boost such that if the CPU stays under a certain temperature, in this case 53ºC, the single core turbo frequency can go up to 200 MHz higher than the processor is 'normally' rated for (despite the fact that Intel will officially promote the rating at the higher frequency anyway). This is designed to leverage OEM designs that are efficient in their cooling, as well as benefit the lucky individuals that get very nice chips from the silicon lottery. Intel states that if the workload is continuous, or over the age of the device, as temperatures rise then this extra 200 MHz is likely to decrease, and thus promotes the TVB implementation for short and burst-y workloads. A good example of this is something like WebXPRT, which is one of Intel's favorites, or the 'Responsive' workload test in SYSMark 2014. For multi-core workloads, TVB will afford a potential +100 MHz increase if the thermal threshold is not breached. Knowing how most OEMs work, it would be interesting to see if that threshold can be adjusted.
With TVB in mind, and the fact that Intel states +200/+100 MHz based on the core loading, it is worth reiterating that Intel does not state per-core turbo modes any more. As per Intel's policy from last year that, and I quote,
'Intel specifies only base and single-core turbo frequencies for its processors and no longer discloses turbo frequencies beyond this level of detail, as it is proprietary to Intel.'
I'm still calling out this atrocious policy, especially when the value can be obtained by just having the chip in front of you. Despite having this policy in place, we were still given the breakdown of per-core turbo frequencies for the Xeon D-2100 family of processors launched earlier this year, which means the policy is not uniformly applied across Intel's processor deployment. What irks me more however is this new turn of phrase: 'as it is proprietary to Intel'. It's a vacuous statement that means nothing. Turbo frequencies can be adjusted by the motherboard manufacturer or the OEM, who do so regularly on mobile platforms, so whatever notion of 'proprietary' is meaningless and goes out the window – ultimately we use Intel's guides to make sure the vendors are playing ball, and not trying to burn laps/desks with abnormal settings.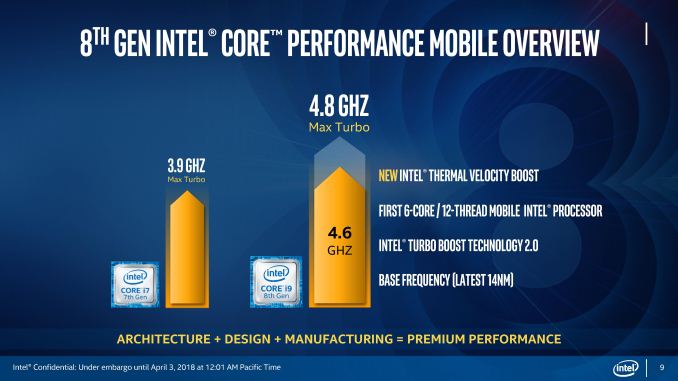 One of the interesting things here is that Intel states that this chip is using the latest 14nm technology. This basically confirms that this chip is using Intel's 14++ nm process node, which would also imply a Coffee Lake design, however Intel has not yet formally confirmed this to us.
The Core i9-8950HK is likely to appear in the refreshes of all the high-end DTR systems, such as MSI's Titan line, some massive Acer Predator thing, a big ASUS ROG system, and perhaps someone might try and slip it into something slimmer with an NVIDIA Max-Q. We know of at least one set of machines that will have the Core i9 as a processor option, however those devices are still under embargo as this announcement is made. A few hours after this announcement you can follow this link to see examples of the i9-8950HK in devices:
https://www.anandtech.com/show/12605/
(We'll update this page in a bit)
It is also worth noting that the Xeon E-2186M, the first member of the so-far-unannounced Xeon-E family that is being launched today, mirrors the Core i9-8950HK in almost every aspect, but swaps the overclocking functionality for the ability to use ECC memory and be vPro enabled.
Coffee Lake-H: Intel's New 45W Processor Range
The rest of Intel's 45W processor line mimics previous generations, with the noticeable bump up in core count, memory support, and Optane support. This is best demonstrated in a table:
AnandTech
Cores
Base
Freq
Turbo
Freq
L3
vPro
DRAM
DDR4
iGPU
iGPU
Turbo
Core i7-8850H
$395
6 / 12
2.6
4.3
9 MB
Yes
2666
24 EUs
1150
Core i7-8750H
$395
6 / 12
2.2
4.2
9 MB
No
2666
24 EUs
1100
Core-i5-8400H
$250
4 / 8
2.5
4.2
8 MB
Yes
2666
24 EUs
1100
Core i5-8300H
$250
4 / 8
2.3
4.0
8 MB
No
2666
23 EUs
1000
All the CPUs are rated at 45W for their base frequency, all support Optane as a drive accelerator, and all support DDR4-2666 in dual channel operation. Moving down from Core i9 to i7 and then to i5 gives a gradual decrease in the L3 cache per core (Intel still uses an inclusive cache in this market), as well as a steady drop in frequencies. The Core i5 parts are quad-core processors, but still retain DDR4-2666 compatibility.
We are told that all of these CPUs are Coffee Lake based, marking the arrival of the Coffee Lake-H family. That being said, there is a disparity between Coffee Lake desktop-based Core i5, which run at six cores and six threads, compared to the Coffee Lake mobile-based Core i5 parts which are quad cores with eight threads. This would allow for the Core i5 parts to be Kaby Lake-Refresh processors, however Intel has confirmed this is not the case, making these the first quad-core with hyperthreading-based Coffee Lake parts.
One of the more anomalous processors in this list is the Core i7-8850H, which Intel has listed as being 'partially' unlocked, compared to the Core i9-8950HK which is fully unlocked. Intel has clarified that this means the Core i7-8850H has the ability to overclock the DRAM and up to 400 MHz on the CPU beyond the standard specifications. From the devices we have seen so far, almost all the laptops that use the Core i9 also have a Core i7-8850H option.
Intel is also enabling vPro on a couple of SKUs: the Core i7-8850H and the Core i5-8400H. The only thing these have in common is that they're the highest-rated SKUs for each segment, but beyond that there is nothing in the naming to suggest there is a pattern.
The Belated Birth of Xeon E
Alongside the consumer processors, Intel is also pushing out two Xeon mobile CPUs with the rest of the 45W stack. This is a little confusing, given that Intel hasn't even officially announced the Xeon E processor line, and that we have known about the name change from Xeon E3 to Xeon E for a good few months now. Nonetheless, the two Xeon E mobile processors are both set for the high end, emulating the Core i9 in performance and support.
AnandTech
Cores
Base
Freq
Turbo
Freq
L3
vPro
DRAM
DDR4
iGPU

iGPU
Turbo
Xeon E-2186M
$623
6 / 12
2.9
4.6 + 0.2
12 MB
Yes
2666 ECC
24 EUs
1200
Xeon E-2176M
$450
6 / 12
2.7
4.4
12 MB
Yes
2666 ECC
24 EUs
1200
The two big advantages for the Xeon E processors are vPro support and ECC memory, however they lose overclocking capabilities. Pricing is, as yet, unknown, however devices with these components will be announced this week.
* Base IGP frequency for all 45W processors is 350 MHz.