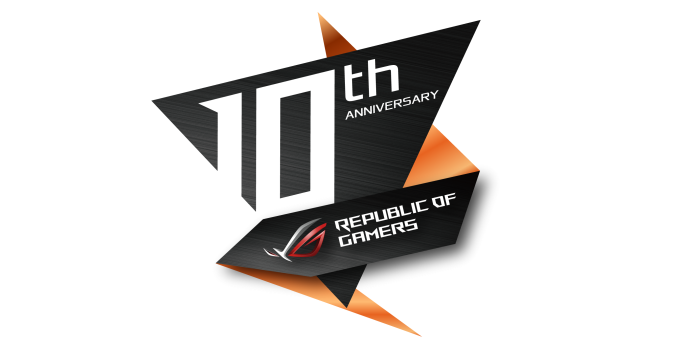 As part of our coverage of CES 2016 a few short weeks away, we have teamed up with ASUS for a round-table into their Republic of Gamers (ROG) brand, which is celebrating its 10-year birthday throughout 2016. In the round table, we will be discussing the origins of ROG, with some insight into those first initial products and to how the brand is perceived today, with a few questions from our readers. This is where you come in!
As part of the discussion, we have synchronized a very interesting group of individuals, including all the motherboard senior editors of AnandTech dating back well over a decade:
Vivian Lien Kralevich

Chief Marketing Officer, ASUS USA

ASUS Marketing
from 2006/2007
Gary Key

Director of Marketing, ASUS USA

AnandTech Motherboard Senior Editor 2005-2008
Rajinder 'Raja' Gill

Technical PR Manager, ASUS USA

AnandTech Motherboard Senior Editor 2008-2010
Ian Cutress

10 Years of ROG Round Table Chair

Current AnandTech Motherboard Senior Editor from 2011
Between Gary, Rajinder and myself, we have covered the Republic of Gamers brand from its inception, with both Gary and Raja now involved in various levels with members of the team that designs, develops, tests and pushes the ROG ecosystem, then managing the perception of it as part of the ASUS brand within North America. At the time when Gary was probing the original models, Vivian was one of his direct ASUS contacts, ensuring that direct line of communication and filling him in on the details. Then when Gary joined ASUS, Raja had Gary as his main contact, and so on, meaning that for this discussion we have the ASUS-AnandTech contact line right from the initial ROG launch.
You may remember we interviewed Dr Albert Chang, Senior Division Director of ASUS Motherboard Business Unit Research and Development back in 2014 about the general path for motherboard design, and how the ROG team is designed to be that skunkworks element of engineering. Raja assists ROG's internal impromptu extreme overclocking events with top overclockers as well as community management, so we will pick his brains on how design ideas from the forums and events assist product design. With any luck, we will also have some old ROG boxes or hardware on hand through to the newest Maximus line.
This round-table and Q&A session will be video recorded then uploaded after CES, and we invite questions from you. Please leave them in the comments below!