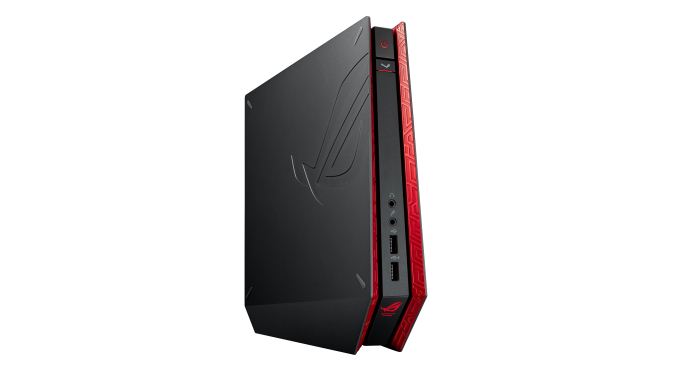 At Computex last year ASUS formally announced its mini-PC platform in the shape of the GR8. It was designed to fit within a bookcase on a shelf and act as a mini-Steam PC for gaming and streaming duties with its i7 U-series Haswell processor and integrated GTX 750Ti. The GR8 was ultimately designed to accelerate a niche where small form factor gaming was at the heart of the home. While we haven't reviewed it at AnandTech as of yet, one could easily predict that it was going to end up getting a refresh for Broadwell, which is the case today. The i5-5200U isn't right at the top of the Broadwell-U stack, but it certainly falls more on the side of the gaming family of mini-PCs with today's announcement.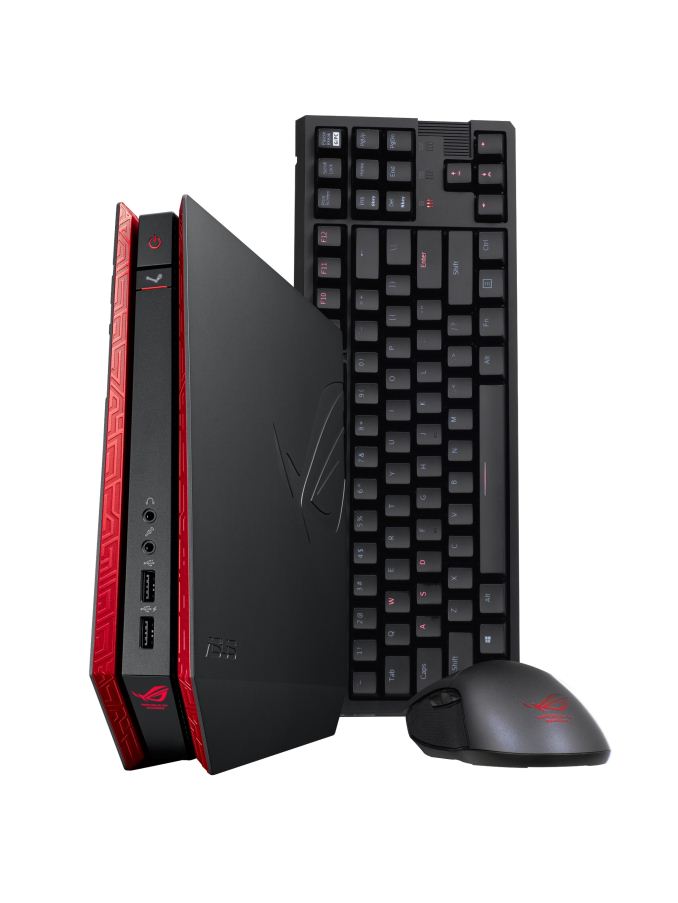 ASUS ROG GR Series
GR8
GR6
CPU
Core i7 4510U
Core i5 5200U
GPU
GTX 750 Ti 2GB
Intel HD 4400
GTX 960M 2GB
HD 5500
DRAM
8GB, Up to 16GB
DDR3L-1600 MHz
SO-DIMM
8GB, Up to 16GB
DDR3L-1600 MHz


SO-DIMM

Storage
2 x 2.5-in
500GB-1TB 7200RPM /
128GB-256GB SSD
2 x 2.5-in
500GB-1TB 7200RPM /
128GB-256GB SSD
WiFi
802.11ac
Miracast Receiver
802.11ac
Miracast Receiver ?
LAN
Intel Gigabit
Intel Gigabit
Audio
SupremeFX w/5.1
DTS Connect
SupremeFX w/5.1
DTS Connect
Front IO
Headphone/Microphone
2 x USB 2.0
Headphone/Microphone
2 x USB 2.0
Rear IO
4 x USB 3.0
HDMI
DisplayPort
RJ45
Audio Jacks
Kensington Lock
4 x USB 3.0
HDMI
DisplayPort
RJ45
Audio Jacks
Kensington Lock
Power Supply
120W Power Adaptor
Power Adaptor
Dimensions
60 x 245 x 238 mm
1.284 kg
60 x 245 x 238 mm
1.28 kg
Price (US)
$920 with 1TB HDD
N/A
The heart of the GR6 beats with an i5-5200U, a 15W Broadwell processor which is paired with a Maxwell GM107 derived GTX 960M with 2GB of GDDR5. This is partnered with two SO-DIMM slots which can hold up to 16GB of DDR3L at 1600 MHz. Given that this is a ROG device, I wonder if those SO-DIMM slots could actually hold XMP timings for some of higher frequency SO-DIMM modules that are on the market. Nevertheless the rest of chassis can hold two 2.5-in SSDs/HDDs, there is an integrated gigabit Ethernet port, dual-band 2T2R 802.11ac WiFi and four USB 3.0 slots on the rear.
The specifications chosen highlight an important part of Intel's strategy with the Broadwell-U series, whereby Atom and Core-M fit into the sub 6W category of ultraportables, but the 15-28W range of mobile processors are for beefier portable designs as well as mini-PCs which don't need to rely on batteries. We discussed Core M's issues with chassis design previously, but Broadwell-U in a desktop chassis should easily not have to worry about turbo throttling.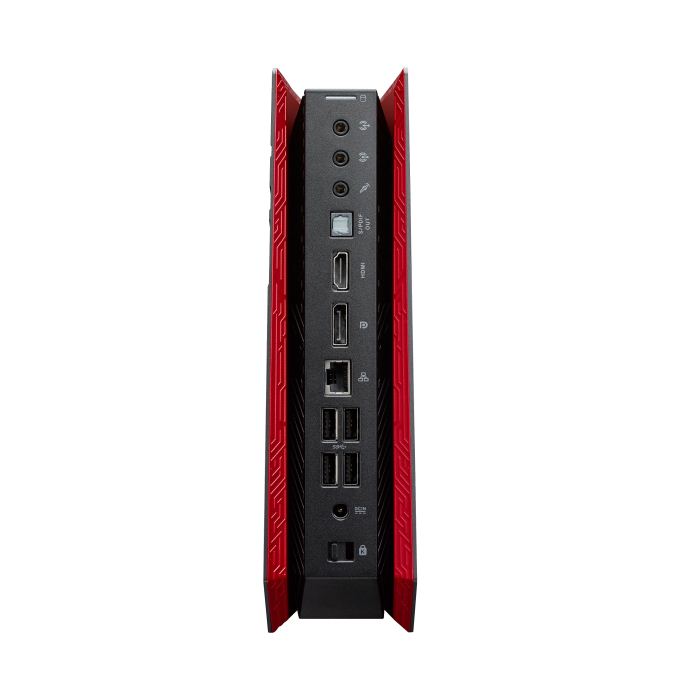 Power is provided by a 19V DC-in and a power brick, and a Kensington lock module is provided for gaming LAN protection. All the major ROG software and packages are bundled, such as SupremeFX Audio, SoundStage, SenseAmp, Sonic Radar, GameFirst III, AI Suite III. The 2.5-liter chassis is set to weigh in at 1.28kg.
As the announcement today is just for the device, pricing and availability for different regions has not been released. With Computex only six weeks or so away, I assume we will see it at the show to get some quick hands-on time.
Source: ASUS ROG