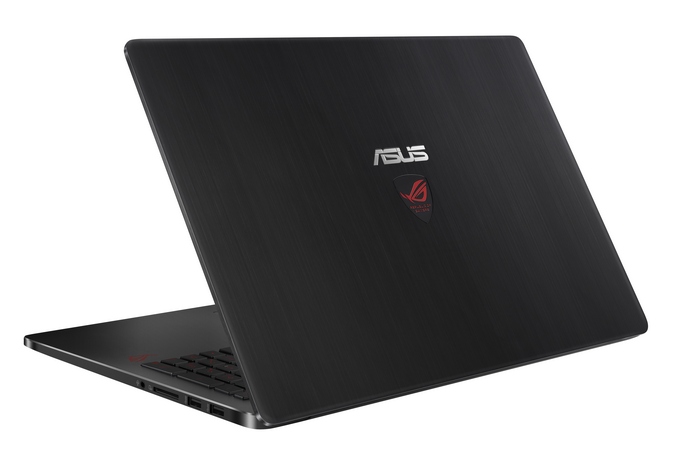 Today ASUS is taking the wraps off of one new laptop and two refreshed models which fall under the Republic of Gamers stable. ASUS is adding a new 15.6 inch G501 laptop, which is one of the thinnest gaming laptops available. In addition, they are refreshing the G751 17.3 inch device, and the GL551 15.6 inch device. ASUS is targeting a wide audience with these selections, and each offers a different take and price point on the gaming laptop segment.

ASUS G501
The G501 is the highest priced offering of the three, and packs a lot into its 0.81 inch (20.6 mm) 4.54 lb (2.06 kg) aluminum chassis. The processor du jour is the Haswell based Intel Core i7-4720HQ processor, which is a quad-core eight-thread mobile CPU with clock speeds of 2.6 GHz to 3.6 GHz and a 47 watt TDP. The G501 is well equipped for storage and memory, with 16 GB of DDR3, and a 512 GB PCIe x4 SSD. Yes, that's correct. ASUS is one of the first to step up the SSD offering with a native PCIe device, and 512 GB should be plenty for your average gamer. ASUS has outfitted the G501 with the just launched NVIDIA GeForce GTX 960M GPU with 4 GB of GDDR5 memory. However the display should be a standout feature, with the G501 sporting a 15.6 inch 3840x2160 UHD IPS panel, for 282 pixels per inch. There is no touch option, and the panel has a matte coating. That is a lot of display for the GTX 960M to handle, so for gaming you will have to scale back somewhat depending on the game in question. ASUS has not forgotten about peripheral connectivity either with the G501 sporting 3 USB 3.0 ports, HDMI, a SD card reader, and a Thunderbolt port. The G501 also sports a massive 96 Wh battery, so assuming the GPU has Optimus enabled, battery life should be very reasonable for such a thin and relatively light gaming laptop. The G501 will start shipping in April for $1999 USD.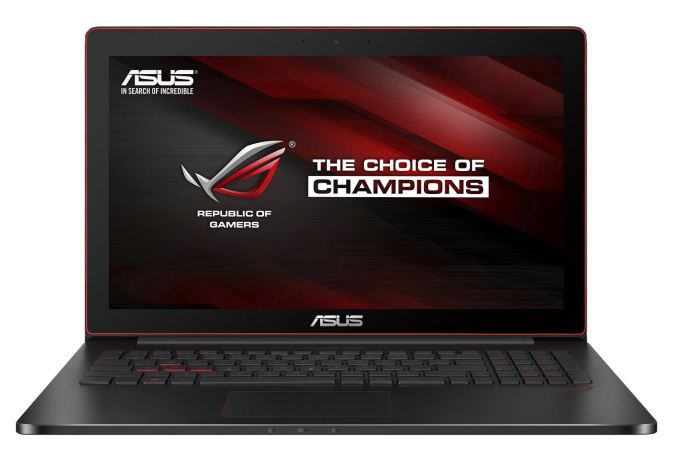 ASUS G501
ASUS has outfitted the G501 with what they are calling Hyper Cool technology. As with many gaming laptops, there are dual fans, as well as copper heat pipes, but ASUS has tweaked the design so that the CPU and GPU are cooled independently. This will reduce the noise levels of the unit, but still allow maximum cooling for each unit as required. If we get one in for review, we can see how well they have done, so stay tuned for that.
ASUS ROG Laptop Specifications
G501JW-DS71
G751JL-DS71
GL551JW-DS71/ GL551JW-DS7
CPU
Intel Core i7-4720HQ 4C/8T 2.6-3.6 GHz 47w
Intel Core i7-4720HQ 4C/8T 2.6-3.6 GHz 47w
Intel Core i7-4720HQ 4C/8T 2.6-3.6 GHz 47w
GPU
NVIDIA GeForce GTX 960M 4GB GDDR5
NVIDIA GeForce GTX 965M 2GB GDDR5
NVIDIA GeForce GTX 960M 2 GB GDDR5
Display
15.6" IPS 3840x2160 matte
17.3" IPS 1920x1080 matte
15.6" 1920x1080 matte (TN or IPS)
Memory
16GB DDR3
16GB DDR3
16 GB DDR3
Storage
512GB PCIe x4 SSD
1 TB 7200 RPM HDD
1 TB 7200 RPM/128GB SSD + 1 TB 7200RPM
IO Ports
1x Thunderbolt, 3 x USB 3.0, 1 x HDMI, 1 x SD Reader
1 x Thunderbolt, 4 x USB 3.0, 1 x HDMI, 1 x VGA, 1 x SD Card Reader
1 x mini-DP, 3 x USB 3.0, 1 x HDMI, 1 x SD Card Reader
Wireless
802.11ac + BT 4.0
802.11ac + BT 4.0
802.11agn + BT 4.0
Battery
96 Wh
88 Wh
unknown
Dimensions
15.07 x 10.04 x 0.81-inch
16.4 x 12.5 x 0.9-1.7-inch
15 x 10 x 0.6-1.3-inch
Weight
4.54lbs
8.4lbs
6lbs
MSRP
USD $1,999
USD $1399
USD $1099/$1299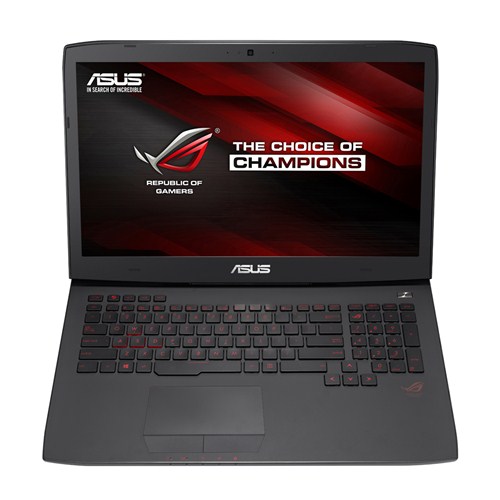 ASUS G751
The G751 and GL551 are refreshed versions of existing models. As we have seen from several manufacturers, the GTX 960M announcement has spurred on a model refresh. The G751 (specifically the G751JL since ASUS has several G751 models up to an including the GTX 980M G751JY) is a 17.3 inch model, and ASUS has taken the opportunity to refresh this model with the same Intel Core i7-4720HQ processor as the G501. It will have the 2 GB GDDR5 version of the GTX 965M GPU powering the 1920x1080 matte display. 16 GB of DDR3 is standard, and a 1 TB 7200 RPM hard drive provides storage. It also includes 4 USB 3.0 ports, a HDMI port, a VGA port, a SD/MMC card reader, a DVDRW drive, and a Thunderbolt port. The 17.3 inch model will sport a 88 Wh battery in its 8.4 lb (3.81 kg) chassis, and will be priced at $1399.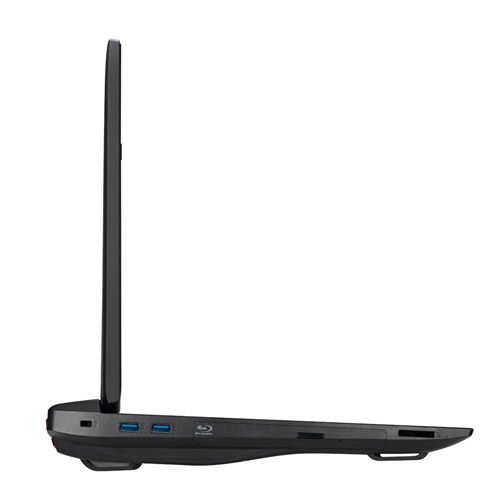 ASUS G751
The GL551JW is basically the 15.6 inch equivalent to the G751, with the same CPU, but the GTX 960M GPU, powering the same resolution 1080p display, although it is not listed as IPS so it is possibly a TN version. 16 GB of memory is standard, and it can be had with either a 1 TB 7200 RPM drive, or a 128 GB mSATA plus 1 TB 7200 RPM drive. It also includes a DVDRW drive, 3 USB 3.0 ports, a HDMI port, a mini-DisplayPort, and a SD card reader, but unlike the previous two devices it also loses 802.11ac wireless and only supports 802.11n. The battery size is not mentioned, but the weight is 6 lbs (2.72 kg) which is substantially more than the G501. However to offset the extra weight of the laptop, you can keep some of the weight in your wallet, with the GL551 starting at $1099, and moving to $1299 for the SSD model.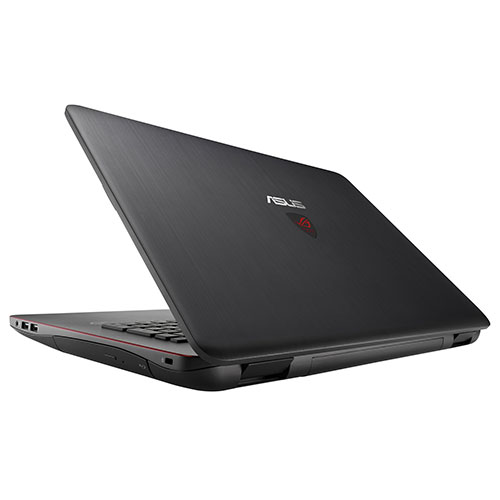 ASUS GL551
It is great to see ASUS cater to both of the gamer markets with these models. Those who need mobility will certainly want to look at the G501, which is thin and light for a 15.6 inch gaming notebook. It is great to see them make the jump to PCIe based storage as well, and although the GPU is a bit underpowered to run it at native resolution when gaming, the UHD display should be excellent for the desktop, and a 96 Wh battery should make for reasonable time away from the power grid. For those that do not mind a bit more bulk, the G751 and GL551 both offer a good gaming experience for the money. Both have plenty of CPU power, and a GPU which should be fine with the native resolution of the displays.