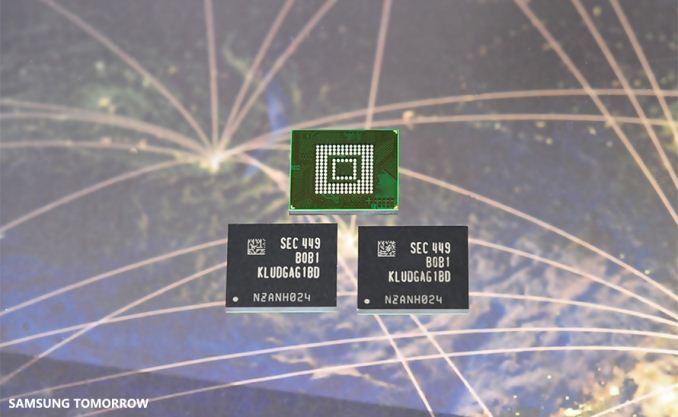 We've first heard about plans to adopt UFS (Universal Flash Storage) with the announcements of Toshiba and Qualcomm reported over a year ago. While the promised late 2014 schedule seems to have been missed, and we still haven't seen any major product with the technology, it looks like UFS is finally gaining some traction as today Samsung is announcing the mass production of in-house solutions based on the UFS 2.0 standard.
Samsung claims to provide the new embedded memory type in 32GB, 64GB and 128GB capacities. The 128GB model doubles the amount of storage even their biggest eMMC storage solution is able to deliver. It was only last week that Samsung recently released a new eMMC 5.1 based NAND line-up which promised major gains over today's deployed eMMC products.
The UFS solution claims to achieve 19K IOPS (Input/output operations per second) in reads, almost double that of the 11K IOPS their eMMC 5.1 solution is capable of, and 2.7X times what common embedded memory is capable of today. There is also a purported boost to sequential read and write performance to SSD levels, although Samsung doesn't provide any actual figure, so we'll have to wait until we review a device to see what the actual gains are. What should be very interesting is a promised 50% decrease in energy consumption. We're still not very sure on the impact of eMMC power on a smartphone's battery life, but scenarios such as video recording are certain use-cases where a decrease in NAND power could be very beneficial to battery life.
UFS is based on a serial interface as opposed to eMMC's parallel architecture, enabling Full-Duplex data transfer and achieving twice to four times the peak bandwidth (depending on implementation) over the existing eMMC 8-bit interface.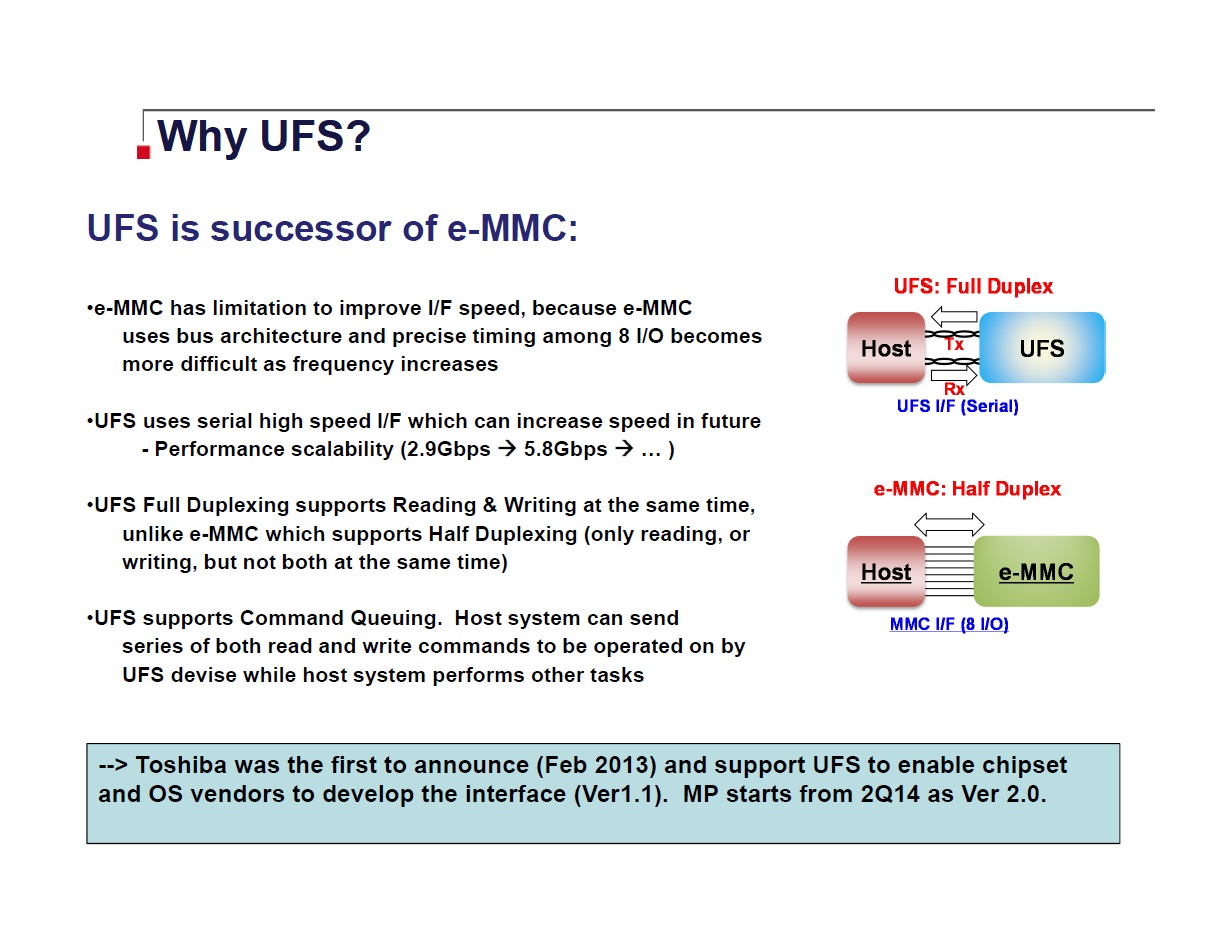 Samsung offers the solution also in an ePoP package, meaning the NAND IC is embedded with the RAM ICs in a PoP package on top of the SoC, a solution already employed in the Galaxy Alpha and Galaxy Note 4. The goal here is to save on precious PCB space in small form factors such as smartphones.
We're looking forward to see in what kind of devices Samsung implements the technology and how it affects their performance and responsiveness.
Source: Samsung Tomorrow