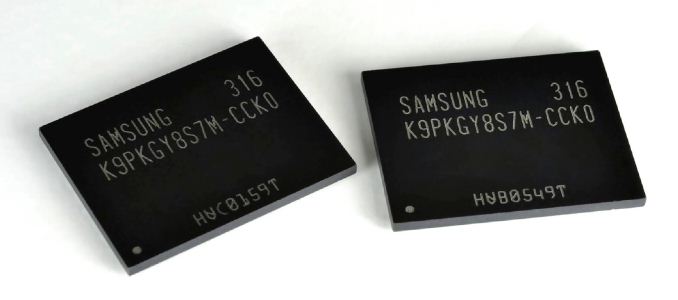 Today Samsung revealed what they claim are the first flash memory chips based on the eMMC 5.1 standard which was just approved by JEDEC, the group that oversees the development of many semiconductor industry standards. eMMC is an embedded version of the MultiMediaCard standard that was once popular among digital cameras and PDAs. It allows for the NAND and controller in a device to be put into a small package on the logic board, which is a necessity when working with small mobile devices. Essentially every smartphone and tablet on the market today uses the eMMC standard as its storage solution.
As mobile devices have become more complex. there has been a need for improved NAND performance. Streaming and recording higher resolution content requires faster speeds for reading and writing, and so the evolution of the eMMC standard has been accompanied by improvements in performance at each step. When Samsung introduced their first eMMC 5.0 flash memory in 2013, their 64GB chips were rated for maximum sequential reads and writes of 250MB/s and 90MB/s respectively. Samsung's eMMC 5.1 memory increases the maximum write performance to 125MB/s. Similarly, random read performance increases from 7,000 IOPS to 11,000 IOPS and random write performance increases from 7,000 IOPS to 13,000 IOPS.
eMMC 5.1 based memory also has new features that will enable further improved performance. The feature that Samsung is specifically making note of is command queuing. True to its name, command queuing provides an interface for queuing up commands to be executed. This has been a feature of storage solutions in the PC world for some time, but previous eMMC controller implementations would submit commands and wait for completion before sending the next command.
Source: Samsung Semiconductor