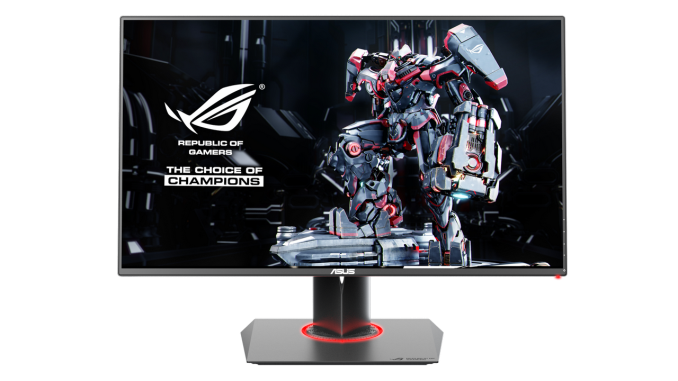 Monitor talk is crazy. In this modern era we have a choice between 4K panels, cheap Korean 1440p monitors, panels that cover wide gamuts those that refresh at 30 Hz, 60 Hz, 120 Hz and 144 Hz, as well as TN/VA/IPS panels with all the variants therein. The issue comes when putting as many of these features together - typically IPS panels at higher refresh rates are hard to come by, whereas TN panels can lack the wide viewing angles and color reproduction. So by saying that ASUS are paring a 27" 2560x1440 display with a high refresh rate and NVIDIA G-Sync, we open our arms to this kind of evolution.
Anand reviewed G-Sync last year, and while it is the closest adaptive refresh technology to market, it does have its competitors. The ROG Swift PG278Q is going to be available from July, and should bring more G-Sync into the market. While other specifications are thin on the ground from the press release, we are inquiring into a more detailed list of data points for the monitor. The PG278Q also comes with a dedicated Turbo Key to allow users to adjust refresh rates on the fly from 60 Hz to 120 Hz to 144 Hz with one button, rather than adjusting the on-screen display. ASUS is quoting a 1ms GTG response time, with a 6mm bezel, VESA wall mount, a large range of stand adjustment, 1 DP port, two USB 3.0 ports and a 5-way joystick for the OSD.
ASUS expects the PG278Q to be in the $800 region, with a full release in late July.