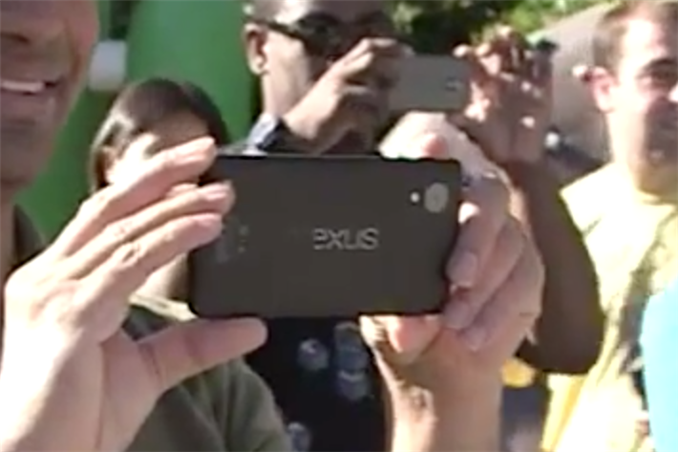 The past few days have been interesting in the way of Nexus 5 (or Nexus 4 2013) rumors. After a few grumblings that seemed to confirm that LG would once again be responsible for the smartphone Nexus slot, there was silence, an FCC approval disclosure and then retraction, and then purported spotting of the Nexus 5 in Google's KitKat announcement video.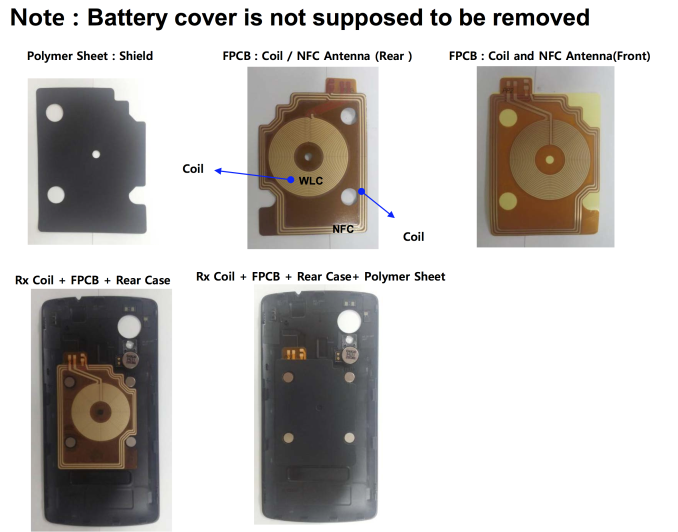 Today the FCC re-posted the approval documentation for ZNFD820, or the LG-D820 model, a device which is steadily gaining traction as potential candidate for the Nexus 5. Although as usual LG has requested confidentiality on the internal, external, and test setup photos, what's particularly interesting is that the wireless charging disclosure includes some shots of the device's battery cover and its inductive charging and NFC coils. In addition the back is not designed to be user replaceable, and there's no microSD card slot. The backside appearance seems to line up with the visual appearance of the Nexus device from the video as well, with similar shape and oddly oversized cover glass for the camera aperture. Keep in mind the photo is of the inside of the battery cover.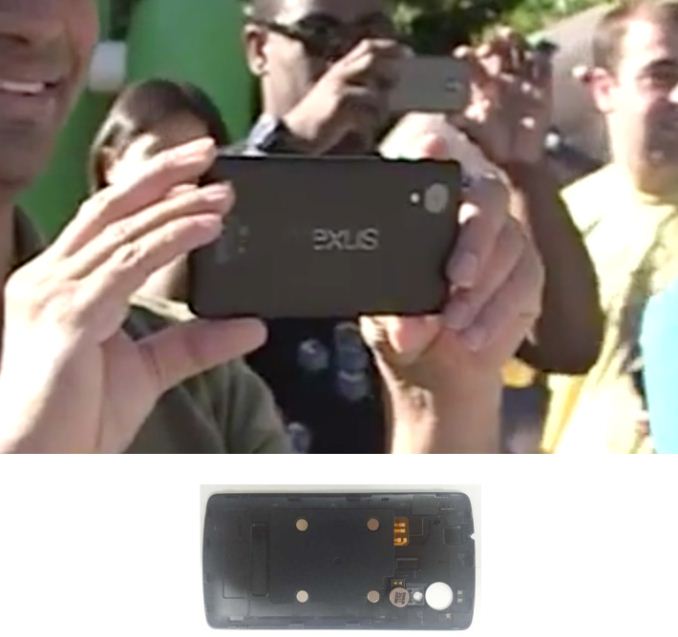 Video appearance of purported Nexus device (above), LG-D820 rear cover rotated and scaled (below)
What's interesting about the LG-D820 approval is that it includes almost all of the bands you'd want for a North American SKU that covers LTE, CDMA, and HSPA+ for AT&T, T-Mobile, and Sprint. There's no Verizon LTE (Band 13) in this band coverage. Non inclusion of Verizon LTE banding in an upcoming Nexus isn't much of a surprise after relationship issues following Galaxy Nexus (CDMA/LTE), inclusion of Sprint is a bit of one, but not as much (Google Voice, Google Wallet).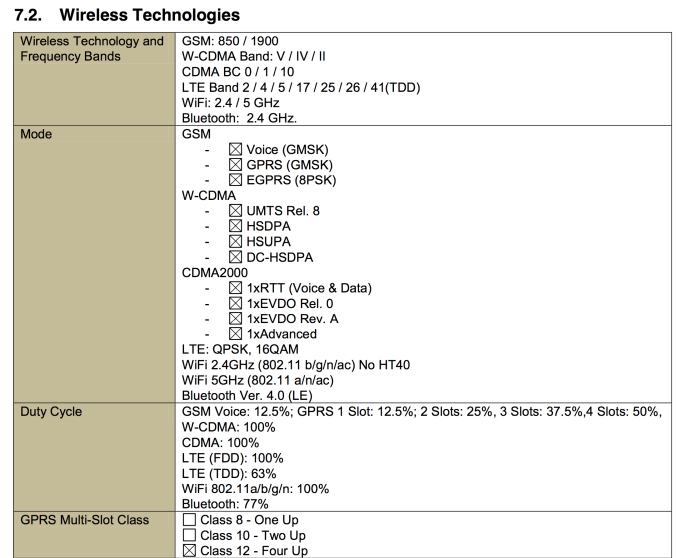 The breakdown is LTE on bands: 2, 4, 5, 17, 25, 26, 41 (1 and 7 are probable as well, FCC only lists what's relevant inside the USA), WCDMA on bands: 2, 4, 5, and CDMA2000 1x/EVDO on band classes 0, 1, and 10 (800, 1900, 900 MHz). There's also 802.11a/b/g/n/ac (the screenshot above doesn't call out 802.11ac but it is explicitly mentioned and tested in the appropriate sections of the test reports) as well as BT 4.0 LE (Bluetooth smart ready). Inclusion of CDMA2000 1x/EVDO in and of itself is surprising, and the device includes the necessary LTE banding for Sprint, of course CDMA2000 is also relevant in a few other markets in combination with LTE.
Update: Another thing that caught my eye was inclusion of mention that the LG-D820 uses variable antenna matching (antenna tuning) which would be necessary if it's going to accommodate a lot of different bands on just one transmit antenna. This could end up being a Qualcomm tunable frontend part. Display diagonal is also listed as 126.0mm which works out to 4.96-inches diagonal for display, enough to warrant a Nexus 5 name, and a length and width of 131.9 mm x 68.2 mm.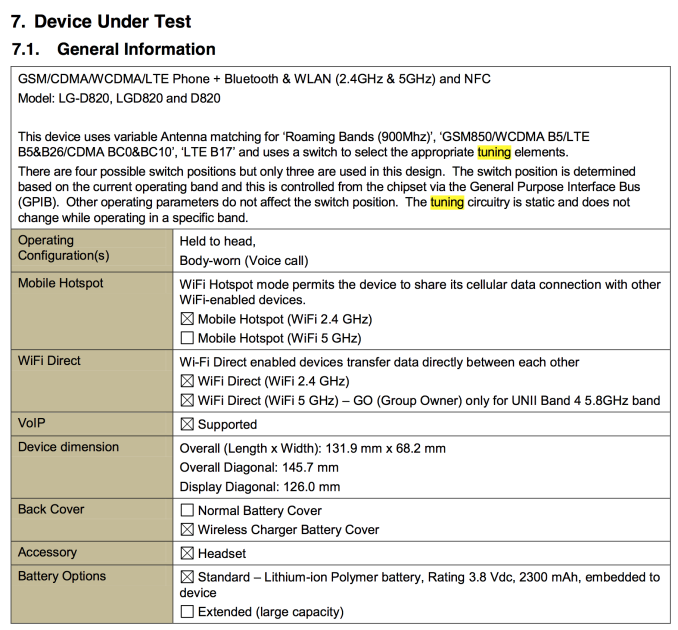 Update: Brad Molen from Engadget caught a reference to MSM8974, aosp_hammerhead and KyeLimePie[sic] inside the disclosure as well. There are two references to MSM8974 (Snapdragon 800) which would to validate that as being the SoC platform and this as a Nexus device running 4.4 which was codenamed Key Lime Pie up until its recent rebranding to KitKat.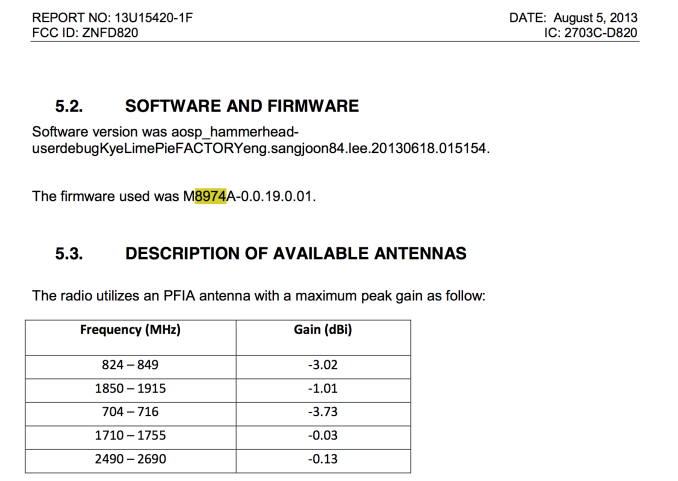 It's too early to know for sure if this is the real deal or not, but both rumblings that I've heard and external factors are starting to point in this direction, and inclusion of both AOSP, MSM8974, and Key Lime Pie (now KitKat) references make it hard to refute. S4GRU (Sprint 4G Rollout Updates) was one of the sites tracking LG-D820 on its forums for some time, I've been paying close attention to that situation as well since I heard about that device model and saw the band combinations onboard. Recent attention just intensifies suspicions. The inclusion of LTE in the next Nexus smartphone is an obvious and welcome upgrade, and Google has been indeed pushing for more impressive banding in its devices, which we saw through the Nexus 7 (3G/4G LTE) band combination.