One of the most interesting launches from Western Digital last year was the WD Red line of hard drives from the client storage division. It was intended for low to mid-range NAS units (and WD wanted to make sure that it wasn't used for units with more than 5 bays). Today, the Datacenter Storage Business Unit is launching the WD Se line intended for high end NAS units and, more importantly, datacenters looking for scalable storage (i.e, reliable storage which doesn't cost an arm and a leg for scenarios where capacity, rather than performance, is of primary importance).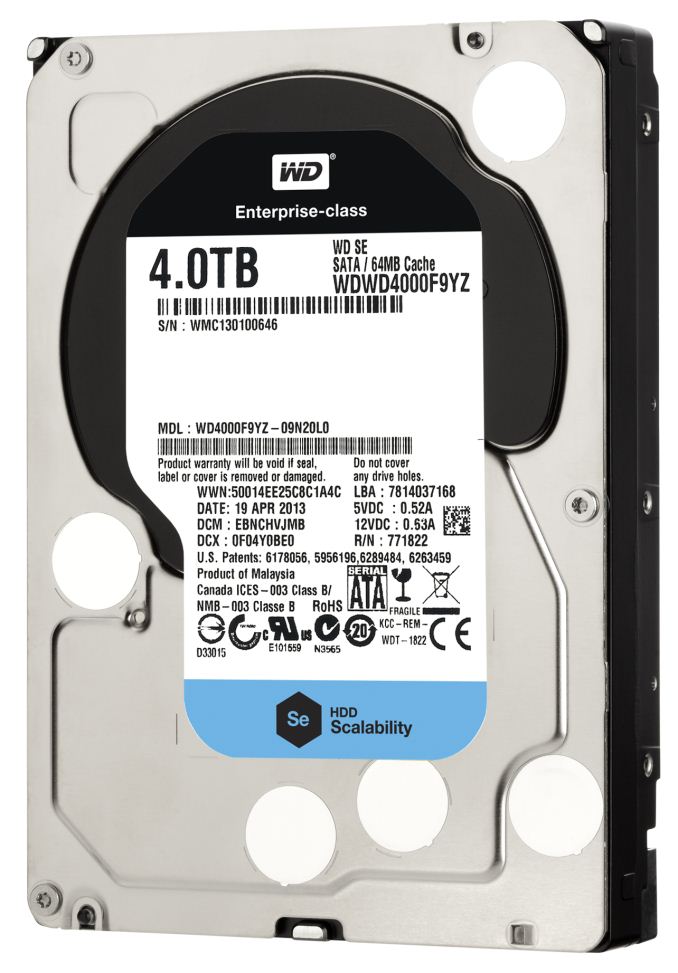 The WD Se line consists of 3.5" 7200rpm Advanced Format SATA drives in 2 TB (WD2000F9YZ), 3 TB (WD3000F9YZ) and 4 TB (WD4000F9YZ) capacities. All of these units have a 64 MB buffer. Pricing ranging from $160 at the low end to $310 at the higher end. Like the WD Re (and, unlike the desktop variants), the WD Se line has a self-encryption option. These drives come with the five year enterprise warranty. Western Digital touts the usage of WD Se drives in their own datacenter (with Apache Hadoop).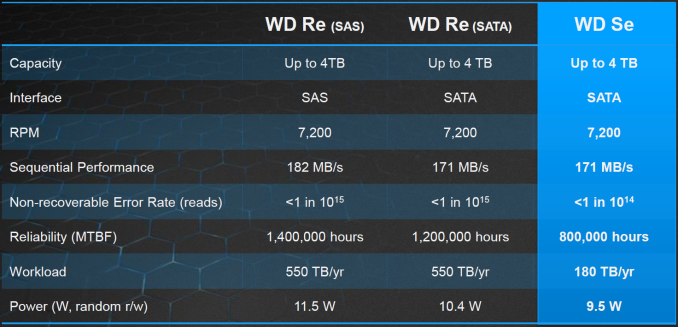 WD also advocates use of the WD Se drives in NAS units with 6 to 24 bays in both the desktop as well as rackmount form factors as a complement to the WD Red drives in the lower end units. In the datacenter, WD suggests usage of the WD Re and WD Xe drives for higher durability and performance. Note that the suggested workload for the WD Se is only 180 TB/yr, compared to 550 TB/yr for the WD Re, suggesting that WD is positioning this drive as a solution for backups, archiving and other low intensity tasks. On a comparative basis, the WD Red apparently has a workload rating of less than 100 TB/yr (the client storage division doesn't give out specific numbers) despite coming with a higher MTBF rating (1M hours compared to the 800K for the WD Se).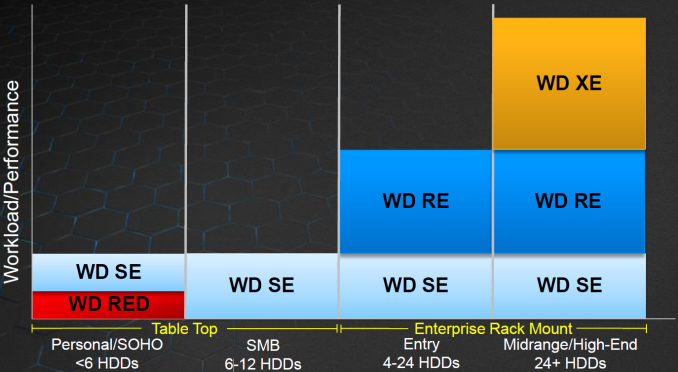 Some of the features of WD Se include dual processors to maximize performance, RAFF (rotary acceleration feed forward) to monitor and correct vibrations in real time (an issue common in datacenter environments), dual actuator technology to improve positional accuracy of the heads, StableTrac motor shaft securing at both ends to minimize vibrations, multi-axis shocks sensors, RAID-specific TLER (which we covered in the WD Red review) and dynamic fly height technology.