Introducing the Sony EE34
You can't buy it from Sony's website. If you blinked you might have missed the news popping up on a couple of different sites about its existence. If you were on the phone with me when I called Jarred about it, you might even have shared his reaction: "Sony makes a budget AMD laptop?" But sure enough they do, and we have a budget Sony EE34 notebook on hand that's liable to raise more than a few eyebrows. Around $600 for a Sony Vaio AMD-based notebook with a Blu-ray drive standard? They make those?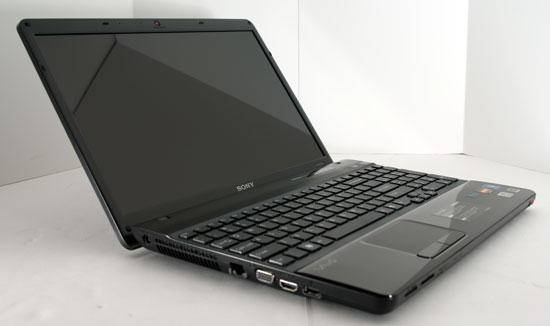 As a matter of fact, they do. With Intel's Sandy Bridge recall having largely enervated the retail market, we thought it would be a good opportunity to take another look at what AMD has on hand. When we saw the EE34 on the shelf, it wound up being such a curiosity that we knew we had to find out just what exactly a budget Sony Vaio AMD notebook means. This is also the first of hopefully many Sony notebooks we'll be taking a look at in the future and yes, we've heard your calls, we're trying to get a Z series on hand.
In the meantime, though, we're going to check out what happens when an AMD Athlon II mobile processor with a 25W TDP hangs out inside one of Sony's attractive Vaio notebooks.
Sony EE34 Specifications
Processor
AMD Athlon II P340
(2x2.2GHz, 45nm, 1MB L2, 25W)
Chipset
AMD RS880M Northbridge + SB800 Southbridge
Memory
2x2GB DDR3-1333 (Max 2x4GB)
Graphics
AMD Mobility Radeon HD 4250 IGP
(40 Stream Processors, 510MHz core clock)
Display
15.6" LED Glossy 16:9 1366x768
(LG LGD02CA Panel)
Hard Drive(s)
320GB 5400 RPM
(Toshiba)
Optical Drive
BD-ROM/DVD+-RW Combo Drive
Networking
Realtek PCIe Gigabit Ethernet
Atheros AR9285 802.11b/g/n
Audio
Realtek ALC269 HD Audio
Stereo speakers
Headphone and microphone jacks
Battery
4-Cell, 11.1V, 39Wh battery
Front Side
MS reader
SD/MMC reader
Wireless switch
Indicator lights
Headphone jack
Microphone jack
Left Side
AC adapter
Exhaust vent
Ethernet jack
D-SUB
HDMI
USB 2.0
Right Side
3x USB 2.0
Optical drive
Kensington lock
Back Side
-
Operating System
Windows 7 Home Premium 64-bit
Dimensions
14.56" x 9.78" x 1.26"-1.47" (WxDxH)
Weight
5.90 lbs
Extras
Webcam
Flash reader (MMC, SD/Mini SD, MS/Duo/Pro/Pro Duo)
Blu-ray drive
103 key keyboard with 10-key
Warranty
1-year limited warranty
Pricing
Available online for $630
It's no big secret that Intel's "Core 2010" series of mobile processors are faster than AMD's current lineup, and that the Sandy Bridge-based "Core 2011" series will be faster still. The problem is that the former are drying up in retail (no doubt due to trying to shift inventory to make room for the Sandy Bridge refreshes) while the latter are still about a month away due to the recall. That leaves us with a healthy amount of AMD-based notebooks on the market, and as we'll see that's not such a bad thing.
The Athlon II P340 (so nice of AMD to finally do away with any sense of logic in their chip naming just like Intel did) is basically the same as the dual-core desktop Athlon II, with no L3 cache but 512KB of L2 cache per core. It runs at an unexciting 2.2GHz, but should still provide enough processing power to handle most tasks. The best part, of course, is that this chip also features a 25W TDP that you'll see Sony actually manages to get some mileage out of.
Well, that's not the only best part. The other part is that while AMD's 40-shader integrated graphics haven't exactly aged gracefully, they're still better than any other IGP currently widely available on the market (NVIDIA's GeForce 320M is only available in MacBooks, and the 9400M is basically gone now) barring the Radeon HD 6310 in AMD's E-350, which brings with it the baggage of a much slower processor. As a result the Mobility Radeon HD 4250 may not be much but it can at least get the job done for the lightest of gaming, though most users will be disappointed to see it doesn't share the 700MHz core clock of the desktop IGP.
The other big selling point of the Sony EE34 is the Blu-ray drive, making it a very affordable way to get a decent computer and a Blu-ray player in one shot. The middling 720p screen may not help you get the most out of your movie watching experience, but it's a start, and there's always the HDMI port for external displays.
As for the rest of the EE34, connectivity is generally good and the 4GB of DDR3 is ample, but the system is bogged down by a lowest-common-denominator 5400RPM Toshiba hard drive with a paltry 8MB of cache. Every time I have to use a Toshiba or Fujitsu hard drive I feel like I'm being punished for something, and it's a disappointment to see them when most vendors have switched to using Seagate or Western Digital drives (though Samsung and Hitachi are also fine candidates.)